I'm a Barbie girl, in the Barbie world, life in plastic is TOTALLY FUNTASTIC! A tiny waist, coiffed locks and an awesome sense of style, none other than the BARBIE! It's been like fifty years, and Barbie is becoming more and more dazzling!
The owner and dealer of Barbie Sandi Holder said that Barbie reflects who we are, what we like
So, guys here we have this post about the top ten most popular Barbie Dolls of all time, even some of them are also kept for auction. Let us take a look!
10. The Original Barbie -1959
This one is the original version of Barbie, a tiny waist with a swimsuit and the dazzling eyes. This one is like really fun to play with. The red nail color this Barbie has on her nails is a symbol of fashion for all of the girls.
9. Day to Night Barbie
This Barbie has come with a motto, that transitioning from job to Party is not so difficult. When you are out at job tie up your hair in a bun with a fine coat and after that, remove it to reveal a sleeveless, sequined shirt that brings out the inner you and the hair comes down in a totally sexy way.
8. Western Barbie
This Barbie shows the truly country-western culture. This western Barbie with her companion Dallas and Barbie with her cowgirl boots and hat look awesome!
7. Christie- Barbie's first Black Friend-1968
So this Barbie surely shows that Barbie is expanding her horizons, the original one is fairer and this one has the same features but with more tan color.
6. Super Star Barbie
This Barbie is a BOMB, when you play with this Barbie you imagine yourself in glamour!
5. Black Ken 1981
This Ken has really awesome curls which were impossible to comb. This Ken is a perfect match for super star Barbie.
4. Golden Dreams Barbie
This one is really similar to Super Star Barbie, with stylish golden dress and wonderful hair, even her jewelry is so glamorous! The blue eyes are the magic!!!
3. Ballerina Barbie- Cara
This Barbie has the ballerina outfit which is a symbol of femininity and romance. The pink ballerina slippers and the golden crown show the royalty.
2. India Barbie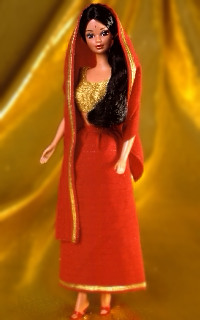 This Indian Barbie is the Brown Barbie launched in 1982; this one is really cultural and fun to play with.
1. Midge Hadley (the pregnant Barbie)
Midge is basically Barbie's best friend; this Barbie shows the family life of Barbie. This Barbie is fun because you can take off her pregnant belly and there is baby inside itJ. Isn't it cute?