Well everybody knows what steel is because it is majorly used in construction, cars, weapons, railway lines, daily household items, kitchen wares, for electricity supply purpose and of-course in the beer tin can. Steel mostly consists of iron as a major component while it is alloyed using 0.2 – 2.1% of carbon depending on the type of steel whereas manganese, chromium, vanadium, and tungsten are also used as alloy in steel. Mostly steel we use for households are always recycled, Do you know 1.3 Billion ton of steel is produced annually worldwide? well i am writing this post to tell you 10 fun facts about steel which you probably don't know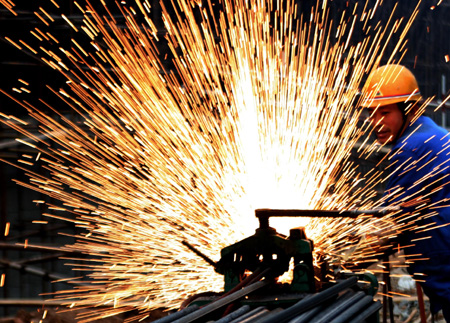 More than 69% of world steel is recycled in North America which makes total of 80 million tons of steel and every ton of recycled steel need 2500 pounds of iron ore, 1500 pounds of coal and 120 pounds of limestone


Steel doesn't loose its strength by recycling repeatedly, This way every year it saves equivalent energy to power 18 million households and that's why whenever you buy a steel it is always a recycled steel


Recycling of steel produces too much air and water pollution that's why 95% of water in North America is now recycled, After 1970 US has invested over $17 million to reduce the air and water pollution due to steel plants


More than $10 Billion has been invested in this industry to produce better quality new steel


In 2010 more than 16 million of cars have been recycled and you know that is enough to produce 15 million new cars?


Complete car frame is made up of steel and the first steel made automobile was introduced in 1918


Use of steel in automobiles have also reduced the consumption of fuel because steel designs have reduced the car weights dramatically


You know it takes almost 40 trees to build a wood house where as steel recycled from 4 cars is enough to make a 2000 sq . ft house ?


If you use steel in your house for roofs and doors then you will get many advantages as compared to asphalt roofs, Steel roofs are 100 % recycle able, They protect you in a better way from nature, they are fire proof and last more than 50 years while asphalt roofs last 17 years.


83000 tons of steel was required to build golden gate bridge and now if you want to make a similar bridge only half of the steel would be required because technology had increase the steel strength, in 1883 they started steel to build up skyscrapers and now it is the most common construction material.