Nuclear weapon is hanging over the world population like a Damocles sword and whole of the world is in danger. Although, using nuclear technology man has also produced electricity and accomplished numerous human welfare tasks but its threat cannot be ignored at the same time. Recently, a decade long war of USA and Iraq was based on an allegation that Iraq has weapons of mass destruction and USA intended to neutralize their nuclear facilities. It all came to a naught when they found nothing there but just imagine the magnitude of devastation word "nuclear weapon" lead to. Anyways, here I am going to tell you 10 Interesting Facts About The Nuclear Weapons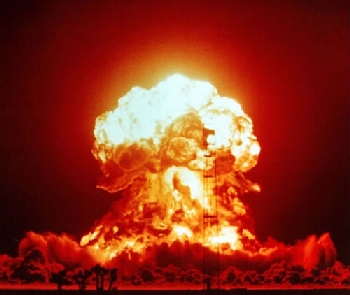 Since the advent of Nuclear weapon, humans are among the endangered species list. There are around 26,000 nuclear warheads in the world, enough to destroy civilization many times.


Two states possess more than 95% of all nuclear weapons and those two states are USA and Russia.


Currently, there are nine countries with nuclear weapons namely; US, Russia, UK, France, China, Israel, India, Pakistan and North Korea.


The total number of nuclear missiles built in USA since 1951 up till now are 67,500 (U.S. Nuclear Weapons Cost Study Project).


The total number of nuclear bombers built in USAA since 1945 up till now are 4680. (U.S. Nuclear Weapons Cost Study Project).


It is very horrifying to know that there are up to 2,000,000 kilograms of Highly Enriched Uranium (HEU) in global stockpiles. Only 15-24 kg of HEU is used to make a nuclear weapon. Just imagine the magnitude of nuclear warhead already stockpiled in the world.


The total area which is occupied by the USA nuclear bases and facilities is 15,654 square miles.


The 1970 Non-Proliferation Treaty, approved by nearly every country in the world, demands all the nuclear weapon states to engage themselves in good faith negotiations for nuclear disarmament.


The Strategic Offensive Reductions Treaty (SORT) between the US and Russia, a treaty which required both the countries to reduce their r deployed strategic warheads to between 1,700 and 2,200 by December 31, 2012, was terminated on the following day and allowing each country to redeploy as many nuclear warheads as possible. They couldn't even wait for a day to cancel this treaty and again involve themselves into this horrendous race of deploying the nuclear warheads.


We can assess the devastating effect of the nuclear weapon from the fact that Money and non-monetary compensation paid by the United States to Marshallese Islanders since 1956 to make for the damages from nuclear testing is at least $759,000,000.