When it comes to smartphones or tablets computers, then Apple is the best manufacturer of these respective gadgets in the world. But what makes their product more enhancing and famous? Simple, from grass foot level to the ultra high level, Apple makes sure that their products has everything to satisfy their users whether it's a simple feature of music or a whole bunch of high tech applications. Let's talk about the topic now, iOS has a long history and this operating system has been a far more successful than any other because of its features and distinctive applications and once again the new version iOS 5 has just rattled the stage of World Wide Developer Conference 2011 as the Apple promised that they will throw 200 new features in this Operating System but very few were showcased. So here I have gathered the hottest top 10 new features that has been introduced in iOS 5 at WWDC 2011 . Let's have a look: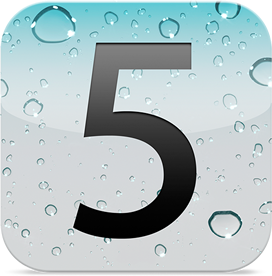 1. Notification Center: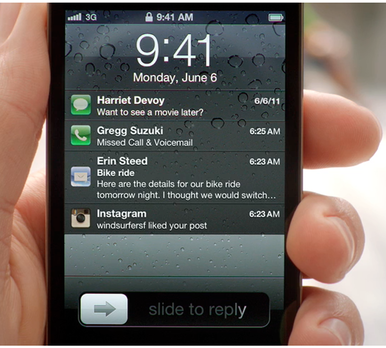 If you want all type of notification on your iOS device like new email, friends request, text and a lot more than my friends Apple have made sure this time that you can access all the notification with just a swipe away. Now how does it works, its simple just swipe down from the top of any screen to open the Notification Center and just touch the notification you want to see. You can also see the Weather update and Stock Ticker along with the other new Notifications as it appears briefly and clearly on the top of your screen and most important thing about Notification Center that it never interrupts your any type work. In simple words it is the best way to keep in touch with the all of your life's breaking news.
2. iMessage: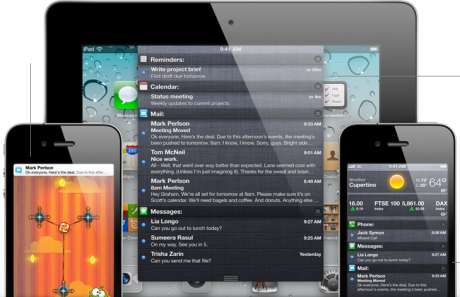 We all know that while chatting on Facebook, Yahoo and other instant messengers, we can easily point out that the person with whom we are chatting is whether writing or reading our messages, but we have never heard that this feature will also be available in mobile text messaging. So those of you, who have not heard about this, let me inform you that iMessage is the all new feature in iOS 5 that can perform the same task as the instant messengers. It allows the user to send unlimited messages to other users and to see that whether the recipients is writing or reading the message along with this, iMessage enables the user to have a group messaging and also allow them to share the photos, videos, location and contacts using Wi-Fi or 3G.
3. Newsstand: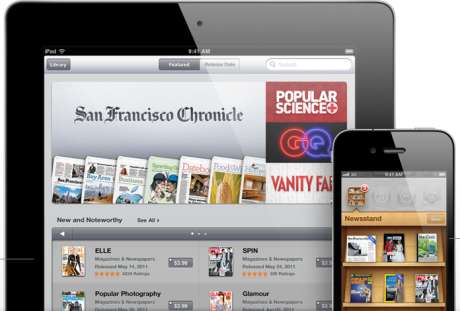 It is a folder where you can keep all your collectibles. Further explanation about this new feature is that it holds all your magazines and newspaper adds subscription. All of the purchases directly move to the Newsstand and it also downloads the new issues automatically with accepting the delivery as well.
4. Reminders: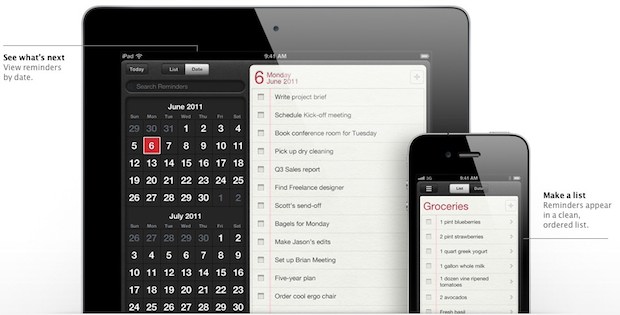 Everyone create and maintain there daily to-do list in order to complete the routine works of their lives for example, buying the groceries, payment of the bills and many others. Well this time Apple has delivered a marvelous feature for iOS 5 named Reminders. This whole new feature helps you to maintain your daily to-do list in style using the sync reminders with iCloud or Outlook to automatically update the list if there is a change in a program; also it includes the item based location option that enables the user to get reminded of the particular items if they are near to that store where those items are available.
5. Twitter Integration: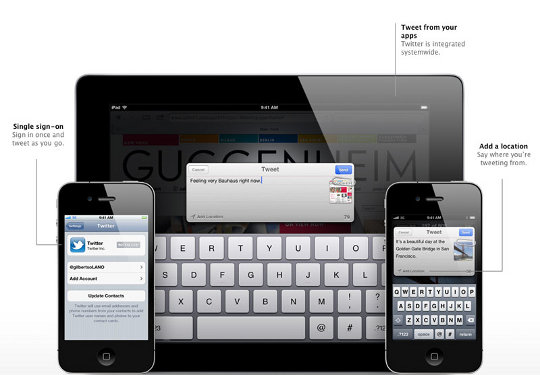 Deep Twitter Integration allows the user to easily tweet from their iOS 5 devices. All they have to do is to sign in once from the setting and then enjoy tweeting easily from Safari, Photos, Cameras, Maps or Youtube. It also make it easy in finding the friends as it works together with the contacts, just type in the name and the Twitter does the rest.
6. Camera and Photos: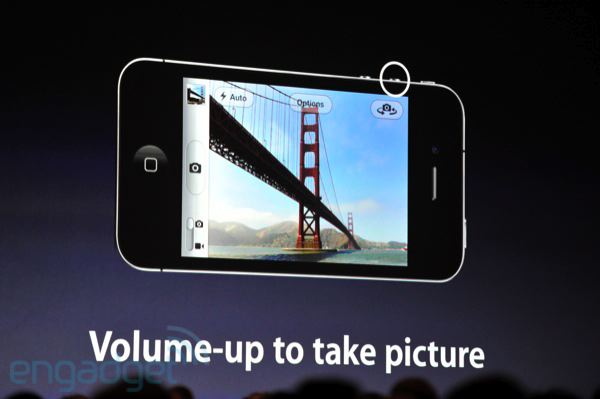 This amazing new feature allows the user to open the camera directly from the lock screen and now the volume up button acts as the photo snatcher along with the other new features of digital camera, grid lines, exposure locks, single tap focus. iOS 5 also has the photo editing feature which means that you can easily edit your photo by either cropping, enhancing or rotation and remove red-eye option. With the help of iCloud you can easily download your all the photos and edit it in other devices.
7. Safari: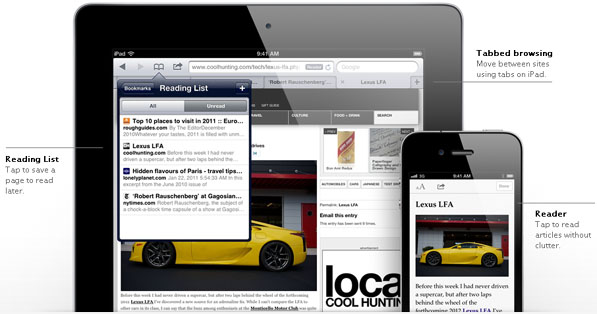 In iOS 5 you can experience the improve performance of Safari web browser. It has the ability to pursue your interested content later by saving it, skipping the distraction like ads and other content while you are browsing and with iCloud you update your list on all of your other devices and also allows you to open multiple tabs and switch between them with ease.
8. PC Free: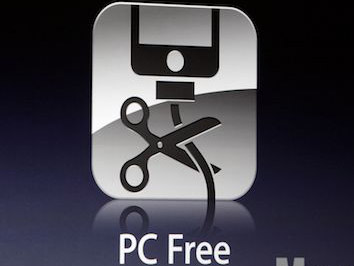 Now finally all of you can get rid of cables because in iOS 5 there is no need of cables to setting up your new iOS device as it can be done on the iOS device itself by downloading the new software updates directly from the device and create your backup automatically by using iCloud.
9. Calendar: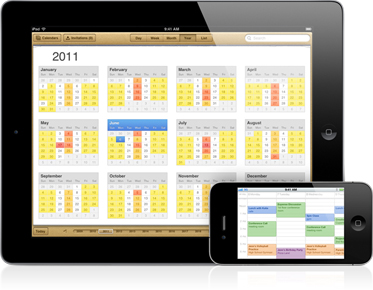 Create an event and adjust the time and duration and get your own perspective on the schedule with year view on your iOS 5 devices. You can also add, rename and delete your calendars directly from your devices and can update it on all of your other devices by using iCloud.
10. Game Center: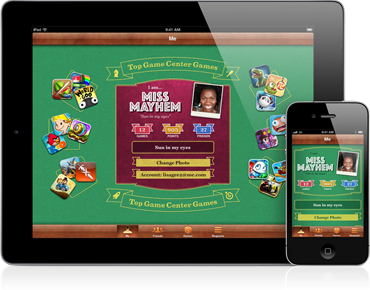 Just like social networking sites now iOS 5 brings you the all new feature of Game Center that allows you to upload your profile picture and also meet new friends with friend recommendation option to match your score or find the best competitor for you. And as you know that nobody gives the gaming platform like iOS, you can discover and play new games.