The Tablet war continues and has taken another very interesting turn after the launch of Samsung Galaxy Tab 10.1. Well we all knows that Apple iPad 2 is currently leading the market because of its power packed features and most importantly the Apple tag, which is known as the pinnacle of technology. But other leading companies are also not accepting the second position as you can see that Samsung has launched its brand new Samsung Galaxy Tab 10.1 and it has been placed in the direct competition with Apple iPad 2. Many companies in the past have tried to grab the 1st position but Apple has remained on the top. But this move by Samsung has raised many questions in the mind of Apple lovers. Because Samsung Galaxy Tab 10.1 has somehow managed to compete with Apple iPad 2 with its extremely mind-blowing features and inclusions of the latest technology called android honeycomb 3.0. So why not figure out the difference between these two Devices and decide which is better and which device deserves the 1st position. Let's See iPad 2 vs Samsung Galaxy Tab 10.1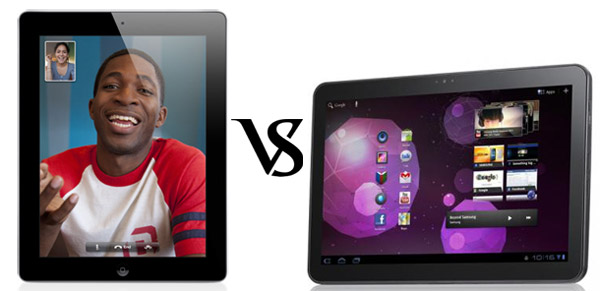 1. Display Size:
Samsung Galaxy Tab 10.1 and Apple iPad 2 weighs same which is 1.3 pounds, but Samsung Galaxy Tab has a 10.1 inch display and Apple iPad 2 has a 9.7 inch display. Talking about depth, Apple iPad 2 measures approximately 0.34 inches depth wise, whereas Samsung Galaxy Tab 10.1 measures 0.43 inches.
2. Operating System:
The clear difference can be found between Apple iPad 2 and Samsung Galaxy Tab 10.1 in their operating system. Samsung Galaxy Tab 10.1 runs the much popular Android 3.0 also known as Honeycomb which makes this device powerful and effortless in multitasking and widgets customization. On the other hand Apple iPad 2 runs iOS 4.3, which means that a user can enjoy faster browsing and programming.
3. Storage Options:
Samsung Galaxy Tab 10.1 is beaten by Apple iPad 2 in this department as Apple iPad 2 offers an options for 16GB, 32GB and 6GB memory options and Samsung Galaxy Tab 10.1 only offers two type of memory options, 16GB and 32GB.
4. Battery Timing:
All those guys who have used Apple iPad 2 knows that iPad 2 has a strong battery life that runs for complete 10 hours. But here is another fact that the Android based devices have so far beaten all the products in the market when it comes to battery timing and with just three days have passed since the Samsung Galaxy Tab 10.1 has released, it is yet to be revealed that how much battery life does this device bear. But as we all know that it is a Android based device, Galaxy Tab 10.1 will surely have a minimum battery life of atleast 9 to 10 hours.
5. Camera Result:
Apple iPad 2 comes with dual camera but Apple has not yet revealed the specification of their cameras in their devices.
Samsung Galaxy Tab 10.1 also has a dual camera with 8Mp rear camera and 2MP front camera. The main differences between these two devices is that Samsung is offering 1080p video capturing recording in Galaxy Tab 10.1
6. Screen Resolution:
Although Apple has captured most of the market, but Samsung Galaxy Tab has once again taken the 1st position in this department. The screen resolution of Samsung Galaxy Tab 10.1 comes with 1280×800, whereas the Apple iPad 2 comes with 1024×720 resolutions.
7. CPU:
Appl iPad 2 is powered by 1 GHz Dual Core ARM Cortex A9 Processor, PowerVR SGX543MP2 GPU. Samsung Galaxy Tab 10.1 features 1 GHz dual-core Tegra 2 Chipset Processor. So the speed is same but there is a difference between the types of the processor.
8. Memory:
There is a clear difference memory sizes between these two power packed devices. Samsung Galaxy Tab 10.1 has a 1GB Ram and on the other hand Apple iPad 2 has 512MB DDR2 Ram.
9. Apps and Software:
The clear issue which Samsung Galaxy Tab 10.1 is facing now days is with Google android market which has nothing to tell you about that that app you are downloading is for Tab or Honeycomb 3.0 like in Apple market they have categorized the apps for iPad and iPhone. Samsung will introduced the Touchwiz UX interface which will consist of L!ve Panel, Mini Apps Tray, Social Hub, Media Hub, Readers Hub and Music Hub. Well it's a completely new interface and this is also the main reason why Samsung Galaxy Tab 10.1 differs from Apple iPad 2.
10. Price:
After looking in the above differences, it is completely understandable that these two devices will also differ in prices. Samsung Galaxy Tab 10.1 which is an Android based device costs $829 with 32GB 3G and Wi-Fi model and its 32GB model costs around $599 whereas Apple iPad 2 is priced at $599 for simple 32GB Wi-Fi version and its 32 GB Wi-Fi and 3G version is priced at $729.