Canada Day is just coming and you need to enjoy this holiday as much as can with full spirit and joy. The day has a great history, because it joined the British North American colonies of Noa Scotia, New runwick and the Province of Canada together. Under the 1982nd constitution Act this holiday is celebrated on 1st July. The whole Canada is decorated with wonderful flags and events all around the world are organized.
Canada Day is a Historical, Cultural and national holiday which is observed all around the Canada. Celebrations include Fireworks, Parades, Barbecues, Concerts, Carnivals, Fairs and picnics are done by the people throughout the Canada. Canada Day is also called the Dominion Day. Well in this article I would like to give you the top things that you can do on Canada Day.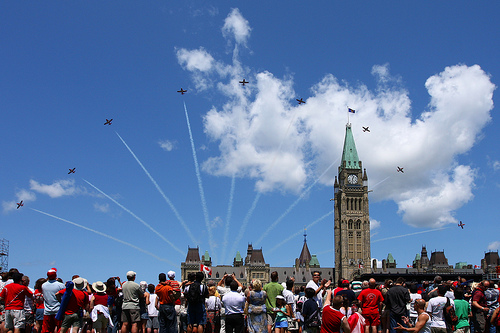 10. This Canada Day you can participate in the 1000 person Canada Day Flash Mob Dance. That is for the first time to be organized in Canada, Locals wil dance together in a Flash Mob Dance?
9. You can enjoy a wide and complete range of live music, prizes, face painting, Champagne girls and many more on the Robson Street.
8. Granville Island is also a great fun place to hang out on Canada Day for families. There parade starts at 1:30 and stops by on an interactive bike art competition where you can paint and draw all you want. Live music and dance performances are the part of the celebrations.
7. You can enjoy the ultimate bike art on the Yale town Grand Prix where the bike fans line up on the streets to watch bike racers whip by to the downtown.
6. You can go and watch the Canada Day Parade, which is presented by the Burrard Inlet fireworks Society and the Department of Canadian Heritage.
5. Fireworks are the best thing to watch on Canada Day; The Burrard Inlet Fireworks start at 10:30 and is a 20 minutes presentation. The Vancouver city is all lightened up with the fireworks.
4. Brandon also hosts fireworks and this year they will also be celebrating Canada Day with a lot of different stuff which you can enjoy.
3. Canada place is the center of all the festivities including the free stage performing including the Carly Rae Japan, Hey Ocean and all the dancers which give a jaw dropping performances.
2. You can enjoy the Canada Day at the Steveston Salmon Festival; more than 70,000 visitors enjoy this festival including the Parade, Craft Shows, Cultural events, and their Barbecue.
1. Western Canada gives you a totally free full day entertainment like the live music, you can get a honeymoon suite, ODDS, Stereos, Dragonette, Jessie Farrell, Ridley Bent, Shiamak Bollywood Dance, Abba and Fleetwood Mac tribute bands and Charlotte Diamond plus spectacular Fireworks.