Her real name is Philippa Middleton but is commonly known as Pippa Middleton. She was born 6 September, 1983 and she is an English party planner. The sweet memories of recent wedding of the Prince Williams and Kate Middleton is still lingering in our minds and it will come to you as a delight and surprise that Pippa Middleton is the sister of Catherine (popularly known as Kate) Middleton, the Duchess of Cambridge. Her father was a British Airways flight dispatcher and her mother, a former flight attendant. Party Pieces, a party bag manufacturing company, was established by her parents and it soon moved up the ladder of success and made the Middleton family millionaires. So, it was a brief introduction of the overall background of Pippa Middleton and now I will move on to some of the interesting facts in connection to Pippa Middleton.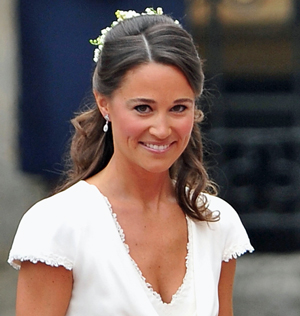 10. What is so special about the face of Pippa Middleton? I don't fancy you are going to answer this even if you think hard because her school folks know her better than us. She was called "Panface" during the school times because of her flat face. Does it look like flat? It is for you to decide but I suggest she deserves something more than a "Panface".
9.  Apart from her stunning looks, Pippa is also a good all-round sports player. She studied at Marlborough College on a sports all-rounder scholarship. This suggests that she possesses a multi-dimensional personality.
8. There is something really fascinating connected to her original name. The name Philippa means "lover of horses" in Greek. Can he live up to the meaning of her original name: a 30-year old London broker and also the former England cricketer Alex Loudon? Oh it just slipped out of my mind to introduce to you the famous personality.
7. It is not always true that famous people have famous and well-known ancestors but here in the case of Pippa, it is. Let us have a look on the ancestors of Pippa Middleton: Sir Thomas Leighton (ca. 1530–1610), Governor of Guernsey from 1570 to 1609, and his wife Elizabeth Knollys (1549–1605), who was a cousin of Queen Elizabeth I.
6. It is a point of extreme merriment to imagine a famous personality in some funny outfit. The stunning Pippa Middleton wore a unique fit while attending a party. That party must probably be a College party because she wrapped herself in toilet paper.
5. She earned one more nickname before the Royal Wedding. The nickname, "Perfect Pippa" was given to her because of her phenomenal looks and stunning style. Some other things which contribute to her nickname are her toned legs, bronzed skin and shiny hair.
4. Just for the knowledge sake, Pippa is now entitled to use the coat of arms which has a blue ribbon. This represents an unmarried Middleton female. We hope that this blue ribbon goes away and "Perfect Pippa" finds for herself a "Perfect man". Who will he be ?
3. Apart from the stylish and fashionable world of her, she is also involved in doing charity work. She is the ambassador to the charity, Too Many Women, which is a charity organization raising funds for the breast cancer research.
2. Do you want to learn about the duplicate Pippa ? Obviously the "Perfect Pippa" cannot have a duplicate as she is the one and only. But here I am talking about a television movie named William and Kate in which the role of Pippa was played by Mary Elise Hayden.
1. It would be not be an exaggeration if I claim that Pippa has cement a top place among the women list based upon her marvelous figure and gorgeous looks. The place of Number One Society Singleton by Tatler magazine in 2008 earned by her is evident of this fact. She even surpassed Princess Eugenie of York on the list.