Australia got the 15th spot among the richest countries in the world. Hence, there are people who have contributed to the riches and popularity of the country. Forbes has already released the top 10 richest people residing in Australia. They are considered the most influential people that have driven economic policies and other financial boosters that aided the progress of the country. There are economic programs that have been implemented. Hence, let us have a closer look at these people who have brought so much pride and dignity not just for their country, but also across the globe, which marks ingenuity and industry.
10. Kerry Stroke
With the recent result that Forbes released, Kerry got the 10th spot with $1.9 billion worth of total assets. He is a known businessman in Australia and got the 785th spot in the richest people in the world. The wealth that he has acquired came from construction equipment, mining, and property.
9. David Hains
He is a major investor of a US steelmaker. The total assets that he had came from private operations of different businesses where he has ventured, which are in the field of engineering, property, manufacturing, and retail. He has $1.9 billion total assets as of the moment and could have exceeded $2 million before the year ends.
8. Kerr Neilson
He is one of the co-founders of Platinum Asset Management where he also serves as its Funds Manager. Despite of the $2.4 billion assets that he has on his end, he still chooses to live a simple life amidst the luxury and huge amount of profit that he has been receiving. He has reached the retiring age where he could say he has achieved more than enough.
7. Anthony Pratt
He is the CEO and Chairman of the world's largest packaging and privately owned paper company known as Visy Industries. The sad fact is that he is still single while enjoying the time with his beloved child. He has accumulated $2.7 billion as of the moment and he consistently enjoys being included among the richest people in Australia.
6. John Gandel
He has made an investment in Melbourne Shopping Center, and most of the profits that he had came from real estate. He is the 647th richest man in the world aside from having the #6 spot that he had this year in Australia. His $3.3 billion might have another billion next year, which is possible because of his development expertise in the real estate business.
5. Harry Triguboff
Another development has been ranked and numbered on the list that Forbes reaffirmed because of his $3.4 billion asset, which is a million away from John Gandel. Hence, another information about him is that he is not really born and raised in Australia but in China and he even spent his childhood life mingling with white Russian people until he settled in Australia by 1947.
4. Frank Lowy
Because of the hardships that he went through during the World War II, he became a refugee himself but that brought his luck to Australia. Yes, he was born and raised in Czechoslovakia but permanently resided in Sydney, Australia in 1952. Now at 80, he is still witnessing the incredible height of his assets that has reached $4.3 billion up to date.
3. James Packer
He was the son of the known media mogul Kerry Packer but his path is different from his father. In fact, he exceeded what his father has accomplished if it will be based on the figures that he has reached as of the moment with net assets of $4 billion. He has a wide investment on various gaming business, apart from his family's gambling empire. He was first cited and included on Forbes's list in 2006 and consistently maintained to be part of the richest people.
2. Andrew Forrest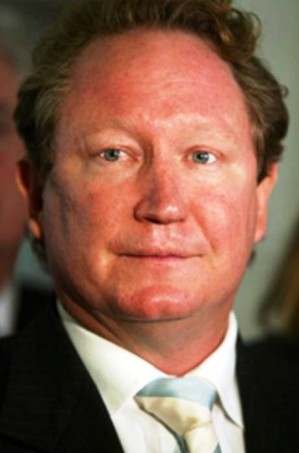 He is known as Twiggy rather than Andrew as his first name. He had held various positions before achieving great success at this point of his life as a mining entrepreneur. In fact, when he reached 30, he was considered as one of the youngest richest men in the world, especially when he founded the Anaconda Nickel, which is now known as Minara Resources. $6.9 billion is the total assets as of 2011 and his ingenious ideas are keeping up.
1. Georgina Rinehart
She is the only rose among the nine thorns mentioned in this list, which gives an impression that women can lead and really rule. The 56-year old woman has $9 billion net worth. All that she had came from the inheritance that she received from her father. Nonetheless, she managed to keep it growing, especially that she oversees Hancock Prospecting. She has proved to her stepmother that her father's death has been worthwhile because she continued the legacy and still continues to make the business progressive by more than 450%.