Veterans Day is an important day declared as an annual holiday in the United States, honoring the military veterans for the sacrifices that they had made for the freedom that they fought that ended the dreaded World War II. In fact, according to history, it ceased with a treaty and document that was signed on the 11th day of November 1918 at the 11th hour where the Germans signed the Armistice, which is also known as Armistice Day. The following year, November 11, 1919, President Woodrow Wilson proclaimed the day as an official holiday wherein he said in his statement during the declaration that it is a sign of gratitude to the servitude that these veterans had given for the cause of liberty. By June 04, 1926, President Calvin Coolidge proclaimed this day to be celebrated with appropriate activities and ceremonies. However, it was officially called as Veterans Day when Alvin King from Emporia, Kansas had been active in inviting and encouraging everyone that convinced Representative Ed Rees from US Congress that brought this bill to be approved by President Dwight Eisenhower on May 26, 1954 then later amended this act recognizing it as Veterans Day on June 01, 1954. To remember their heroic acts, here are the top songs that would let everyone remember this day, especially the military veterans.
10. Star-Spangled Banner
The song is the official national anthem of the United States wherein the lyrics came from the Defence of Fort McHenry, which was actually a poem written by Francois Scott Key who was a lawyer that personally witnessed the bombardment that took place in Chesapeake Bay. It is a well-known patriotic song that is also being sung by different schools in memories of the soldiers who have sacrificed their lives for the freedom of the country.
9. Gene Simmons' Military Tribute
This song is a tribute and a thank you song for those military that have served and sacrificed their lives, especially those who are now disabled. It also includes marines and other law enforcers who are protecting the freedom and rights of all.
8. The Battle Hymn of the Republic
This is written by Julia Ward Howe, which was actually an inspiration came from John Brow's Body Song. In fact, it became popular in 1862 and it is used during the American Civil War. It was actually a patriotic song for the American citizens.
7. Courtesy of the Red, White, and Blue
This is actually written after the 9/11 attacks that terrorized people in the United States and people in other parts of the world. This is not just an ordinary song, which in fact, is called as song for the Angry American people. It was written in 2001 and released in 2002.
6. A Soldiers Prayer
This was written during the Civil War by an anonymous confederate soldier from the US. It is a song asking for strength amidst the weakening effects of the war against individual soldier.
5. Ballad of Ira Hayes
The popularized version of the song has been famous, especially the Johnny Cash version that has become the 1965 self-titled debut album. The song revolves in the story of one of the 5 marines and a Navy Corpsman who became popular for raising the flag on Mount Suribachi during World War II.
4. My Country, 'Tis of Thee
It could be associated with the Americans since it is an American patriotic song that was written by Samuel Francis Smith in 1831, while he was still studying at the Andover Theological Seminary and has actually various renditions and translation thereafter. It has become one of the favorite tribute songs during Veterans Day.
3. The Ballad of the Green Berets
This was a big hit in 1966 in respect to the Vietnam War, which was written by a Green Beret Medic who was one of the US Army staff that had to go home after receiving serious wounds. He was convinced to record the song that he made it together with Robin Moore, a known author of The Green Berets.
2. Am I A Soldier of the Cross?
This song was written by Dr. Watts in 1709 after the sermon that he gave that came from 1 Corinthians 16:13 but the music score of it was made in 1762 by Thomas A. Arne. Although this song is a battle for religious belief, it has been a favorite song being played during Veterans Day.
1. Onward Christian Soldiers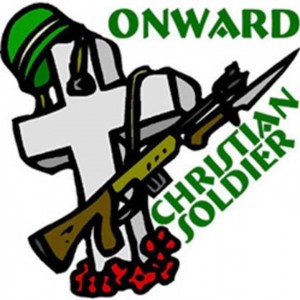 Upon listening to this song, anyone would receive a different kind of energy and spirit to keep on fighting. No wonder why it bagged the number one spot among all other songs being sung every Veterans Day Celebration. It was written by Sabine Baring-Gould and its music came from Arthur Sullivan in 1971. This was a musical military theme that encourages courage and strength to fight on.