Thanksgiving Day is the most celebrated holiday in the United States every 4th of November each year. In fact, this is part of the top 6 holidays that American citizens look forward to aside from Christmas Day, Independence Day, Labor Day, Memorial Day, and New Year Celebration. Originally, this celebration normally lasts for 3 days and yet it was superseded as years passes by. It is an event that happens after Black Friday. The first celebration took place in the fall of 1621. It was an event where people are feasting where you could see and eat fish, berries, boiled pumpkin, fowl, deer, and plums. Let us see the top dishes that can be seen on each table in the many residences in the United States of America.
10. Ham
This is the best replacement for those who do not like to eat turkey when the time to gather around the table comes to celebrate the day and indeed give thanks. Just a loaf of ham will do to keep the season balanced and enjoyable.
9. Cranberry Sauce
This is one of the staples in American, which has a strong sweet taste. It is actually made of cranberries, which actually serves as a sauce for turkey meat and other dishes, which is best served as a dipping sauce. It can also be applied on biscuits and breads.
8. Green Bean Casserole
Thanksgiving Day is not complete without this 1950's dish, which is a mix of canned cream of mushrooms, fried onions, and green beans. This is one of the healthiest ways to celebrate the day without succumbing too much on the meat of turkey.
7. Potato Salad
This is one of the common dishes found in most holiday celebrations in the United States. It is a combination of potato and mayonnaise.
6. Macaroni and Cheese
It is commonly called as Mac 'n' cheese. This is made of authentic macaroni pasta, with creamy butter, creamy sauce, and cheese.
5. Sweet Potatoes
Thanksgiving is not complete without the sweet potatoes served on the table of American citizens. It is called as yams where it has a mix of marshmallows and candies.
4. The Classic Stuffing
Stuffing is an ordinary and classic way of achieving crumbly, heavy, and slightly dry being placed on the heavy bread. It could be spices, vegetables, and eggs. It could also serve as a side dish or can be stuffed in the turkey itself. It perfectly combines for a healthy and savory meal.
3. Mashed Potatoes
Another dish made of potatoes, which would make any thanksgiving dinner complete by following the simple recipe that has a main ingredient of potatoes, which are being mixed with vegetable oil, milk, butter, cream, and garlic. Of course, the tasty gravy would cover the mashed potatoes that can be used too to dip the turkey meat.
2. Pumpkin Pie
This is the favorite dessert to complete the thanksgiving feasting, which is made of baked pumpkin custard, which is actually formed out of corn syrup and pecan nuts that would be spread over to a pie shell. It is up to you if you would like this pumpkin or an alternative called pecan.
1. Turkey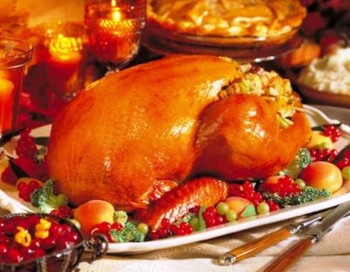 It does not matter how you would want to cook it, but there are two popular and favorite dishes out of this turkey, which is the primary meal that you can see in each house of the American people in the United States. In fact, without turkey, Thanksgiving Day is not complete. It could be deep-fried, roasted, and the favorite Turducken, which is a turkey stuffed with duck and chicken. Have you ever tried it? Start including it on your lists of meals this coming Thanksgiving Day.