For those kids that feel that they have nothing to give to their parents, loved ones, other family members, and friends, worry no more because there are tons and hundreds of ideas that you can follow and use, which are easy to do and intended for you. You do not have to spend a lot or keep a huge portion of money from all the allowances that your parents give you when you go to school but having the basic things in your school bag are enough to help you in creating Christmas presents for others. How would you do that? Check these ideas.
See Also: Christmas Gifts 2011
10. Christmas Flower Vase
With the assistance of an adult, you could buy vase or create a vase by following simple instructions, which are available online. Hence, the primary element in making a Christmas flower vase that you could give to your mother, aunties, and even elder sister, is to ready a few pieces of paper Mache and create poinsettia flowers of various pieces.
9. Christmas Cards
This is one of the timeless and finest ways to express your inexpensive yet thoughtful greetings to those around you. You would just need paper, pencil, art paper, pen, scissor, and paste. You just have to ready the message that you would write inside where you could change color of each card based on the recipient's color preferences.
8. Decorate Your Own Mug
All you need to do is buy pieces of mug, which are dependent on the number of people that you would give Christmas presents to. Ask assistance from adults again to accompany you in choosing a few pieces. Ready your paintbrush and colors of paint that you would use. It is ideal that you have the design ready and write the name of the person on each mug. It is simple yet it requires effort from kids.
7. Christmas Crafts
Despite of the exposure of kids these days in using computer for hours, learning simple and very basic things about crafts will allow children to create their own Christmas craft that they can give to their mothers, fathers, and the rest of the gang.
6. Paint a Blanket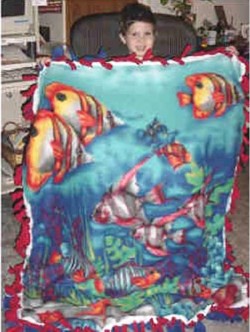 You just have to find old blanket in your closet, which have not been used for so long. It is ideal that the blanket or any kind of quilt is in plain light color so you can see the images that you are going to paint on the blanket. You could write your mom's name or father's name on it. For finishing touches, you could strip the edges to make it a unique new piece. Hence, other options too, are to buy new fabrics from your local store following the same rule in selecting a quilt.
5. Christmas Bracelets
You would need embroidery floss for about 16 strands, a piece of cardboard, pair of scissors, and glue. You could watch a video wherein an adult teaches a kid how to do different bracelet designs, which is possible through tutorials on braiding tricks, which of course, must be simple and easy to understand for kids.
4. Origami
This is not just a popular art in Japan, it is also part of the arts and crafts activities that most of the little kids have in their school. Children could incorporate various Christmas designs and symbols through the orientation of origami. You could also even read on basic and systematic guides on how to create various origamis associated with Santa Claus, Snowman, and wreath and among others.
3. Decorated Handkerchief
You would just need a new handkerchief and a paintbrush where they could paint the kind of message that these kids want to send to their recipients. For instance, when the children would want to give it to their parents, they could draw something that reminds their parents that they love them and appreciate them. It may be simple, but it would greatly touch not just the recipient but it would also develop a strong attachment to the person.
2. Cookies Wrapped in Colorful Paper
If it is possible, you could ask assistance again from an adult that would teach you how to basic simple cookies in few minutes. After baking them, make sure that you have a jar, colorful box where you can place baked cookies and other colorful wraps that you can use to decorate the jar or anything else that you have at home. Do not forget the tag signed by you before giving it to the person.
1. Decorated Bags
You have two choices, either you would buy a new bag or would create a tote bag for someone where adults must be in assistance to make this project work. Again, ready your paintbrush and various colors that you would use to paint the exterior part of the bag, specifically the front part. It is up to you what kind of image or message you would want to print on it.