Flood is the most devastating result of strong storms and other natural occurrences that cannot be controlled by humans. In fact, based on history, there have been thousands of lives that have been sacrificed along with other properties such as houses, appliances, crops, and other livelihood that were washed away and destroyed in the process. Some had to accept the fact of such destruction, but those who have survived after the incident still remember how they fought for their lives and the agony of seeing their loves die because of the tragedy that they experienced. Here are the most devastating and scariest floods that were recorded in the history that will never be forgotten by many of those who have witnessed it and who had been there.
10. Flood in Russia (1824)
Before the flood happened, a very cold winter was experienced by the Russians, which formed ice formations on rivers, canals, and other dams for so many days. When the frozen sheets broke, the water just continued flowing all over the place, covering the whole streets that resulted to 10,000 death tolls.
9. Yangtze River Flood, China (1911)
100,000 people died in this tragedy due to flood that came from the Yangtze River, which happens to be the longest river in Asia. In fact, there are seasonal flooding that have happened in history that people expects because of the location where the said river is actually situated. It serves as an economic channel where it is used for several decades for transportation, sanitation, irrigation, and industry.
8. Hanoi and River Delta Flood, Northern Vietnam (1971)
This Red River is a connection between Vietnam and Thailand. The flood happened in 1971 that killed 100,000 people, which was considered to be the most terrifying disaster that hit Northern Vietnam.
7. St. Felix Flood, Netherlands (1530)
This took place on November 5, 1530, which is also known as Evil Saturday wherein more than 100,000 people died that were actually washed out of Zeeland, Flanders, and Verndronken Land Vain Reimerswaal. The only town that was saved was Reimerswall.
6. Yangtze River Flood, China (1935)
Although China is known for the series of floods that they had, wherein most of the destructive catastrophes ever recorded in history has dominantly led by China. For this flood, 145,000 people died along with total fatalities of 3.7 million to 4 million in total.
5. Indian Ocean Tsunami, Indonesia (2004)
It started in an undersea Megathrust earthquake that happened on December 26, 2004 where the epicenter is found in the coast of Sumatra, Indonesia. It has resulted to tsunamis that killed 230,000 people, a dreadful way to remember Christmas for the Indonesians in the said year.
4. Typhoon Nina, Banqiao Dam Failure, China (1975)
According to history, initially, 86,000 died in the said flood, which was caused by a storm. Then the death count rose up to 145,000 people, which happened due to the diseases casted by the flood after typhoon Nina, one of the deadliest cyclones in history, had left the country.
3. Yellow River, Hung He Flood, China (1938)
This said environmental disaster is tragic in the sense that it took place during the Second-Sino Japanese War in Central China. This is not a national calamity but it happened when the Japanese were taking advantage against China that led to the fulfillment of suggestion of Chen Guofu to open the dikes of Yellow River that killed 500,000 to 700,000 people.
2. Yellow River, Huang He Flood, China (1887)
This river is known to be prone for flooding. However, the flood that attacked nearby places in September 1887 has killed 900,000 to 2,000,000 people. Despite of the protective dikes that farmers had built, it did not save them at all.
1. China Floods (1931)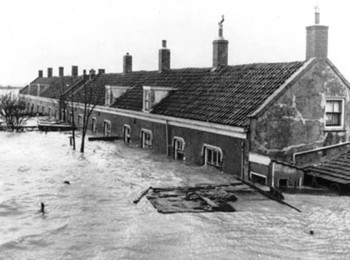 This is the horrible flood that killed 2,500,000 to 3,700,000 people over the next few months. Over 500,000 people had been evacuated from their homes, but the number of people that died on the flood has outnumbered those who were saved, which is a very rare case.