Purchasing fashion items for the guys and gals are known to be expensive, especially when they are looking for the trendiest clothes and other stuff. However, with everyone feeling the slump of the economy, even fashion has shifted to the trendy by thrifty. If you want to know which gifts could fit in the $100 budget without compromising sophistication and the elite fashion sense, then have a peek at this list and see if wearing these items is noteworthy of being included and shown on the catwalk.
10. Leopard Print Link Necklace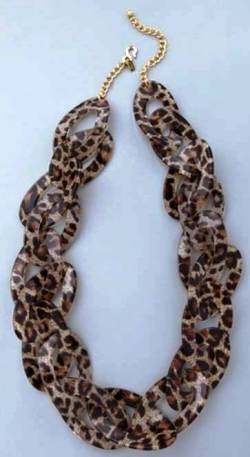 If your girlfriends are crazy about animal prints but you do not want to shoulder the expense of providing but the most expensive prices, then the leopard print link necklace from Kenneth Jay Lane can meet your expectations. The necklace is about 32 inches long, has 22-karat gold plated hook-and-eye clasp, and the resin links with leopard prints. For $80, this is quite a cheap but quality buy.
9. Gray Deco Clasp Clutch Bag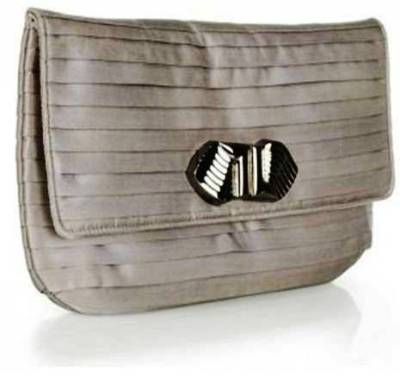 It may be gray and it may give out a vintage feel, but the gray deco clasp clutch bag from Jigsaw London is created with pleaded silk, making the bag gorgeous and fit for any season. The buckle is also a great addition, which gives out a classic sophisticated look. It used to sell for $138 but has gone down to $46 so that ladies and gents would have a cheap yet decent gift this holiday season.
8. Turnlock Shine Key Pouch
Pouches are known to be one of the best companions of women when they go out for an elegant night, in keeping smaller things like cellular phones, credit card, cash, and other little retouch necessities. The turnlock shine key pouch from the line of Marc by Marc Jacobs is made of pure leather, has a gold antique center turnlock, and has a zipped enclosure. This chic item is worth $82.
7. "Urban Caviar" Hematite Pave Circle Chandelier Earrings
The title speaks for itself and people know how expensive caviar usually is. This time around, it is not as costly when wearing it as a pair of earrings as designed and conceptualized by renowned designer Kenneth Cole from the KCNY lineup. The glitter is attractive to the ears, which only costs about $31.50 per pair.
6. Small Center Maltese Cross Cuff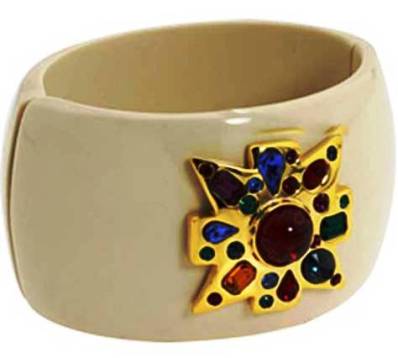 Colorful Christmas can be seen with the cross cuff from Kenneth Jay Lane where the purchase can be had for as much as $94.99 from the base price of $170 when sold on ordinary days. The item has only one size but has a color selection between gold, ruby, multi dark, and ivory, which can fit any fashion preference of the ladies. Also, the center ornament is very amazing with a touch of gold and studded with different jewels.
5. Harper Coin Pouch Key chain

From famous designer Diane Von Furstenberg comes another cute and elegant piece that is sure to make ladies use their coin pouches even more than ever. The Harper coin pouch is perfect as bag accessory and is very attractive with lipstick pink and white colors. The small but incredible item costs $85 as the materials used are imported from other prestigious countries.
4. Petite Elephant Ornament
Elephant-loving trendy fashionistas will truly love the petite elephant ornament from Eliot Raffit for $48. The ornament is coveted and looked forward to by the ladies because of its unparalleled luster, including quality that is unsurpassed because every detail of the ornament is 100% handmade. The black velvet tie also adds to the class in the said adornment.
3. Gold & Pearl Baubles Necklace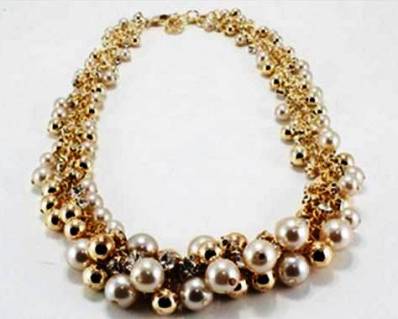 Ladies would just adore this necklace because of the wonderful combination of gold, pearls, and rhinestones. This may cost more than $100 if considered and meticulously checked, but the said accessory is only $58 despite of being elegant, lightweight, and glamorous-looking.
2. Glitter and Sparkle Four Piece Full Size Nail Color Set
Most dinner dates and special events are surrounded by all the glitz and glamour, whether it may be seen on the dress, the accessories, bags, and even on the footwear. Making your friend or loved one glitter this holiday season can be amazing with the four-piece nail color set from Sephora by OPI. Each 0.5 ounce-bottles come with shine and sparkle with shades of gold, red, silver, and multicolor. It costs $38 and is worth it because it is long lasting and chip resistant.
1. Color Makeup Palette
For only $18.74, you can give your fashionista a dose of her favorite colors and mixes with a color palette makeup from Coastal Scents. It includes 88 shades of every color you can imagine from cream down to midnight black. You may think that this gift may arouse suspicion due to the price and the infamous name, but majority of people who have used this were surprised because of its superior value.