Everyone knows that women are the fairer sex. But did you know, there are also lots of things women can do which men can't? Some of these special skills are more useful than others, but if you're a woman having a bad day; just knowing you have these special skills will cheer you up.
As for the guys ? It's always good to have a cheery reminder why the fairer sex rock.
10 things women can do which men can't. Your no-nonsense guide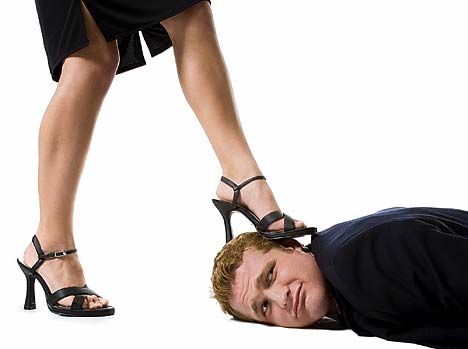 1. Have children and populate the earth
Whilst women need men for the act of procreation (kinda), only a woman can perform the act of giving birth. For some it's a surreal experience, whilst for others it's the stuff of horror movies. Men will never be able to give birth, not really.
There was a guy in Oregon called Thomas Beattie who gave birth to a beautiful baby girl. Mr Beattie was considered male after having a partial sex change some years back. But he still had his reproductive organs and was able to give birth. You work it out!
2. Cry like a little baby in front of their friends
It's not socially acceptable for men to start sobbing loudly in bars, so for the most part they don't. Public displays of sadness, weeping and general distress, well that's something only women are allowed to do.
When a guy is upset his friends will pat him on the back, get the next round of drinks in or talk about the game. Guys can't just let it all hang out; all snotty nosed on their friends' shoulder. Women can.
3. Enjoy cocktails like the infamous Pink Pus$y
Ask any guy you know to walk into a bar and order a 'pink pus$y' with a straight face. First, he'll give you a look of complete horror and then an immediate…. "no way".
Men and elaborate cocktails; especially the type that come with sparklers, just don't mix. If you're with a guy that orders a pink pus$y at the bar (for himself), it's totally ok to ask him a few very personal questions.
4. Men can't wear skirts and enjoy wolf whistles (yes, builders still do this)
Let's face it, if you've got the legs for it and you're of an appropriate age. As soon as the sunshine's out, it's nice to throw on a pretty short skirt and show off your legs. It's cool and it's cute.
Men don't get to do 'cool and cute', as they're not allowed to wear skirts. Ever. Unless you're Jean Paul Gaultier, David Beckham or a Scotsmen, guys should stay away from skirts. It just looks strange.
5. Admit to all his friends that "HE" owns s3x toys
Whilst a guy can openly say that he finds girls who own s3x toys hot. How many guys do you know, who would openly admit to owning s3x toys-for their own pleasure?
It's perfectly acceptable for a woman to have a side draw full of sexy goodies, in fact, watch a guy's face light up when he finds out that you do. But, the situation doesn't quite work as well in reverse.
Watch…
….."You're at your guys place and it's getting steamy. You open the side draw….and….. It's full of s3x toys. Big ones!
It's just not quite the same really is it?
6. Completely change their look with new hair and make up
Women can spend a few dollars on hair dye and make-up and emerge from the bathroom a completely different woman. Men tend to have the same hair colour and hair cut for years on end. It's not hard for them to get stuck in a fashion rut and some guys definitely do.
Worst still, men are categorically not allowed to wear red lipstick to brighten up a bad day. Sorry guys!
7. Say "I'll come too", when a friend says they need to go to the bathroom
Guys have never understood why women go to the bathroom in little groups. Luckily for us; we're guaranteed private space in a cubicle when we need to pee. Lots of female bonding (gossiping) goes on in front of those mirrors. Female toilets are a sacred place.
While men; on the other hand; often have to share urinal style toilets where they can all see each other's 'bits'. It's no wonder men don't go to the bathroom with their mates. Nobody wants to be known as 'the one with the small…
8. Assume that the man will pay for dinner
Many women are happy to pay their way on date, but lots of women also believe that if a guy asks them out on a date, he should pay?
If a woman smiles sweetly; but makes no move towards her purse when the cheque comes, unless the guy wants to come across to 'mean' to buy dinner he'll get out his wallet and pay.
Today's woman is modern enough to know she's not on a free ride. But the truth is, it's still a really nice feeling to be bought dinner.
9. Get s3xually turned on in public and not give the game away.
When it comes to things that women can do which men can't, this one is particularly awesome.
…..Women can s3xually fantasise about anything they like at any given time, and nobody has to know. Great right!
Guys don't have such an easy time of it. Unless you're a man that likes to wear hip-hop style baggy jeans, getting s3xually aroused in public (defined as there being more than 1 other person present) is pretty embarrassing. For everyone!
We've all seen the guy with the strategically placed newspaper as he stands up to get off the train. Nobody wants to be 'that guy'.
10. Men can't multitask, well, not properly
Tell the average man that he needs to:
• Watch three kids… under 5
• Do 3 sets of laundry and 2 of ironing
• Cook dinner and make the beds
• Then on top of all of that, run a small business too…
Many of them would think you've gone completely mad.
Yet millions of women all over the world do this every single day. Sometimes, with no help at all. There are many men that are great at handling domestics, but when it comes to being the ultimate 'multitaskers', women win hands down.