One of the greatest reasons why the world is anticipating the New York Fashion Week is for the ladies and gents to find out the best fashion trends that will not only decide the flavor of the season, but the standards that would be followed for the whole year. You can consider shoe styles, make up, colors, mixes, accessories, and even mood and feelings that would best go with your getup and personality. With the New York Fashion Week taking place, let us check the 10 latest trends that will take the fashion world by storm.

New York Fashion Week Trends
10. Flower Power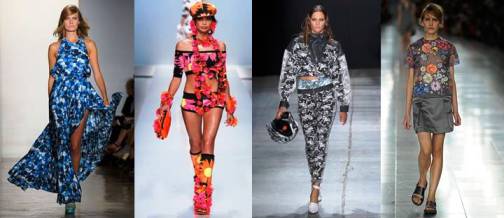 Sounds too familiar that it gives you the 60s feel? Yes, as it is known that springtime is when the flowers bloom, the sun shines great, and the grasses smell good, Flower Power is one of the most standout themes for spring. You can think of flower prints that blend with the right fabric color, or it could be handmade as an accent.
9. Gatsby Inspirations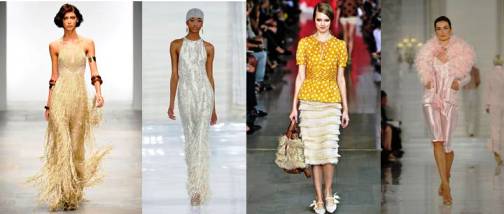 This has nothing to do with the hair gel brand, but it greatly emphasizes the setting of F. Scott Fitzgerald's "The Great Gatsby", which is all about the parties and social events taking place in the 1920s. Since this is one of those, "return of the oldies" themes being mixed with modern adaptations, you can see shapes, cuts, silks, feathers, flappers, and sequins stand out in this trend.
8. African Look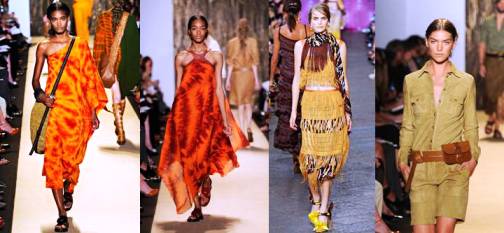 When you mention Africa, a few of the things that you can think of are the animals, the rich ethnic culture, and the rich bronze to brown skin that sets them apart from the other races of the world. The "Out of Africa" trend includes animal prints, colorful tribal geometric designs, safari looks, earth colored shades, and conservative curves.
7. Geometrical Forms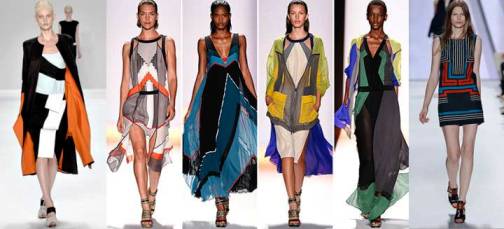 When you talk of geometry, first things that come to mind are the shapes, lines, and curves, whether in unison or combination. It can be less on prints, but more on distinction. It can usually be just dual tone color combinations, like black and white, yellow and black, orange and blue, and other sorts. The clothing patterns are more on lines, but accenting waist and hip curves.
6. Knit Dresses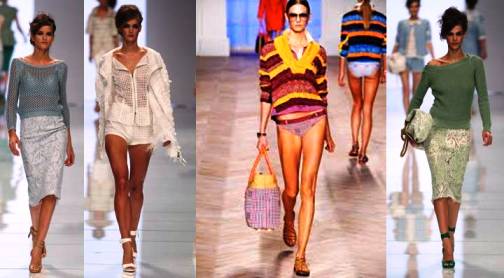 Springtime is all about being comfortable with the right touch of sun and the temperate weather. Aside from the fact that knit dresses can give that demanded comfort due to its fabric, patchworks, patterns, and even distribution of colors in this kind of dress can get you all fashionable, hugging you on the right places.
5. Sport Couture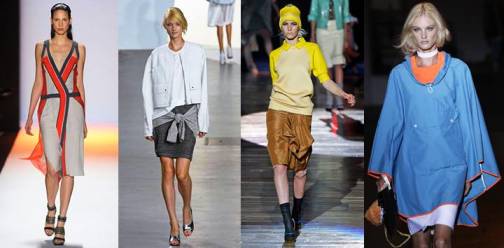 Being sporty is not just about wearing shoes and looking all athletic. This time around, sport couture is more on the shapes, themes, and materials made from inspired sports lines. Just imagine, motocross course line arrows on blouses, leather skirts, mesh fabrics, hoodies, lively single color tones, more straights and less curves, and some touch of techno.
4. Tangy Orange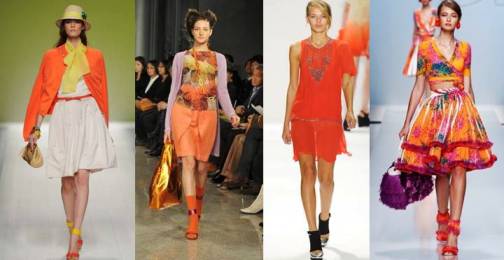 Aside from sherbet or milky shades of color, another standout fashion statement for this year is the color orange. Even though it has been present with some of the clothes and other fashion lines in the past months, orange has been there to stay. You can now feel less guilty of wearing nude orange dresses as it is now recommended to wear it with accessories, which can set your style with ease.
3. Peplums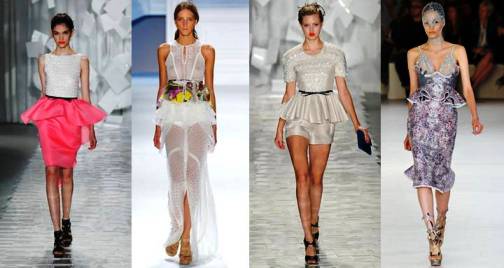 Peplums are usually not that trendy for the ladies as it usually gives out that tweeny feeling that are finer with younger women. However, the fashion world gives peplums a whole new meaning, as they are now incorporated with mid length to long skirts that are simply groovy.
2. Short Suits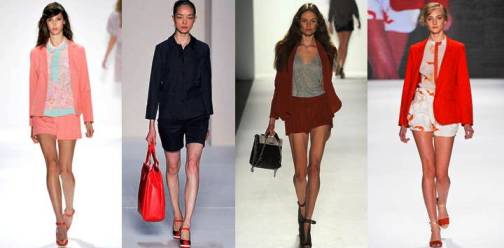 Suits a few years ago are more sophisticated with baggy or loose pants, together with corporate themed footwear. This year, the 40s classic of suit and short combinations are back with a vengeance, and getting mixed with a modern concept.
1. Sherbet Shades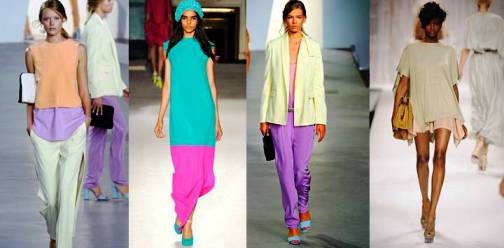 Sorbets are cold treats that are seen with lighter shades and fresh colors that are pleasing to the eyes. It be seen with some pastel colors because the shades for sorbet are more on lilacs, mint greens, pale apricots, milky yellows, and natural whites. An easy principle on the color is when you smear milk all over crayons and other hues.