Robert F. Kennedy (November 20, 1925 – June 6, 1968) was the Attorney General of the United States under his brother's administration and after his assassination under President Johnson's administration. He then resigned to pursue his political career as the US Senator from New York in 1965 and he remained one until his death as a presidential candidate for the elections of 1968. He is known for his efforts against organized crime, his struggles to bridge gaps between races, his passion for equal human rights, and his vision for the future generations with better education, employment opportunities, health and environment. Over the years many public places, schools, centers and communities have been named in his memory. Here are the ten memorials that have been created to honour him: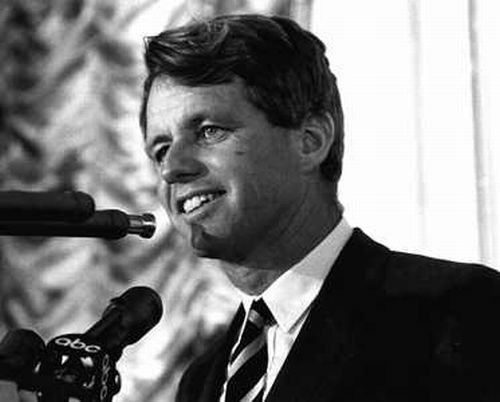 1. Robert F. Kennedy Center for Justice and Human Rights
It is a human rights advocacy organization based in Washington, D.C. which works as a nonprofit charitable organisaton under the vision of Robert F. Kennedy of a peaceful and just world where everyone has human rights protected and practiced. This charity was founded by Robert's daughter Kerry Kennedy in 1968 to further the legacy of her father and his wishes to seek a better world. Those who receive its RFK Human Rights Award and RFK Book and Journalism Award are supported in their works. It helps to educate people and bring awareness in students at their own class levels so that good work begins at this micro-level and spreads around the community. It also gives out Ripple of Hope Award for making efforts against violations around the world. It initiates and supports sustainable social justice movements across the globe. There is also the Robert F. Kennedy Children's Action Corps which was launched by a small group of private citizens in 1969 which helps abused and neglected children in the US. It works independent of the RFK Center for Justice and Human Rights however.
2. Robert F. Kennedy Awards (for Journalism, Book and Human Rights)
The Robert F. Kennedy Journalism Award is given to those journalists who cover reports on the issues of human rights, social justice and measures of individuals in these areas from around the world. The award was started in 1968 by a group of reporters who covered Robert's presidential campaign. It is the largest programme in the field of journalism where winners are chosen by their peers only. The Robert F. Kennedy Book Award that were started with the proceeds from Arthur M. Schlesinger, Jr.'s best-selling biography about Robert titled "Robert Kennedy and His Times" that was published in 1978 and won the National Book Award. The award was founded in 1980 and is presented annually by Robert F. Kennedy Center for Justice and Human Rights to the book which carries the vision of Robert in the best manner. This award is considered amongst the leading international awards that an author can get for his or her work. Besides this, there is the Robert F. Kennedy Human Rights Award which was started by Kathleen Kennedy Townsend, the daughter of Robert, in 1984 to honour those individuals from different countries who have shown moral courage and made contributions to their own country in the field of human rights.
3. Robert F. Kennedy Memorial Stadium
This multi-purpose stadium opened in October 1961 when it was originally named the District of Columbia Stadium or D.C. Stadium. Later it was renamed after Robert F. Kennedy in January of 1969. The reason for honouring him, and more so the stadium with his name, was because as an Attorney General, Robert played an important role in racially integrating the stadium. He threatened to revoke the team's lease because the stadium was under the federal government's ownership. His stand was that the team should sign on African American players. In 1962, President Kennedy attended the event of the stadium's first baseball All-Star Game. The Stadium over the years has held many international matches of soccer, besides baseball, American football, boxing, concerts, motor sports and other volunteer services. It was the first major stadium to have been designed specifically for a multisport facility for both football and baseball. Its seating capacity is of 46,000 spectators.
4. Kennedy-King College
Known as KKC for short, it is a two-year community co-educational college in Chicago, Illinois, which is part of the City Colleges of Chicago and awards associate degrees. It was founded initially as Woodrow Wilson Junior College in 1935 and was operated by the city authorities until 1966 when it became part of community college system of Illinois State. Both Dawson Technical Institute and Washburne Culinary Institute are affiliated with KKC. The renaming occurred in July 1969 to honour both Robert F. Kennedy as well as Martin Luther King, Jr. almost a year after their assassinations.
5. Robert F. Kennedy Memorial at Arlington National Cemetery
It was built in 1971 across from Robert's grave in Arlington National Cemetery, where both President John F. Kennedy and Senator Edward M. Kennedy are also buried. A quote from Robert's speech made during his tour of the apartheid-ruled South Africa in June 1966 at the University of Cape Town on the Annual Day of Affirmation appears on this Arlington National Cemetery Memorial that says, "Each time a man stands up for an ideal, or acts to improve the lot of others, or strikes out against injustice, he sends forth a tiny ripple of hope…". There are other famous quotes from his various speeches made at various times which are engraved on this memorial.
6. Robert F. Kennedy Community High School
This is a community public high school in the Queens area in New York City that was established in 1992. There are some 731 students in enrollment according to the New York City Board of Education. The high school has its own newspaper, rfkRecord. It has been named in honour of Robert F. Kennedy and his work in the neighbourhoods of the Queens area, which is pre-dominantly an African-American community residential area. Robert F. Kennedy wanted a thorough desegregation in educational centers across the country with all races, ethnicities and communities being taught together.
7. Landmark for Peace Memorial
It is a memorial sculpture at Dr. Martin Luther King, Jr. Park in Indianapolis that honours the contributions of both Dr. Martin Luther King, Jr. and Robert F. Kennedy. The sculpture is again symbolic of how both the leaders tried hard to reach out to each other amidst racial violence and discord in different communities. The sculpture was designed by Greg Perry in 1994 which is present at the same site at which Robert gave an impromptu speech that he gave from the back of a pickup truck on the assassination of Dr. King to a crowd that did not know what had happened. He asked for racial reconciliation and peace to be observed under the circumstances. Though Robert was strongly advised not to speak to a gathering that might turn violent as riots had broken out in different parts of the US after the assassination of Dr. King, but he insisted saying that it was his moral duty to address the audience and request them to be patient. He was present there to speak about his presidential campaign, but had to speak about what a leader of people should have spoken about. Due to his speech no riots occurred in Indianapolis and this is another victory to his cause for peace.
8. Robert F. Kennedy Department of Justice Building
The Department of Justice Main Building was renamed after Robert F. Kennedy in 2001 by President George W. Bush to honour his contributions by directing the General Services Administrator to designate the change in name through a presidential memorandum. He gave the address of the rededication on November 20, 2001, the birth anniversary of Robert. In attendance was also present the then Attorney General John Ashcroft who also gave the rededication speech at the occasion honouring Robert. The building still remains intact with its original historical facades, lobbies, corridors, library, Great Hall, executive suites and private offices with their original materials and designs, which also include extensive application of ornamental aluminum. Present at the rededication ceremony was Mrs. Robert F. Kennedy, Ethel Kennedy and his eldest son, Joseph Patrick Kennedy II, who also spoke at the event.
9. Robert F. Kennedy Memorial Bridge
This bridge was previously known as the Triborough Bridge and opened on July 11, 1936, but was renamed in 2008 to honour the works of Robert F. Kennedy in bridging the gaps between different communities, especially in the state of New York where he was also the Senator from 1965 till his assassination. Being a bridge it symbolizes how he made efforts to bring people together on one platform. It is a complex of three separate bridges in the New York City. Those three bridges cross the Harlem River, the Bronx Kill, and the Hell Gate, which is part of the East River and they all connect the boroughs of Manhattan, Queens, and The Bronx bridging the Randall's Island and Wards Island that have been joined by landfill. The bridge have designs of a suspension bridge, lift bridge and truss bridge, and carries 8 lanes to Interstate 278. The toll is $6.50 as of 2010 and have a daily traffic of around 165,670 (Suspension span), 88,121 (Lift span) and 78,399 (Truss span).
10. Robert F. Kennedy Community Schools
The Robert F. Kennedy Community Schools which are also known as the RFK Community Schools is a complex of public schools in Los Angeles, California. The cost of constructing these schools was around $578 million that makes them the most expensive public schools in the United States and perhaps in the world. The school has a capacity for 4,200 students. The site where these community schools are built was that of The Ambassador Hotel, where Robert was giving his victory speech after winning the California Primary and within hardly three minutes after the end of that speech he was assassinated by Sirhan Sirhan on June 5, 1968. Los Angeles Unified School District wanted to build a school at this site since 1980s. Donald Trump wanted to build the world's tallest building on the site. Eventually, to commemorate Robert F. Kennedy's legacy the plans for the schools were passed and the hotel was demolished in 2006, but still retains a lot of its original design made by the architects of Gonzalez Goodale. There is also a memorial park to Robert along with Wilshire Boulevard and also has fine art murals and a marble memorial that depicts the image of Robert. It has state-of-the-art swimming pool and preservation of pieces of the original hotel.