If you have plans to watch personally the Olympics 2012 that will be held in London beginning July 27, 2012, definitely, you have to make an earlier booking now. It is expected that there are huge number of spectators of the show since it would lasts until August 12, 2012. For those who are after their budget and would want to cut from the costs of staying in a few weeks in London, definitely would allocate on something that they could bring home rather than paying beyond their funds. Shun away your worries because definitely with these 10 most affordable hotels in London, you would still get the comfort and amenities that most of the luxurious hotels are offering to their clients, and guests.
10. Best Western Ilford Hotel £17.33
It is a 3-star hotel located at 3-5 Argyle Road Ilford London 1G1 3BH in England. It has 35 rooms and its daily rate starts at £17.33. It has a room service, flat screen TV, power shower, relaxing baths, free parking, internet access, and a media hub. There are other facilities that you could enjoy as well such as conference room, wake-up service, central heating, and other standard amenities including their free English breakfast. They are also offering discount for this special event that you could take advantage of.
9. Skyways Hotel – £17.50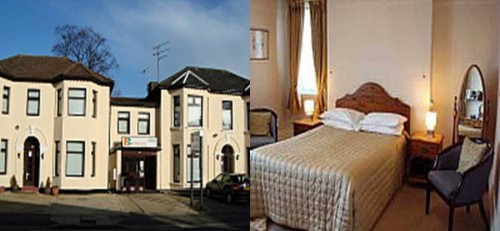 For the starting rate of £17.50 in a day you could choose among 34 rooms that this 3-star hotel has at 19-21 London Road Slough London SL3 7RL in England. They also have deluxe rooms that you could find in most of the high-end hotels. In just 40 minutes you could reach the Central London via Slough Train Station. They have parking, restaurant that serves genuine North Indian Tandoor food and a bar. Moreover, part of that rate is a free English breakfast and it's near the Heathrow Hotel.
8. Best Inn Hotel £ 18.75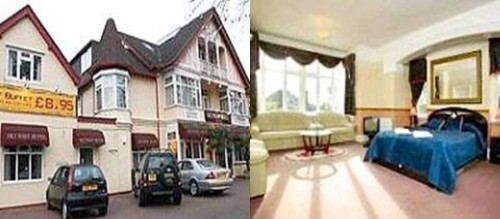 It is a 3-Star B & B hotel with 20 rooms which is located at 10 Argyle Road Ilford London 1G1 3BQ in England. Their starting rate is £ 18.75 and breakfast is already included during your stay. It is near the town centre, pubs, shops, and restaurants. Enjoy their facilities and services such as their Wireless Internet Access, luxurious facilities, and other standard amenities that you could also find in a luxurious hotel. You'll get to enjoy their garden where you could sit and relax.
7. BayTree Hotel – £ 20.00
It is also a 3-star hotel with 16 rooms wherein it charges £ 20.00 per day and it's situated at 59-Vicarage Lane Stratford London E15 4HG in England. It is near the Westfield Stratford City shopping centre and Olympic Village. They have single, double, and triple guestrooms wherein it has a blast of amenities such as WiFi Internet access, DVD, TV, air-conditioning, hairdryer, and a private room with shower. It's not just affordable, but you could only take a walk to the Olympic Venues for the upcoming London Olympics 2012.
6. Master Robert Hotel £ 22.00
It starting rate as you stay at Master Robert Hotel for only £ 22.00, but it is packed with wonderful amenities that you could enjoy in their 96 bedrooms which include data-port facilities for computer, private bathroom, hospitality tray, licensed room service, mini-fridge and a lot more. It's indeed an affordable hotel that offers a homey ambiance which is near the Heathrow Airport, Central London, and Windsor.
5. Bridge Park Hotel – £13.00/23
For inexpensive hotel rates of £13.00 to £23.00 you would enjoy their 40 rooms which are equated among the 3-star type of hotels in London, where you could feel the convenience and security because of their 24-hour reception, wireless internet access, internet café, private rooms, and other standard amenities. English breakfast is free, which is part of the fee that you have to pay. They also have kitchen facilities that you could use, comfortable pub bar, conference room, and a restaurant. It's near the Wembley Stadium and Central London because it's located at 16 Hillside Wembley London NW10 8BN in England.
4. California Hotel London – £ 25.00
It is a 3-star B & B type of hotel in London which is found at 4-B Belgrove  Street, Kings Cross London WC1H 8AB in England that has 60 rooms that charges at £ 25.00 per day. They have quad or 6 person room, triple, double, twin, and their typical single room. They have the necessary amenities like alarm clock, TV, central heating, coffee making equipment, wireless internet, and the basic facilities like washbasin, shower, and bath. It has a free English breakfast that you could enjoy in their bright breakfast room. There are also sun terrace, bar, restaurant, and a garden area where you could truly relax.
3. London Guest House Acton – £ 25
This is one of the top pick  affordable hotels in London, wherein it starting rate is £ 25 per day that has 16 rooms and near the West  London area since its located at 167 Horn Lane  Acton London W3 6PP in England. It has full amenities like minibar, private bathroom, WiFi, trouser press, wash basin, 24-hour CCTV for full safety, and free continental breakfast. While staying for the London Olympics 2012, you could also visit the famous places nearby like the Buckingham Palace, St. Paul's Cathedral and Nelson's Column.
2. Croydon Court Hotel £ 32.25
It is a 3-star hotel with 49 rooms wherein their starting rate is £ 32.25 which is situated at 597-603 London Road Thornton Heath Croydon London CR7 6AY in England. Breakfast is already included on that fee. They have standard amenities that most of the affordable hotels offer on this list. The central London is just a train away from this hotel where you could enjoy majority of the tourist attractions, clubs, and bar.
1. Asaha Hyde Park Hotel – £ 32.50
This is an ideal location if you want to explore the top tourist destinations in London such as London Eye, Science Museum, and if you want to shop around on Regent Street and Oxford Street. Its starting rate of £ 32.50 is really affordable  for a 3-star hotel that offers 21 rooms at 16 Wesbourne Street Hyde Park London W2 2TZ in England. It has plasma LCD TV, kitchen area with complete kitchen tools, WiFi, standard facilities, and other equipment.