Everyone is expecting that the relationship of Kristen Stewart and Robert Pattinson might come to an end after the controversial photo scandals of infidelity between her and movie director, Rupert Sanders, were posted online through social media and other online portals. Despite of the apology that they have extended to their respective partners, much of the pain had been felt and it is still being experienced by them, especially with the shame and the feeling of being cheated. This is not the first time that celebrity couples faced this kind of embarrassment since they are public figures, being looked up to by their followers and fans whose expectations are so high for them.  Nonetheless, according to history, there are celebrity couples who have parted ways legally, yet they remained to be friends. Here are the 10 most controversial celebrity break-ups that shocked the world.
10. Christina Aguillera & Jordan Bratman
They were married on November 19, 2005, but got separated on September 11, 2011. The divorce papers were filed on October 24, 2010, and it was finalized after 6 months on April 15 the following year. They made an announcement of their separation on October 12, 2011 then a few days after Christina filed a divorce herself. They have a child named Max Liron Bratman who was born in 2008.
9. Christie Brinkley and Billy Joel
One might wonder why most of the marriages that Christie Brinkley had ended up into separation. They were introduced to each other at the island of St. Barts in the Carribean. In fact, they had a romantic wedding engagement. After two years of dating, they were married on March 23, 1985, which all happened in the romantic venue of Yach on the Hudson River. They have one daughter named Alexa. It was a second marriage for both of them. They had a formal announcement of their separation in 1993 and Christie Brinkley had two weddings after her divorce with Billy Joel.
8. Eva Longoria & Tony Parker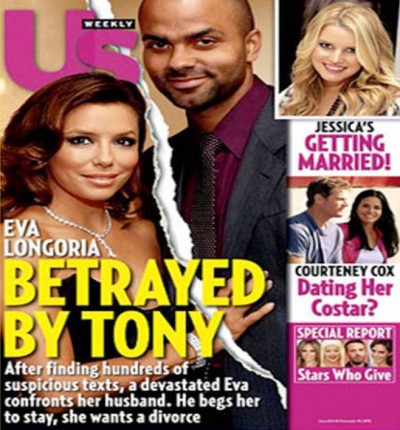 The popular NBA basketball player Tony Parker and the star of Desperate Housewives had the grandiose European Castle Wedding on July 7, 2007, which was held at Chateau of Vaux le Vicomte, which is a known 17th Century castle. After a year, rumors came in that she was pregnant of which she denied. Nonetheless, speculations of a shaky relationship was stirring a year after marriage, until Tony Parker issued a statement that he would file a divorce after realizing that he could not change his wife's mind to keep their relationship after his fling with his teammates' wife, Erin Berry came into circulation. It was also confirmed by Eva Longoria wherein she shared in one of her interviews in one of the magazines that she had seen hundreds of text messages between the two.
7. Angelina Jolie and Billy Bob Thornton
Despite of the strong opposition coming from different people when the two had decided to be married in 2000 because of the wide gap of their age, they did surpass the obnoxious remarks of the people around them. Their love story started when they were paired in the movie Pushing Tin in 1998. They were together for two years and by 2003, a divorce was filed. They have shared custody when it comes to their adopted son, Maddox, as mandated by the court.
6. Demi Moore & Ashton Kutcher
Their break-up was really controversial because it was confirmed that the cause was the constant partying of Demi Moore. Just like Angelina Jolie & Bob Thornton, there is a wide age gap on their love affair. Nonetheless, it was observed that Ahston Kutcher is much mature than Demi Moore, which really caused conflict to the two. Other rumors also came in that Ashton was cheating on Demi, since he had a history of it on his first relationship where he was being linked to Brittney Jones and even with Leal, but he never denied or confirmed it. Nonetheless, it became more scandalous wherein his infidelity was recorded in camera where a certain magazine has released those photos.
5. Tom Cruise and Katie Holmes
Just like other couples on this list, their relationship went in a whirlwind romance that ended up being married at the 15th Century Odescalchi Castle on November 18, 2006. However, after 5 years of being together and being blessed with a kid named Suri Cruise, they are now in the process of filing their divorce case. Based on rumors, which were cited in various news portals, the reason of their separation is the attitude of Tom Cruise over Katie Holmes. As much as they are keeping the details of their divorce private, details are leaking in the public, which they don't have control of.
4. Johnny Depp and Vanessa Paradis
After 14 years of being together, they have decided to call it quits. Yes, they were not legally married, but Johnny Depp has decided that he would pay Vanessa Paradis an amicable settlement for the sake of their children, which is amounting to £100million. They have two kids, Lilly Rose and Jack. They did not give any details of their break-up, but Vanessa Paradis was spotted looking for a house prior to the announcement of their amicable separation.
3. Kim Kardashian and Kris Humphries
This relationship was controversial because they were just married for two months, and after which, a divorce was filed after Kim Kardashian sought a top lawyer to finalize their separation. Despite of the criticisms that they have received that they should never been married in the first place, Kim blamed herself so much for being in a whirlwind relationship.
2. Brad Pitt and Jennifer Aniston
They were almost the perfect couple that one could see, and everyone was really shocked when they made an announcement in 2005 that after 7 years of being together, they had decided to separate legally. Their love affair was really something that you could giggle about, especially when they just started dating and knowing each other in 1998 through a dinner date. On July 29, 2000, they had one of the most lavished weddings among all other celebrities who tied a knot with their respective partners. The legal reason they have stated on their divorce was irreconcilable differences. But based on reports, Jennifer initiated the separation since she's not yet ready to have kids yet, which was opposite on Brad Pitt's yearnings to have kids soon.
1. Jennifer Lopez and Mark Anthony
This was the third marriage of Jennifer Lopez after having two failed marriages. This time around, it was Mark Anthony who initiated the break-up. They have two kids which happened to be fraternal twins named Max and Emme. After 7 years of being together, they have decided to formally split-up after being married on June 05, 2004. It was the second marriage of Mark Anthony since he was also divorced to the former Miss Universe 2004; Dayanara Torres which took place after his divorce has came to its finality in 2004.