To those kids of this generation who have not yet experienced the joy of playing around with other kids in their neighborhood by doing physical, and fun-filled outdoor kids' games,  they still have the time to take advantage of the joy that they could get out of it. Despite of the modern gadgets available that you could simply click on, and presto you could select any games installed in your PCs at home or other tablets, the classic and traditional games will let kids of this generation mingle and experience being a kid. Your parents might be familiar in one of the Top 10 Outdoor Games for Kids since breakthrough happened at the end of the 19th century, while approaching the 20th century. Kids should not stay inside their room and face the television, or hold a new gadget just to ensure safety, they also need to move around, mingle with other kids, and develop social interaction through outdoor games. In fact, it's recommended by majority of the health experts for them to grow healthy, burn out calories, and to strengthen their body especially the limbs and muscles.
10. Hopscotch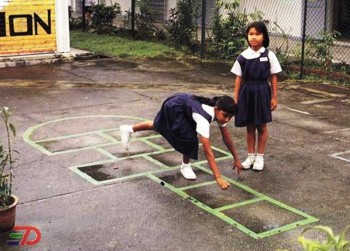 You could use a sidewalk chalk if you are going to play on a cemented surface or a stick that you could use to draw lines on soil or land surface. Another option is water which can be good both for soil or cemented surface. All you need to do is to make or create hopscotch grid and it's about 9 squares. There are small squares and larger ones. It is typically played by two people, but it can be arranged up to four persons or group scoring. Each player should have a stone or rock that would be used for tossing. The tossing will start on the first grid until it has reached the last grid, but it's a take turns set-up if one loses on the first throw, the opportunity will be given to the opponent. The rule is you have to hop with a single foot or use both feet which depends on the hopscotch pattern based on the grid.
9. Frisbee Tower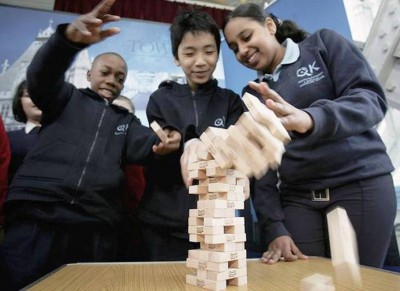 This is a very simple game, but it requires focus, and intellectual ability. You would need mini Frisbee, or if you have toothpicks or any bunch of sticks which is equal to the size of toothpicks, it will be sufficient. Hence, you will enjoy the actual Frisbee itself if you bought one. You just have to divide the stick among the players; it could be played by 2s or even by 3s or 4s. The first player would place his or her first Frisbee in the middle of the ground, and succeeding players would place his or her on top of it until the tower topple.
8. Blind Walk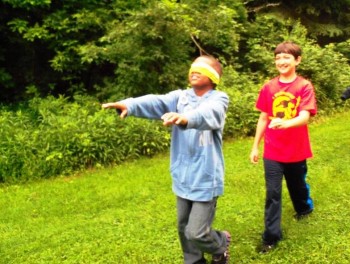 This is a very simple game and its very popular game at school and especially during the weekend where kids could play with their playmates before the dawn or early morning. An obstacle path will be created, and kids would line-up, and one at time each kid would have his or her turn by being blindfolded, and would have to walk on the straight path without looking.  A scoreboard will be used to record the time of each player.
7. Freeze Tag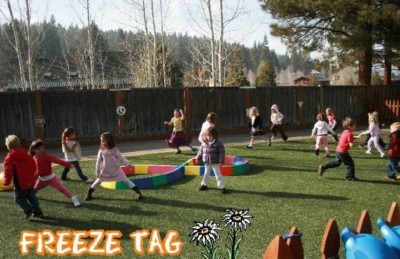 It can be played in a small or large group, and it's actually a variation of a simple tag game. Wherein if the person who is "it" tags you, you stop moving, and you'll stay on the place where you were froze. Hence, another player in the group has the power to unfreeze you so you may continue running away from the person who may freeze tag you.
6. Tag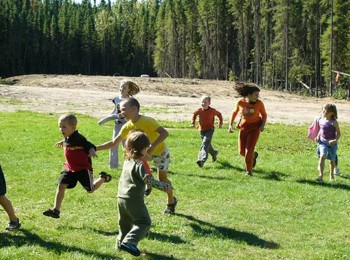 A group of kids will gather as one, and would decide who would play as being "it" who has the power to tag others. The choosing can be done either by volunteering, or the typical way of starting the game. Once settled, the game start by chasing the people around who is next to you, once chased and tagged, that person will be the next who would play "it". It's up to you if you would want to include in your rules the no-tag-backs, or just continue doing the typical set-up. The game will be finished, once everyone feels tired.
5. Jump-Rope and Double Dutch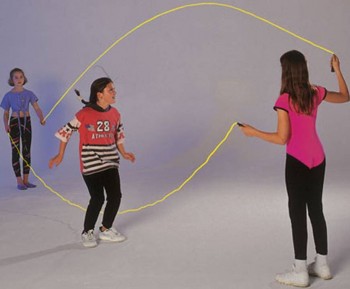 This is the favorite recess game for girls although there are boys who are participating, but since it's mostly associated as girls' game, it would only require jumping rope, and it's good for any age brackets. It would start as an individual jump rope; later on it could be pair game competitions where double Dutch is performed. There would be exhibitions that can be included depending on the rules that you want to implement to make the game exciting which all girls love.
4. Kick the Can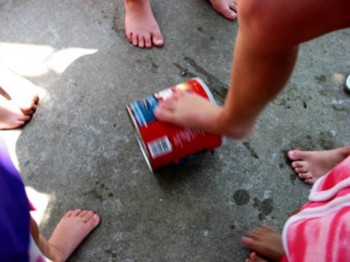 It's an exciting version and combination of hide & seek, and tag games wherein any used can be used as the primary object of the game. A person or even a group could be chosen as "it" wherein a can will be placed in the middle. The person or group who is chosen to be "it" will protect the can from the players of capturing or kicking it, otherwise, that group or individual will remain playing as "it". However, if one has been captured, he or she will replace the person who is playing "it" and the game will continue until the non-it players are found in the holding pen.
3. Capture the Flag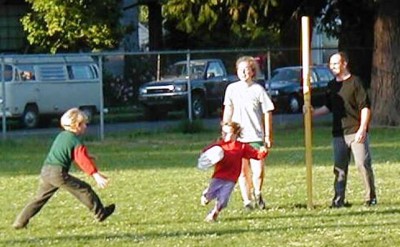 You may need two flags for double excitement or just one flag that will be hold by "it" team. This game is played by two teams. Each team composes of certain number of players equal to the number of players on the other team. If you would decide to use two flags, the mechanics of the game is to ensure that you would get or steal the flag of the other team and bring it in your base to get the score. Hence, you may also catch a player from another team if ever they will spring up to your territory, and they will be put into your jail or territory. You can free a player or if jailbreak happens.
2. Big Foot Relay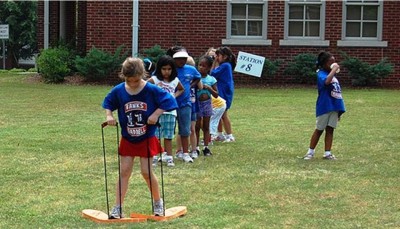 You may bring old shoeboxes or any used cartoons that you could use to trace back a big foot. Cut a slit for about 4 inches on the top of the big feet where kids' feet could sleep into it. Once it's ready, then the race begins, until everyone in both teams are finished, then the team who finished the earliest, will be the winning team.
1. Hide and Seek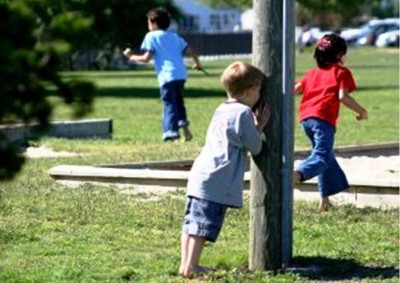 This is an all-time favorite of not just kids, but the best family activity. It's similar to tag game rules, but the only difference, the person who is playing "it" would have to close his or her eyes at the back of a tree or anything that he or she can close his or her eyes, while counting up to specific numbers. Once done counting, he or she would start finding the hiding place of all players, and when one is caught, the person who is playing "it" should make sure to go back to base where he did the counting, so that person will replace him or her to play the next "it".