People who made the decisions to become part of the Paralympic Games will not just prove to the world their abilities beyond their physically challenged situations. In fact, their families, and the countries that they are representing are cheering before them that they can go hurrah to win and bring home the sweetest bacon of pride and honor. Since the establishment and inception of Paralympics which is the counterpart of the regular Olympics for able athletes, Paralympics will provide opportunities for those athletes who are also athletic in  nature, but are being hampered by their physical conditions. Since 1948 Paralympics was initiated by Dr. Ludwig Guttman, the legacy continued although the purpose was for medical rehabilitation, but it has earned much fruition especially in giving better position for those people who feel that they are not complete, but they can compete, and defeat not their enemies, but themselves in achieving triumphant victory for all who are struggling to overcome their imperfections and disabilities. Here are the 10 greatest Paralympians of all time, who have proved their worth, and continually giving their best shots, and efforts.
10. Dervis Konuralp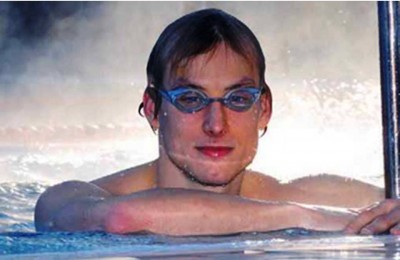 He is one of the remarkable Paralympic athletes who had to go through life  and ordeal when he turned 9 years old after he was diagnosed of Macular Dystrophy Startgarts which is an eye condition relating to his central vision. His family was in full support of him after learning of his visual impairment, but it did not hamper Dervis' dreams, but it even served as an avenue for him to be the greatest swimmer. He started participating in Paralympics when he was 15 years old which was held in Atlanta. His way to championships has brought him 14 international gold medals, and 21 other medals. He won four European championships, and competed in the three-world championships. He became a record and champion holder at the age of 17, and became an ambassador for 2012 Olympic and Paralympic.
9. Sarah Storey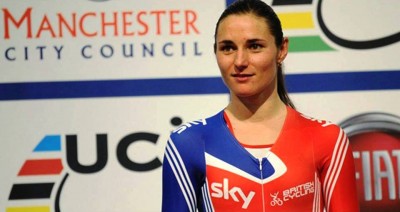 She is already 34 years old who is a representative and pride of Great Britain. Her whole name is Sarah Joanne Storey, who is a Paralympics' athlete in swimming competition, track, and road cycling. She brought home multiple gold medals and won twice in the national track for Britain. She began her Paralympics' entry as a swimmer when she was 14 years old in Barcelona where she won a bronze medal. By 2005, she switched into cycling, and even proved her abilities despite of her non-functioning left arm when she competed in the 3 km national track for able-bodied athletes in 2008. Based on the records she has 18 Paralympic Medals, 7 of which are gold medals, 8 for silver, and 3 bronze medals. She also received 20 world championship titles, 21 European titles, 7 world cup titles, and other over 140 national titles.
8. David Roberts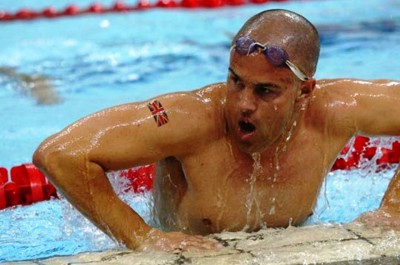 He might not be able to play in his home country for this year Paralympics 2012, but as he posted on his twitter account wherein he tweeted "Just so you all know this is not my retirement," after he made an appeal to reconsider the decision and the conditions that he had. Nonetheless, despite of his eagerness to surpass the record that Tanni-Grey Thompson had made on Paralympics, this 32-year old swimmer has brought 11 gold medals, 4 silver medals, and 1 bronze for his country. All of which came from the three successive Paralympics' Games where he actively participated.
7. Lee Pearson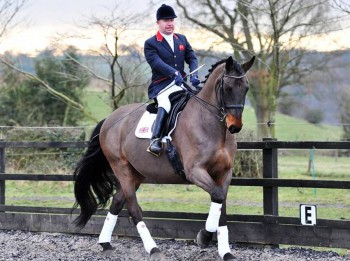 In the history of Paralympics, he has set the records straight without any flaws with his continous and consistent efforts of maintaining and getting gold medals for three successive sets. He was born with arthrogryposis multiplex congenita, wherein he would never be able to move or walk around because his limbs are twisted due to his joint and muscle condition. Imagine the 15 major operations that he underwent when he turned 6 years of age wherein he was awarded of the Children of Courage Award. Nonetheless, despite the odds of life that he has experienced since he was raised, and born on earth, he became successful wherein he got European titles, and world Championships. In fact, he is a 9-time Paralympics' champion, and at his age, he is still hoping to add more medals in his collections.
6. Chantal Petitclerc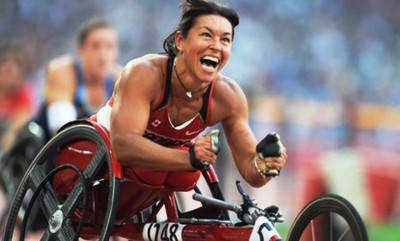 She is a wheelchair racer, and had brought home 14 Paralympic gold medals. Some of the medals and championship titles that she received from three different world competitions are not yet counted like the Commonwealth Games, the World Championships, and the Olympic Games that allowed her to received different awards and trophies. She received the athlete of the Year 2008, and she received an appointment as an Order of the Canada in 2009. She was diagnosed of paraplegic condition when she was 13 years old wherein she lost her both legs. Nonetheless, because of the motivation of her high school PE teacher to try participating in swimming activities in school, this allowed her to be more exposed in trainings and sports.
5. Wang Xiaofu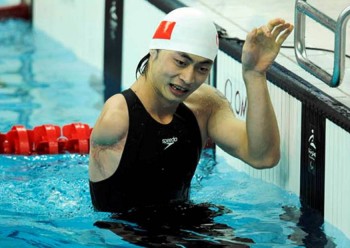 He is a Chinese Paralympic swimmer who won multiple gold medals in Paralympics' competitions. He lost her right arm when he had an electrical accident at the age of six, but he started doing trainings for Paralympics when he turned 13 years old. When he turned 14, he started participating in national games wherein he brought home three gold medals, and additional 9 gold medals by 2007. By 2004, he joined the Summer Paralympics held in Athens where he won 3 gold medals, silver, and bronze.
4. Natalie du Toit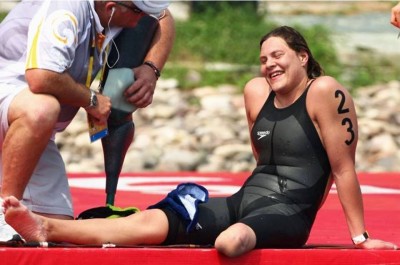 She is a swimmer from the South Africa who was born and raised in Cape Town on January 29, 1984. She became active in international swimming competitons when she turned 14 years old. However, her leg had to be amputated her scooter was hit by a car. Nonetheless, it did not hinder her to continue pursuing her favorite sport, and she even competed in the 2002 Commonwealth Games and by 2003, she was able to qualify herself to be part of the able-bodied swimming competition despite of her physical condition. She still holds the title of a 10-times Paralympics  gold medalist, and hoping that she still get qualified for Paralympics 2012.
3. Esther Vergeer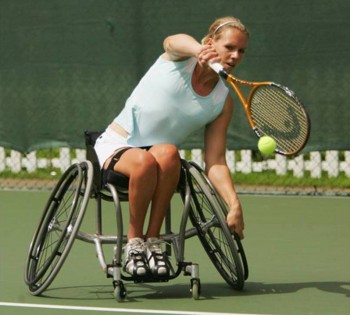 She is indeed a wheelchair tennis master, and despite that she has experienced minimal loses, she still positive, that she can do better on the next round. In fact, she was the Paralympics' champion for winning a single streak out of the 450 matches held in Sydney, Athens, and Beijing. She holds 42 Grand Slams, 5 Paralympics' titles, and 22-year end championships. In fact, she is a known dominant player when it comes to tennis. She is a proud representative of Netherlands. She is indeed unbeatable, and this is the reason why people call her the alpha female of world sport.
2. Trischa Zorn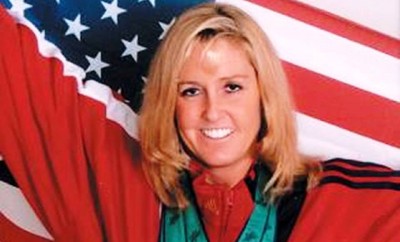 She has a total of 51 medals and 37 of them are gold. She is born blind at birth wherein her category of disability function is classified under S12, SB12 and SM12 for swimming competition in Paralympics. Nonetheless, she is the most celebrated athlete wherein she was included among the 8 athletes that were honored in Times Square, and everything started when she joined the competition at 16. Despite of her conditions, she's giving hope to her students in Indianapolis who have special needs to be hopeful and keep positivity.
1. Tanni Grey-Thompson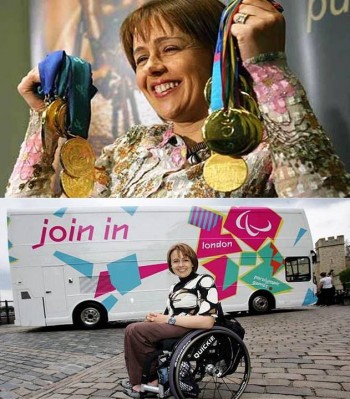 She is the greatest pride of Great Britain, and who is being looked up to of other athletes on this list. She is a 6-time winner of London Marathon, and maintained the 11 gold medals after achieving the 30 world records. Despite that she already retired in playing and participating in Paralympic events, but her fame begun with her determination to be part of the Junior National Games for Wales in 184. Hence, her international career blossomed from 1988 until she retired in 2007, and she is now coaching Jade Jones.