The Paralympics 2012 has just ended, but the memories that it actually created will leave favorable impressions in the lives of those athletes who participated, and made a relentless efforts to give pride to the countries that they have represented. Just like any other celebrations, there are unforgettable moments that have captured everyone's heart. In fact, it would stand as a reminder of the courage, optimism, and perseverance of these Paralympic athletes that despite of their conditions they were able to conquer their fear,  and continually master, and muster faith over all their foes, not their competitors, but themselves. The world would be waiting for another four years, to witness another heraldic event of the gathering of nations into one place, not just to compete, but to have fun. Since the curtain has been closed, it does not mean that those creative, full of wit, and candid moments will be forgotten. In fact, they are all filed up as top 10 Paralympic moments in 2012.
10. The Unparallel Strength of David Weir  
David Weir has continued to impress millions or even billions of spectators during the Paralympics 2012 where he is known as a wheelchair athlete. In fact, he was able to secure the last spot, and fourth gold during the T54 marathon.  He did not just gain from his fans, his country, and even those who have witnessed the performance, enthusiasm, and perseverance to outlast, outwit, and outshine his foes. It was not just a victory for him, but a pride to all other Paralympic athletes because the strength that he has shown and manifested was attestation of the hardwork that he and other Paralympians have made prior to this great event. He has shown it when he won 6 gold medals in 2008 Paralympic games, and reaffirmed that victory when he had done it again for this year's Paralympic event. He is already 33 years old, but the fire and desire of winning did not put him aback despite of trials that he had hurdle in the past.
9. The Incredible High-Jump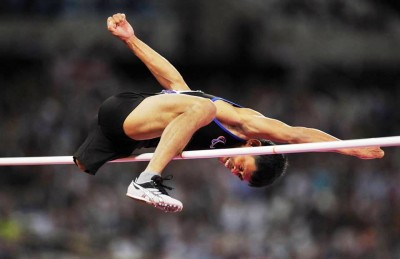 If you are amazed seeing an able-bodied athlete performing majestic and incredible routines in a high-jump competition, then, you could have been in awed if you have watched the different angles of high-jump that Paralympic athletes have shown during the Paralympics 2012. It was done on the first Saturday which they called as Super Saturday held at the Olympic Stadium. It's more than a high-jump because it has triple jump, long jump, and high jump levels. Each athlete was given three opportunities or attempts to showcase on this competition, and would be graded based on the height of the beam. Imagine that most of them have to go through beyond the bar level in order to knock it off. Hence, they have to show off flawless and perfect jump which includes the run-up and a take-off. Its indeed breathtaking to see them jump to the air, calculating their balance, with their imbalance physical abilities, but they were able to do it.
8. An Ultimate Victory for Alex Zanardi
Alex Zanardi has lost his legs in a traumatic and terrifying crash, but it did not terrify him anymore when he made a decision to divert his frustrations on positive things where he can make a difference, and show his talents. With the recent Paralympics 2012, he got his very dream, his ultimate triumph during the lifting of his hand cycle over his head. He represented Italy, and the world extends respect and salute for the job well-done and consistent efforts that he has made while undertaking this event. He got his Paralympic gold, and it was a wonderful comeback for him despite that it was a trial and effort practices, and competition for him.
7. The First Representatives of Haiti
Based on the reports and stories shared by most of the disabled persons living in Haiti, they were struggling to prove their worth and gain respect from their country mates because of their physical condition. Amidst the failed attempt to participate for the first in the 2008 Paralympics, at least in London Paralympics 2012, Haiti were able to send athletes who could compete over all other disabled-bodied athletes from other countries. They sent three athletes Nephtalie Jean Louis for wheelchair, Josue Cajuste, and Gayslie Leon. They may not bring a victory themselves, but it has boosted the confidence of all other physically challenged Haitians because of their positive amidst the persecutions, mockery, and social injustice that they receive from other people. It awakens everyone to support and love them because they can still show much beyond other able-bodied people can do.
6. The Supreme Victory for Hannah Cockroft    
She is better known as Hurricane Hannah because of the kind of energy and dominance that she has shown before getting and receiving her second gold medal after winning and defending her titles in 200m and T34 100m events. In fact, she has prepared herself well prior to the official opening of Paralympics 2012 by dying her plaited hair in red, blue, and white. She did not just nail the victory into her hands, but it was the first victory for British team. She has a different spirit who is very enthusiastic, positive, and full of spirit of really winning, and not just playing. She shunned of any negativity that other first time Paralympic athletes had when they first step-up on the game. She casted any doubts, but she just focused on her aim and goal to get victory into her hands, and she claimed the fame by proving her capacity, ability, and skills.
5. The Winning End for Mickey Bushell
As long as the game has not yet came to its end, the hope for victory is still up and there. It's the same desire and motivation that Mickey Bushell has shown that he has mustered it all until the last end of the race. It adds weight that the Paralympics was held in London which was the hometown and pride of the athletes from the Great Britain Team. Hence, it was an inspiring sight to behold that after a decade of trying, Mickey Bushell wins the game at the wheelchair sprint competition by bringing gold to his team, and his country. He is also known as a silver medalist when he participated in the 2008 Paralympics events, but this time around the wheelchair racer has assured the gold medal on his hands.
4. The Meeting of James Bond and Queen Elizabeth the II
This was a funny meeting that others have assumed that it's for real. It will keep everyone smiles every time they recall the opening ceremony of the Paralympics 2012. When she arrived at this opening, she wears bright red earplugs wherein they made a wonderful show when actor Daniel Craig who played as James Bond met the Queen. It was just a cameo role, but in reality it did not happen. As she welcomed all Paralympic athletes from different countries with her presence, she extended her whole support because of a different introduction which was all crafted that made all spectators laugh.
3. The Story of Sarah Storey
She still feels the overwhelming experience that she and other Paralympic athletes had on the recent Paralympics 2012. She grabbed victory and four gold medals to her home country as she stunned the whole world on a cycling road. She even extended her appreciation to those people who have finally recognized that Paralympics is an elite sport and not a sport for disabled people. She's very happy that she and other Paralympic winners of 2012 could be lined-up to greatest Olympians because of their relentless efforts to make their desire alive, and keep their positivity at all times. She has indeed a different story to tell, but she made an affirmation, it's all because that she believed that she is an elite athlete.
2. The First Gold of Ellie Simmonds
Ellie Simmons is the talk of the town along with Sarah Storey because of a different kind of revelation that she had shown when she won for the first time at the S6 400m freestyle and receiving her first gold. She actually sobbed, and she's in tears when she finally hit the final stroke. In fact, she has brought home two gold medals, a silver, and a bronze. She received another title of a national treasure because of the unbelievable results and performance that she has shown during the Paralympics 2012. She caught the limelight and attention of the media because of her story. She might be one of the youngest Paralympians ever compete this year since she is just 17 years old, but she inculcated inspiration to all her fellow-athletes especially those of her age and experiencing difficulty accepting their physical limitation and condition.
1. The Opening Ceremony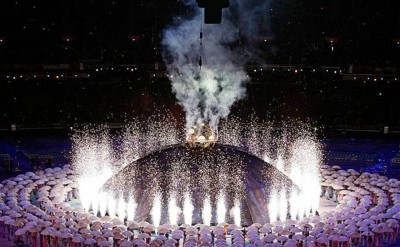 It was one of the grandest, and most festive opening ceremony done for all the Paralympic Athletes who came all the way from their countries in order to join the united efforts of all organizers from different nations in paving the way to all disabled but elite athletes. In fact, some commented that it was the night for enlightenment and inspiration because of creative theme, and mind blogging preparations that the participants or performers have done prior to its introduction. It was just an 11-day event, but the amount of preparation to introduce the noblest athletes for Paralympics 2012 is really immeasurable and incomparable. In fact, there were people who have made their picked as to the best part of the show, but realization that these physically conditioned athletes have more to prove than to see their imperfections.