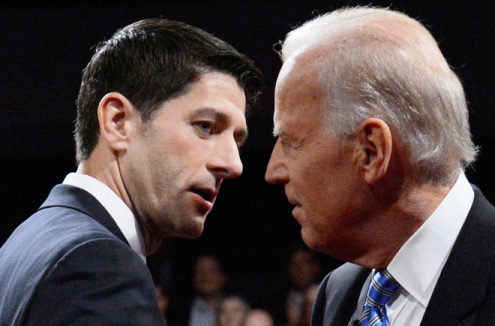 After the hot exchange of ideas between incumbent President Obama and former Massachusetts Governor Mitt Romney, people have been excited with what would turn out in the Vice-presidential debate. Vice President Biden and Republican Paul Ryan were able to bring much heat in the said debate and seeing the difference between the two. When it comes to the presentation of facts, the cracking of jokes, and even the stressing of figures and numbers associated with current situations, it can be clearly seen who among these two influential individuals have taken the vote of the masses. And of all has been said and done, it cannot be avoided that there are the top 10 lines in the Biden-Ryan Vice-Presidential Debate that have made people think, laugh, and upset altogether.
10. Ryan: Look at the string of broken promises
As this was mentioned during the part when Medicare was talked about, he stated different figures that involve the rising of prices in healthcare, which went up to $3,000. Even though there are many individuals who are not satisfied with their current health care benefits and expenses, some brows raised because the figures Ryan gave is taken as inaccurate, and baseless. Obama had somehow fulfilled some of his promises with changing the face of the healthcare industry, although it may be misleading why he is asking for an additional 4 years to make every plan and goal as possible.
9. Biden: Not mathematically possible
Of the many statements that Joe Biden made in the recent VP debate, this one liner may be one of the most accurate he could provide. Aside from being short, it gives some kind of assurance that he has studied the tax plan of the Romney-Ryan tandem. Who could even believe that despite Ryan gave all the figures necessary, Biden still wins in this aspect. The Tax Policy Center has confirmed that in order for the $5 trillion tax cut to be done, over 65% of the total loopholes should be settled and taken care of. This means that cutting the taxes by 20%, removing tax collection from individuals generating income less than $200,000, and removing real estate tax and lessening the corporate tax rate by a reduced 10% does not help much to what is needed to be achieved.
8. Biden: You know, I heard that death panel argument from Sarah Palin
The nice thing about Joe Biden is that he is into making people laugh by mentioning and taking different statements from other people, along with bashing in other names that do not even have place in the debate with Paul Ryan. He had already mistaken Ryan as Jack Kennedy at one point, and he even took the names of Sandra Palin, George W. Bush, and others. The hard part, as much as he is into making a fool of other people, his short temperateness is easily budged by his contender, that Biden spent more than 70% of the time, defending himself, rather than addressing issues.
7. Biden: Romney said, "I wouldn't move heaven and earth to get Bin Laden"
There is always risk in quoting someone, not unless sources have been checked, and information has been verified. When Biden mentioned this statement from Mitt Romney, he was instilling a wrong idea  to the masses, making Romney look bad at disregarding or not being concerned with the terrorist group who attacked in the 9/11 event. However, when the words of the republican running for president have been cross referenced, even back in 2007, he meant to address something else. He stated that it is not worth moving heaven and earth, even spending billions of dollars just to get one person. It's not that he did not care, he was just not comfortable with the idea that the government would spend so much money for Osama Bin Laden, instead of allocating the budget for the people and the programs that need more of it. It looks like Biden had to lie just to make other people look bad.
6. Ryan: Social Security and Medicare are going bankrupt
You may have noticed one of the things that republican Paul Ryan loves to do when so many people are watching or listening. He is into providing some facts that may actually wake up your senses. Known as one of his strategies to keep his audience attached to what he is going to say, he mentioned some controversial lines such as Obamacare supports religious preference, Iran can make 5 nukes, and now the Social Security and Medicare are to be drained to a pulp, which is also not true.
5. Biden: We went out and rescued General Motors
At the time when the great recession hit the US, one of the most affected was the automobile industry. The impact was so overwhelming that companies have closed down some of their factories both locally and in other countries. Due to this attempt of saving what is left in the business, cross cutting became ordinary, causing thousands of Americans lose jobs just to confirm that everything still stands. Even before the Obama administration took over, former President George W. Bush already got through saving General Motor and Chrysler, through the auto bailout program. So Biden stating that they went out and saved the vehicle production industry is just taking credit for what they have just improved. It is more of they have taken over the rescue and made things more convenient.
4. Biden: Romney said, "No, let Detroit go bankrupt"
People who hear this statement may have their eyes widened with shock, thinking that Mitt Romney has been cold hearted when it comes to the automobile industry issues during the term of President Obama. Nevertheless, looking at these lines, especially coming from Biden, may need more studying, research, and cross referencing. With the statement he wrote as an essay with New York Times back in 2008, he did not write in general for Chrysler and GM to go bankrupt for good. This was in response for the use of government money to bail out the two major car companies. He instead suggested for bankruptcy restructuring through the use of private finances, something that has been beyond possible at the time. Romney did not even stop there but he also suggested for the government to guarantee private loans for these companies, after the bankruptcy was lifted.
3. Biden: What we did is, we saved $716 billion and put it back, applied it to Medicare
With all due respect, $716 billion to be used for healthcare is a huge help for many families and beneficiaries alike. However, reality bites and most of the said amount of money are not being used back for Medicare management. The total savings stated by Biden have been cut in the total of 10 years, and some of these have been used to improve services, increase benefits, and even taking care of balances and deficits from providers. Despite of this fortunate report, majority of the money have been utilized to increase health care coverage outside of the Medicare system.
2. Biden: People making a million dollars or more
Getting back the financial stability of the US government is not an easy task, which requires the support of the people who are on the upper bracket of the society; the wealthier members of the community. This could be a dream come true if the country has richer people than the middle class masses. However, it is not the case and the meager are more populate than the Class A's. Due to these statistics, Obama's planned tax increase will also affect those who are profiting individuals who make over $200,000 and couples making an additional $50,000 every year. Now that would be ironic as this was the vision of former president Bush. So Biden's response as to who will pay more taxes on the second term was totally bogus!
1. Biden: Well, we weren't told they wanted more security there
One of the most recent issues that the US has faced was when the embassy in Benghazi, Libya was attacked by terrorists in response to their hate for the international superpower. It is unfortunate to know that they have been successful as they have taken the lives of Ambassador Chris Stevens and three other Americans. This could have been avoided if the demand of Eric Nordstrom, the top security official in Libya, was granted. He sought for more security from Washington but it was criticized beyond belief; thinking that he was asking too much. When Biden mentioned of these sentences during the debate, people who have heard the response were just upset that such assumption for safety was overlooked and misjudged, and was asserted without confirmation of any kind.