When you think of looking thinner these days, it may almost always be attributed to purchasing expensive cosmetic products, working out very hard in the gym, or even resorting to medical intervention through surgeries. Most drastic suggestions actually compromise the budget, the time, and the energy you have while doing other things that matter to you. However, when it comes to looking sexier and even 10 years younger, you do not need to think of extremes or dire solutions. Even with just finding the right clothes in your closet, you can age down a bit, and you can even slim down a couple of inches. In case you are curious as to how this is done, then you may find out the top 10 fashion tips for ladies to look thinner.
10. Look Fine with a V-neckline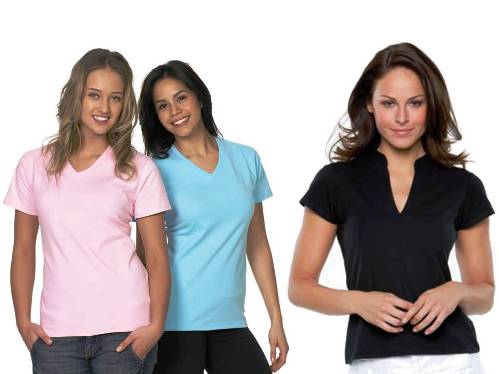 V is for vertical and for V-necklines. The stress on this phrase can never be stronger addressed as such patterns found in clothing makes a person taller and thinner. When the right line is worn, it actually improves facial features such as the cheekbone, the chin, the shape of the mouth, and even the neck. The V formation from the chest creates a virtual line from the shoulders going upward, making the face look more slender, the neck a bit longer, and the cheeks a bit thinner.
9. Wear Clothes that Have Vertical Lines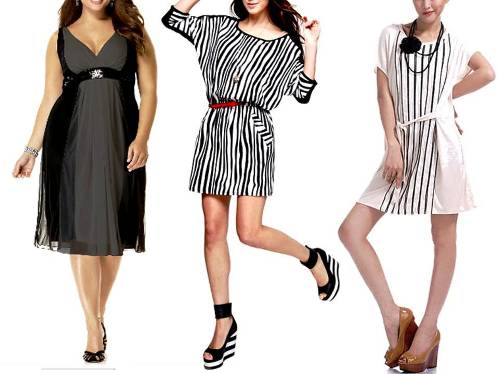 Vertical lines are not just about wearing stripes that go from the head down to the tummy area. If this is your perception, then these lines can also be replaced by seams, other fashion details such as curls or prints, and you can even utilize the vertical panel of the fabric. It provides the illusion that you are taller and that other bulging figures such as your waist or your pelvic area are slimmer and more subtle. Consider lines that are not too thick as it may defeat the purpose of actually making people perceive your enhanced height and stature. You may also opt to be more conservative with lines, especially if you are shorter, as too many lines can easily break the disguise you are trying to put up. Oh, and do not go with stripes with both upper and lower clothing. It may make you look ridiculous.
8. Look for Shoes with Pointed Toes and High Heels
When you wear shoes that have pointed toes and high heels combined, it makes the person look taller and more slender as the legs are lengthened with the point of the toes and the heels itself. In fact, when you take someone's picture wearing such footwear, standing up straight, you will fall for the trick that the person is thinner with such leg lines enhanced. You may opt to wear ones that are plain in color and not too decorated as the silhouette look may become distracted. Also, when you decide to wear pumps, make sure that the toes are not too rounded or the sole too high as it can be too obvious on what you want to achieve. Wearing 4-inch heels may also help but it is more recommended for you to wear heel heights that are comfortable to the knees.
7. Jackets for Success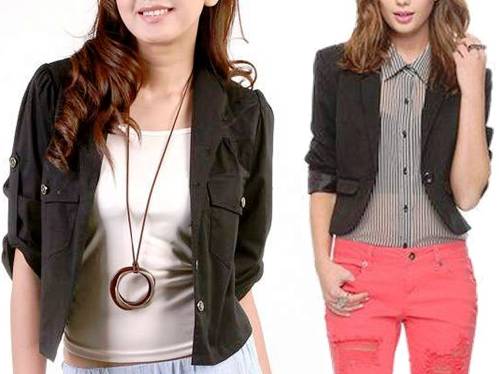 Jackets, aside from being great body warmers, can be used as accessories to make you look thinner, taller, and hotter. For the overall appearance of the jacket, purchase ones that have long or ¾ sleeves, lengths that end just above the hips, and do not have pockets or other distractions. All these features give off that taller feeling as the arms, shoulders, and legs are accentuated and focused. In order for it to help you become thinner, choose fabrics that are not too thick or bulky as it can add unnecessary inches for you. Make sure that closing the jacket does not create gaps or excessive openings in your bust as your bulges under the arms and around the waist can be too obvious. Plain colored jackets are greatly appreciated to make people concentrate on how you look and not what you are wearing.
6. Go Chic with Monochromatic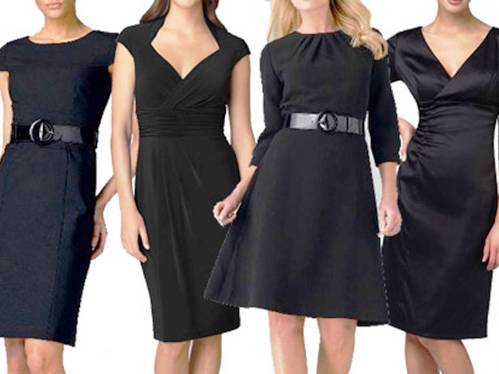 Monochromatic clothing, or simply defined as "one color" clothing, is the method of wearing one shade of color for your dress, which includes your upper and lower garments. Ideally speaking, black should be the tone that sets everything, when one needs to enhance the figure of the legs, the hips, the waist, and even the shoulders or arms. A definitive silhouette makes a person look taller and leaner. However, too much black will not always fit for some occasion. In case you need to shift a bit, you may choose darker shades of any color you could think of, or you may opt for some mix and match where the main color should be the darker shade and the lighter color should pair off with the main color of choice. Even small accessories like watches, scarves, and even earrings can alter things a bit.
5. Show Flair with Your Hair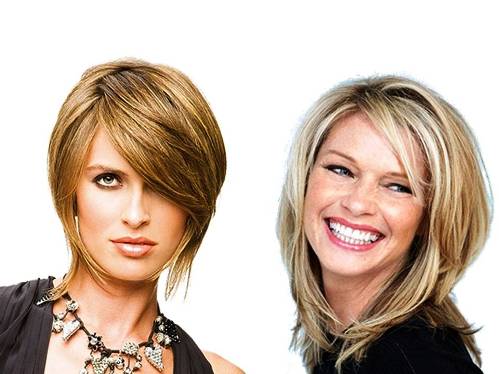 Your hair, also known as your crowning glory, can also affect how thin or sexy you look. In fact, most people who have the appropriate kind of do may be able to add some additional fat or more refined lines on their face, where hairlines may affect the cheeks, the eyes, the nose, and even the neck. Raising or separating the hair from the shoulder can give an effect that you look taller. With the shoulders already bare, plus adding some dark-shaded clothing with a conservative v-neckline, you will just look marvelous with it. Also, having the appropriate bangs can enhance facial features that attribute to facial lines that may appear flat, rounded, or chubby.
4. Sport the Right Skirt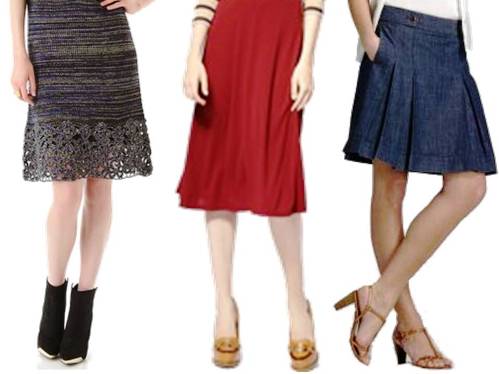 The right skirt may be a bit tricky at first, especially if you are not that conscious on how your figure looks like. The goal of wearing the right clothing can only be achieved if it hides the lines between the pelvis and the thighs, if it improves the appearance of your waist size, and if it makes you look taller. The length of the skirt should be right about or just below your knee. Why? The knee becomes a hint for most people on what you are trying to show or hide. If it's too low, then your calves become the next center of attention. If it's too high, then your thighs are taken as the focal point. So having your skirt at the right length can do wonders for you. A-lines and straight skirts are also recommended as it does the trick of making your lines not too noticeable as it just goes with how you measure. Full skirts become a disaster as it may just accentuate the lines that you are trying to hide in the first place.
3. Slip in Jeans with the Right Cut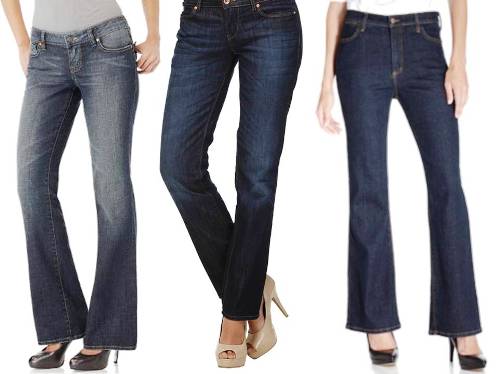 Jeans these days now have different styles and cuts to choose from. And with the trend these days, skinny jeans are in demand for the ladies that would like to flaunt their slender and tight legs. This does not work out for those who are a bit conscious because even though dark-washed jeans do not show how your legs really look like in skin tone, the very silhouette created already tickles the mind and makes people imagine things. What you need to wear are jeans that are either straight or bootleg cut. The lines that are established on the lower knee downwards make an impression that the legs are not that uptight, especially that the calf and the feet are given the right allowance.
2. Good Feeling with Well-Fitting Clothing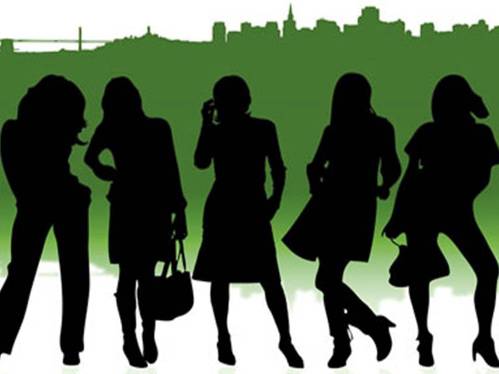 Well-fitting clothing can be asserted on how you would look and feel like if you have already worn your desired dress. When clothes are too loose, you may have achieved hiding your natural body lines, but you will appear bigger than you ought to be as people will be clueless of your curves and shape. However, if your clothing is too tight, all the bulges, the extra inches, and the hanging fat may be too emphasized that you may no longer feel like facing the crowd. Clothes that fit well are not too constrained, nor is it too baggy. Say about an inch may not be too much of comfort for you, but people will find it amazing on how your movement can become fluid with your dress. The right amount of allowance can go a long way.
1. Recompense with Confidence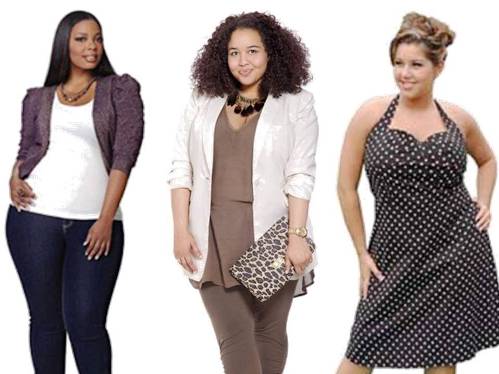 At the end of the day, your confidence will be the one thing that matters to you. Although you may have followed the nine other tips listed in this list, but you may not feel comfortable with yourself, then all these may fail you. You need to understand that ladies are able to present themselves well not just because of the clothes. More importantly, self-esteem and confidence is important when you want things to work for your good. Wearing sexy plus looking and feeling thinner does wonders for you that people can even feel your fitter and thinner aura; making everything fall into place.