Everyone feels that All Souls Day is up because of the various preparations that people do like Halloween parties, varieties of foods that they are going to prepare and bring in cemeteries, and others are doing creepy things for them to feel to be part of the world of those people who have left the earth already. Of course we missed them so much, but a part of us must move on, and get going so we could face the future ahead of us. It is true that we remember them during their birthdays, but in one event in a year, we try to reminisce the time that we've spent with them by visiting their tombs, and spending hours staying in their grave to give respect and time for them. However, there are people who are more adventurous than our traditional gestures and customs whenever this day comes. They are up for something that would really chill their bones, and makes this day more exciting, and spooky. If you don't feel the horrendous feeling of watching horror movies, then try imagining being in these top 10 haunted houses in the world, and I bet you that you would have  a spine-chilling clasp that will make you grab your sets of pillow and blanket, and sleep to death.
10. Berry Pomeroy Castle, Totness
This castle was built in 15th century which is situated in South Devon, in England. The surrounding place of it is very cozy, and there are huge numbers of visitors here because of their curiosity to experience the scary feeling of being inside. It might be small, but it has lots of terrifying stories that might nimble your whole body. Nonetheless, you don't just go there to get scared, but to learn more about the history of castles, but definitely, visit this place during the day because you won't dare to have a second tour if you'll try to make a frantic stop at night. This is maintained by English Heritage and you could also discover and see ruins of the past. It was built Ralph de Pomeroy who was a known Norman Knight which is hidden in very peaceful woodland.
9. Dominican Hill, Baguio City Philippines
It became the rest house in 1911 before the development was made, and establishing it as one of the grandest hotels before World War II. However, when the Second World War II exploded, it became a passageway for people who were beheaded in this place like priests and nuns. It's the same reason why employees who were working here have seen and experience several headless apparitions, and hearing as well erratic sounds from nowhere. Most of the visitors and guests who had been in this place also shared their frightening experiences where some of them saw a headless priest walking in the corridor, and other nerve-wracking scenes inside. Some believe that its closure is connected to complain and comments given by their clients who stayed there, and never wished to come back again.
8. Pennhurst Asylum, Philadelphia
It was a former hospital for people who have mental illness and who are physically disabled. It had been rehabilitation for them which was founded in 1908, and closed in 1987 because of series of controversies that it underwent. For over 100 years, this place becomes a favorite area for people who would like to do paranormal activities, and other ghost investigating bodies go here to feature it on TV shows and experience the real ghost hunting adventures. It has been cited as one of the scariest hunted houses in the area.
7. Ancient Ram Inn, Gloucestershire, England
It has caught attention from different TV networks in England especially whenever this type of holiday is approaching because of the number of paranormal sightings and activities. In fact, it is known as the creepiest haunted house in England. From the look of the Inn itself, you would feel an uncomfortable feeling, which would make you feel leaving the place once you get there. To those who are curious and would want to experience a different kind of adventure, then having a tour in the house while walking with the unknown spirits, and beings might be a one of a kind of undertakings that you could do. When you go inside, you would feel odd and indescribable senses that will keep your body numb, forcing yourself to don't continue moving around.
6. Raynham Hall, Norfolk, England
It was built 400 years ago, and it's still standing as part of the priceless possessions of the Townsend Family which is situated in Norfolk, England. It became a known haunted house in the world because of the unexplained appearances of the brown lady. We are acquainted with mysterious beings like white and black lady, but brown lady brought popularity in this house which would allow us to trace back its history, and other assumptions why it's wandering the hall until now. Some of the visitors, who have been there, have shared these stories and the scenes where they caught vividly of this unknown lady walking and creating fear to the people. Some share a scene that she was descending from the staircase especially when a photo of it was published. It was captured in 1936, and after that, there were infrequent manifestations, and it has been a belief that this lady was the wife of Charles Townsend who was locked up at Raynham Hall after he learned of her infidelity. She died there not seeing her kids, and members of the family. Centuries after, the appearance of this brown lady became talk of the visitors, and it brought a whole puzzle into their minds that it was the wife of the late Charles Townsend indeed.
5. The Whaley House, United States
It is considered and known as the top most haunted house in the United States.  This house was built in 1857, and it's scary because it's located in a cemetery. Who would love to live in the vicinity of burial places? It is true that if we could have a chance to be with our departed loved ones, we would wish to stay with them, but not in a fearful setting that will make you run like a speedy car because of a live nightmare. You could have an anxiety when you pass by on the street of this house because you would smell a strong kind of perfume although that comes inside the house although no one is inside. Even if you try to go there during the day, you would still feel a kind of apprehension to just observe it from afar, and don't try to even open the door because it might  a doomsday for you.
4. Brissac Castle, Loire Valley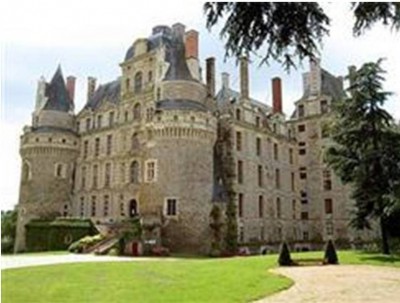 It's another spookiest houses that you don't dare to visit, and based on records, it was built around 11th century as an original castle. In 15th century, restoration was made by Pierre de Breze, and was bought by a governor in Maine and Anjou. There were series of transfer of ownership of this castle, until de Cosse Family finally acquired it, and maintained its 7-storey building that makes it one of the tallest chateaus that you can see in Loire Valley. No one inhabits this place anymore, and it is the favorite spots to all ghost hunters and even nearby residents are afraid going to this place because of rumors that there are ghost living inside.
3. Monte Cristo, New South Wales, Australia
It got the title as the most terrifying haunted house in Australia because of different horrifying stories and experiences that people have shared who have personally went in the place. It is true that it is open for tourist visits, and even young ones are invited to come and witness themselves how it's like to be inside. Of course, there are several guidelines being provided to their guests especially those who have kids so they can make the visit memorable, and not really inculcating fear. In fact, it has been featured in some of the TV programs in Australia relating some of the nerve-wracking tales of peoples about deaths and other incidents that transpired in Monte Cristo. Some of the ghosts that have been seen roaming inside the edifice are black lady that carries large silver cross, an apparition of women found in veranda, and sounds of the footsteps in empty rooms. There are several experiences that have been shared, and if you want to know if they are true, then, try visiting the place, and find out for yourself.
2. Bhangarh Fort, Rajasthan, India
You would see a warning sign once you arrive in this place stating "Staying after sunset is strictly prohibited in this area" which would give an uncomfortable feeling upon hearing that thought alone. Some who are curious would want to know and discover why its prohibited. If you feel that you have enough courage to go here while sunrays are bidding down to say goodbye, then, it's a well thought of having courage to even stay outside the house. There were rumors that a black magic has enveloped this place and that there were souls who are still living inside who were centuries old already. Some have heard mysterious voices and other strangest happenings whenever dark gets to reign in this house.
1. Rolling Hills Asylum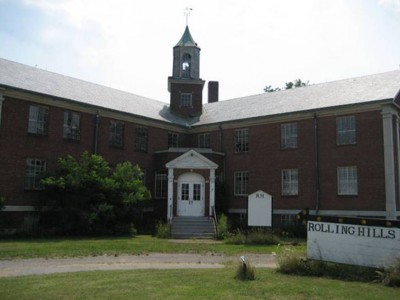 When it was built in 1790s, the main purpose of it was to cater and offer assistance to those people who have no houses, who are abandoned, and others who are in need of a shelter where they can call home. Hence, after its abandonment, it was developed as a mall, but no one has expected that it could be a center of fear to shoppers, and those who are renting a space because of the screams that they are hearing, weird voices, shadows, and even locked door stories. In fact, the management of the mall even tried contacting experts who have the ability to communicate to ghosts, and made some experiments  in order to prove if it its true.