It has been a tradition of people that whenever month of November is up, people love to hear and share ghost stories about the tale that has been passed on to them, and even real life experiences that they have had. In fact, people find it believable and exciting if it's done in the middle of the night where one or more them would scare themselves to death that  they could not even force their eyelids to close because of the thought that they might have nightmares. However, nothing really outruns the feeling of seeing real ghosts than hearing tales from friends. I am not asking you to go, and haunt ghost for yourselves, you'll just have to see these top 10 scariest ghost photos of all time which were all captured without any editing done by any software available online. They are pieces of evidences that ghost sightings can be seen by all, and not part of the ghost games that most of the kids before used to play. Make sure that you are healthy and you don't have any illnesses that might cause or result to hypertension and heart attack. Only those people who could conquer their fears are allowed to read, and see these ghosts' pictures. You'll be able to judge now if there is indeed life after death or there are in between in this life and to our departed loved ones. Could they really harm us or they are just the results of our imaginations.
10. Ghostly Farm Boy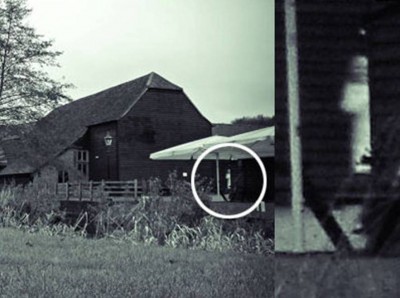 This picture was taken in the farm located in Hertfordshire, England by the photographer himself, Neil Sandbach. He was not able to see it right away, only after when he took time to look at the result of the shots that he had around the farm. He was frightened when he saw it that a child was hanging around. He later made some queries to the farm owners if they have experienced something supernatural around the farm, and they confirmed to him that they were seeing a boy a couple of times wearing a white night clothes. He did not tell them that he captured a picture of that boy, and just kept it to himself.
9. Railroad Crossing Ghost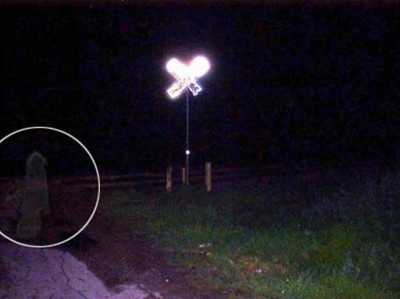 Some people considered it as an urban legend that keeps on circulating in San Antonio, Texas especially the surrounding areas of the railroad crossing. It was told that there children who were killed by accident that still lingering on this spot. In fact, an article was written regarding this railroad and the exact ghost picture which was provided by Andy and Debi Chesney depicting a little girl carrying a teddy bear. It was a very transparent image that some even thinks that it was a dog that sitting on girl's feet. What do you see? Is it really a lass holding a toy or dog?
8. Ghost Baby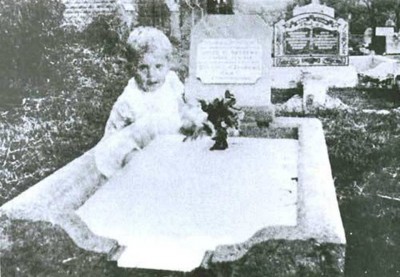 This picture captured by Mrs. Andrews in 1946 in Queensland, Australia while she was trying to take a photo of her daughter's tomb who was 17 when she died. When the film was finally developed, she was perplexed when she saw an image of a little girl who was directly looking at her camera and ready to show her brightest beam. She also made sure that there were no children that day, and she can't even believe why an infant showed up to her picture instead of her daughter since her daughter died when she was in her teenage years. An investigation was made by paranormal experts, and found out that there were two infant girls buried next to Mrs. Andrews' daughter's tomb.
7. HMS Daedalus Photo, 1919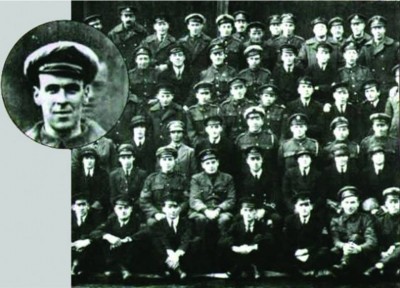 It was not just a classic photo, but controversial because of the scary picture of ghost behind one of the men lined up in squadron. It was captured by the retired RAF Officer named Victor Goddard. It was known after the picture was developed that it was the image of Freddy Jackson who died two days before that event, and they all believed that he wanted to join the fun despite of his painful demise. In fact, that same day was his funeral and he made everyone's feel that he did not miss the Royal Navy Vessel HMS Daedalus. It might be creepy for some, but it did not frighten them at all since he was part of it in the first place.
6. The Corroboree Rock Spirit, 1959
Some think that the ghost photo was made, but everyone believes that it was not fake since there were no available tools to manipulate it since it happened in 1959 where contemporary tools for editing were made available in late 1990s. It was taken in Corroboree Rock by Reverend R.S. Blance in Australia. You could see a human form who was wearing a gown or a dress that was assumed to be holding a binoculars or camera. Other assumptions that this person was in a time warp, who was actually watching and observing the lives of that people during that period.
5. Ghost of Grandpa, 1997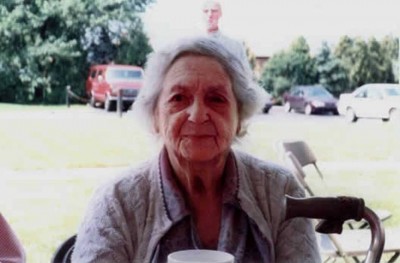 This photo was captured by Denise Russell and the old lady on the picture was he grandmother. She took it while they were enjoying a family picnic which was the last photograph that they had with her before she died. She also shared that her grandmother was in her 90s when it happened. In fact, they did not notice that a man was standing beside her granny only three years later. She was not able to recognize the man behind her grandma only after when she scrutinized the picture, and blurted out that it was her grandfather who died in 1984. In fact, she even showed a picture of her grandfather when he was still alive just to confirm that it was he standing behind her grandmother.
4. Lord Combermere, 1891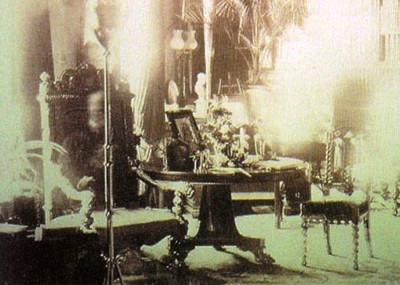 This is the oldest ghost photo on this list which was taken by Sybell Corbet in 1891 at Combermere Abbey Library, wherein you would see a figure of a man who was sitting on armchair. It was soon found out that when this picture was shot, it was a burying time of Lord Combermere who already passed away. Moreover, some of the people who takes care of the house also made mention that this house was also locked, and no one's inside. It was the start of speculation that it was indeed him especially those people who became closed to him, and who knew him personally. They were also attesting that their Lord was visiting the house before he finally bid farewell to this place.
3. The Backseat Ghost, 1959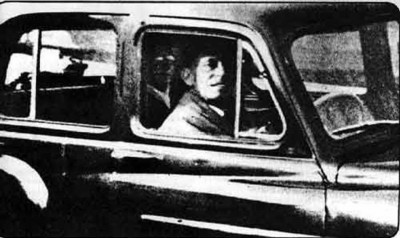 It was a wonderful day for Mrs. Mabel Chinnery when she and her husband took some photographs of their visits to the gravesite of her mother. Before they leave, she had decided to use the remaining films in her camera and had snap shots of her husband who was in the car already. After the film was developed, they saw an image of a person who was sitting at the back of the car who had eyeglasses on who looked like exactly as her late mother. It was also examined by an expert in photography, and confirmed that it was a true image, and there were no manipulations made to make it look like a staged. Indeed it was genuine, and Mrs. Chinnery related that her mother was also in the act of waiting which she used to do when she was still alive.
2. The Brown Lady of Raynham Hall, 1936
It is the most famous ghost photo that ever printed and developed which was also known as a Brown Lady. It was a belief of everyone that it was the late Lady Dorothy of Townsend who was locked up at Raynham Hall in Norfolk in England because of the infidelity issues that send her way to everlasting torment and misery until she died without seeing her whole family. Some of those people who knew their family, and who have seen the brown lady was there in order to haunt back her husband who put burden and anguish in her life, and she's taking a revenge on what she had experienced. She was normally seen walking at the oak staircase, and in some places of Raynham Hall, and people who had seen her soul stated that she was wearing a brown satin and pale luminescence dress where the title of brown lady was given at her.
1. The Tulip Staircase Ghost, 1966 
Rev. Ralph Hardy was astonished when he saw the artistic spiral staircase which was popularly known as a Tulip Staircase. The moment he saw this, he could not control himself but to take picture of the grandiose stairway which was located in Greenwhich, England. This was found in one of the sections or areas of the National Maritime Museum at the Queen's House. However, the moment that the film was developed, he saw a shrouded figure of a woman who was gliding across the balcony who was cleaving to the rail of the stairways. Experts also confirmed after they had checked it that its authentic, and it was not tampered at all. Aside from that there were stories shared by those people who also visited the Museum and experienced different kinds of paranormal activities. When Mr. Hardy found out that it was indeed true, he felt sudden cold in his body that he could not explained. Of course, he was frightened on the fact that he took a glimpse of the soul with his own camera.