Who among you guys have never watched cartoons at least even once in your lifetime? Even though such characters have been fictionally made, usually created by imagination being materialized in paper, they have made an impact in our daily endeavors, even influenced us in understanding certain matters. There is surely more to a cartoon character than just his or her looks, where the jokes, the voice, the laughter, and the gestures get the best of their viewers, making them a part of one's identity. Just who are the top 10 most loved cartoon characters of all time? Read this list and you'll come to know those who have been cherished by generations both young and old.
10. Rocky and Bullwinkle
Photo Source: http://www.pixmule.com/adventure-adventure-2000/2/
Rocky the flying squirrel and Bullwinkle the moose have found their way into children's hearts due to the kind of adventures they get themselves into. Oftentimes, and most kids reminisce those days when fairy tales have been distorted and they do their thing to save the day, and make things right in fairyland. The Rocky and Bullwinkle Show began way back in 1959 and ended in 1964. However, despite that many generations have not seen it, many children know of this tandem due to the laughter they brought to those who were born in the 60s.
9. Garfield
Photo Source: http://www.zen.eoldal.hu/cikkek/vicc.html
Who would not know this crazy aleck, witty talking, smarty-pants, sarcastic, lazy, and hungry housecat? Garfield, just like its real life counterparts, does not talk and rarely purrs. However, he speaks his mind so loud that you will have an idea of what he will do next, whether he would pester his master, John, or play along with the housedog, Odie. Before the orange cat was seen in TV screens, he first appeared in a comic strip back in June 19, 1978, which was created by Jim Davis. The fame was so great that he was known worldwide, which made it easy for the two latest CG movies to garner huge ticket sales everywhere. Even until today, the franchise can still be seen with clothes, stationeries, notebooks, and other school supplies.
8. Wile E. Coyote
Photo Source: http://wile.usegrid.net/
One-half of the tandem together with the fast-running Road Runner, Wile E. Coyote has been well known for being a flop when trying to capture the hasty bird. In fact, as you watch over 40 episodes of their chase in the wilderness, you could see the coyote purchase goods from Acme such as rockets, roller skates, bombs, giant slings, anvils, and even paste, just to be able to catch him. The products is just one part of the funny story. The other hilarious part has something to do with the blueprints he gets in order to create the contraption that would make the perfect catch, which fails 99.99% of the time. See the law of physics defied in this great chase that would seemingly have no end.
7. Popeye
Photo Source: http://www.ilcinemaniaco.com/genndy-tartakovsky-dirige-braccio-di-ferro-3d-patrick-massett-e-john-zinman-scrivono-il-remake-state-city-david-fincher-produrra-il-thriller-iou-e-marvel-conferma-guardians-of-the-galaxy/
Kids hate green leafy vegetables such as broccoli and spinach. But when the comic strip and the cartoon show Popeye was viewed by kids of all ages, they have learned one lesson, that vegetables are healthy and good to eat as it makes a person strong. This is why Popeye has been loved not only by children, but by parents too, because it became easier for them to feed kids with those vegetables considered as yucky and gross. The exploits of this powerful sailor began back in January 1979 as part of the Thimble Theater comics. Characters such as Olive Oyl, Brutus, and Wimpy had made an impact in the lives of many people. They had even appeared in movies, video games, and was even loved in the form of toys, dolls, and other merchandise.
6. Tom and Jerry
Photo Source: http://www.pechinchadigital.com.br/MLB452623811P-tom-e-jerry-pelucia-hanna-barbera-importado-42-cm-original
If there is one cartoon that children loved watching, even in the passing of many days and years, having it still being aired in certain cable channels, Tom and Jerry is one title that's up in the list. This cat and mouse tandem showed to the world how terrible it is when a rodent and a feline chase each other, thus fortifying the chaotic relationship between two real-life enemies. Even if it was first run in 1940, it still appeals to the masses today, knowing that this love and hate connection will remain the same, even if they are seen in space, under the water, in the beach, or just in the home.
5. Charlie Brown
Photo Source: http://www.antronio.com/threads/festival-de-vi%C3%B1a-2013.1140029/page-173
Charles M. Schulz has been very successful in creating a character that experiences many failures in life, as seen in the life story of Charlie Brown, the main protagonist in the comic strip Peanuts. He can be described as a child that has many dreams and aspirations, but a failure in all of them. Despite of being a guy that has bad luck, no matter what kind of activity he is engaged in, Charlie is still smart and thoughtful, while being doubtful and insecure. This has been the same guy since 1947, even in the last days when he was last read in a comic strip sometime in 2000.
4. Fred Flintstone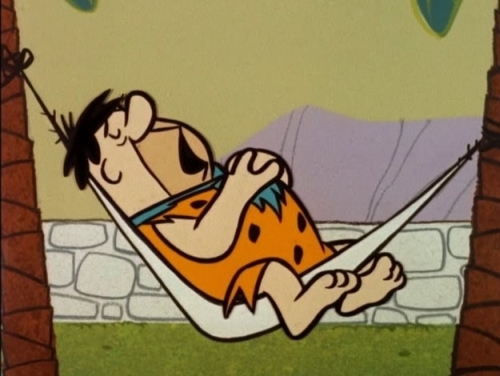 Photo Source: http://mentalpod.com/which-animal-is-eating-me/fred-flintstone-taking-a-nap-the-flintstones-7005103-500-376
Yabadabadoo! This is what you hear most of the time when you are watching Hanna-Barbera's The Flinstones, with Fred Flinstone heading the family with his wife, Wilma, daughter, Pebbles, and Dino, his doggy dinosaur. Oh and don't forget his best friend, Barney Rubble and his family. People loved watching this cartoon because it gives you a picture of what life is like in the stone age where dinosaurs roam over the earth, and machines do not exist. What's funnier is that you will see how modern lifestyle looks like, being mixed with primitive and old machinery and mechanics. Do you remember seeing a boulder car being driven by foot?
3. Homer Simpson
Photo Source: https://twitter.com/LencyckP/
Homer Simpson is considered the original family guy with his wife, Marge, and three kids, Bart, Lisa, and Maggie. This family living in Springfield is nothing like you average family. However, Homer is an epitome of most dads that live their life at work and spends time with friends. He loves donuts, he is working at the nuclear plant, and has a nice set of friends that can be considered a "formidable crew". Could you still refresh in your minds that he first appeared on national TV back in 1989, with that expression "D'oh!" showing his frustration and reaction in many things.
2. Mickey Mouse
Photo Source: http://kenhsinhvien.net/forum/disney-ai-thich-phim-hoat-hinh-thi-vo-day-nha.3197.html
Mickey Mouse is no stranger to anyone, especially those who have been influenced by Walt Disney, one way or another. Famous for being the mascot of Walt Disney, Mickey has been seen in the cartoon world since 1928 where he debuted in the Steamboat Willie where the antagonist Pete, along with his pet dog Pluto first appeared. He is oftentimes associated with friends such as Donald Duck, Goofy, Daisy Duck, and of course, his significant other, Minnie. You also have seen him in the movie musical Fantasia where he was a janitor that pretended to be a wizard when his master was away. From then until now, Mickey can still be found in the Disney Channel, in toys, and other merchandise.
1. Bugs Bunny
Photo Source: http://www.fotolog.com/aerenda/
"Eh, what's up doc?" is a famous catchphrase that's known all over the world, where only a certain rabbit is remembered with that line, while chewing a carrot and irritating characters like Elmer Fudd or Samity Sam. Bugs Bunny is taken to be the most loved cartoon character for his level of wit, genius, and creativity. He knows very much how to crack jokes, and he often makes a fool of everyone he comes across with, even with Porky Pig or Daffy Duck. He was born back in July 27, 1940 under the baseball field of the Brooklyn Dodgers, inside his rabbit home. His artist Tex Avery and voice actor Mel Blanc were able to create a character that can just be taken as adorable and funny.