Cigarette Smoking is one of the vices or habits of people who became indulged with its abuse, wherein they find themselves fighting, whether quitting or staying on this practice or obsession. In fact, there are several who have tried, but they found themselves yearning for more. Just like any other bad habits that affect our lifestyle, people around us, and of course ourselves, there are things that one should know in order to be motivated and inspired to shun away negative routines. The World No-Tobacco Day is set to be celebrated and supported on May 31. This is a universal call to everyone to step-up and makes a decision to save our loved ones from the ill effects of smoking, and most especially, the threats that it poses to our life and health. There are few who have realized it at the later part of their life, but there are some who are not yet open to total cessation because of the addictive effects of it in their life. As we try to forewarn them, let's share these top 10 interesting facts about Cigarette Smoking, and how you can save one soul.
10. Mortality Rate Relating to Cigarette Smoking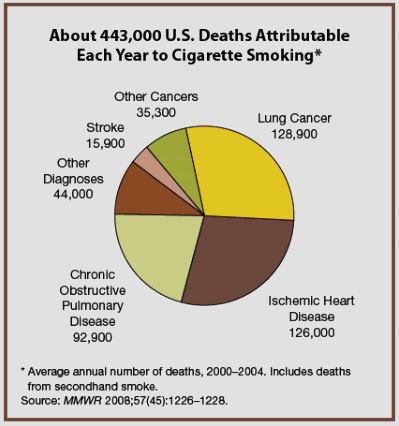 Photo Source: http://www.oyston.com/SSfSS/generel-risk-of-smoking.htm
Among the kind of cigarette types that boosted mortality or death rates is tobacco, it is the major cause of all other diseases that people are experiencing. Just in United States alone, it has killed over 440,000 people, which also includes second-hand smoking or those who were exposed to it, but never smoke cigarette in their lifetime. American Indians have the incurred the highest mortality rate as of 2013 for about 31.5%, being followed by Whites at 20.6% and Blacks at 19.4%. Of course, men still contribute to the overall percentage of 21.6% while 16.5% from women.
9. Smoking is a Legal Drug
Photo Source: http://www.gomhuriaonline.com/main.asp?v_article_id=56017
Universally speaking, smoking is not illegal, but there's a restriction set by law which also varies based on articles that exist in specific countries. In fact, some countries allow minors to smoke cigarette, but majority of the countries prohibit the selling of it to teenagers until the legal age has reached. It all depends on legal legislation, but compared to prohibited drugs, this is still considered safe despite of its ill effects along the process.
8. First Smoking Ban Implementation
Photo Source: http://t0.gstatic.com/images?q=tbn:ANd9GcRRw41taVlpkwYJ6kkuD0UgSYTHTbs1u2lWUwtkHs2_cUMS-imM
The first law that was implemented prohibiting and restricting promotion or advertisement of cigarette smoking or endorsement happened during the time of President Nixon. He signed this law and enforced total banning of advertisements on television and the start of warning label in all cigarette brands.
7. Smokers  Immune System
Photo Source: http://www.nature.com/nri/journal/v2/n5/fig_tab/nri803_F2.html
The person who smokes in a regular basis has less anti-oxidants found in their blood, which also weakens their immune system. In fact, it has to work doubly than the normal process because of the active nature of their body, which makes them vulnerable to common sicknesses, especially viruses.
6. Secret Sugar Intake
Photo Source: http://women-health-30plus.blogspot.com/
Who would have thought that aside from nicotine and other harmful ingredients of cigarette, it also contains 20% of sugar that may trigger sugar-related health problems like diabetes, which may result to increased sugar levels that is risky to overall health?
5. Countries that Have Lowest Rate of Cigarette Smoking
Photo Source: http://www.washingtonpost.com/blogs/worldviews/wp/2012/10/19/who-smokes-most-a-surprising-map-of-smoking-rates-by-country/
According to reports, countries that incurred lowest rate of cigarette smoking are those people who live in South Asia, Sub-Saharan Africa, India, and Ethiopians. These countries are struggling according to economic development and opportunities, which explains and justifies why there is a huge gap in countries like Russia, Romania, South Korea, Japan, and Kazakhstan, and other parts of Europe. For instance in India, an individual smokes cigarette an average of 96 pieces annually. No wonder why tobacco companies are not really progressing here, and not earning that well.
4. Scientist Explanation of Life Span
Photo Source: https://pgs.biologis.nl/pgs/voordelen/preventie/voorbeeld-preventie
According to scientific explanations from most of the scientist who have made intensive studies about the ill effects of cigarette, they have concluded that human life span decreases about 14 years. Hence, it also means that young people who are already expose in this vice would be more susceptible in various diseases especially respiratory illnesses. Of course, there would be some who could still live an adult age, but the overall immune system is weakening already.
3. Unknown Flavor of Most of the Cigarette Brands
Photo Source: http://www.urinetheclear.com/drug_testing_urine.html
Urine major component is urea since it is the waste being excreted from the human body in the form of liquid. If a person has a regular or normal metabolic process, this urea is the byproduct of the metabolized protein. There are break down processes until it has reached the kidney that would then be transfer it through human blood to urine. Imagine that urea from urine is one of the flavors that are being mixed in most of the cigarette brands? Would you still like to smoke it?
2. Other Carcinogens Content
Photo Source: http://chemlife-malavish.blogspot.com/2009/07/cigarettes.html
Aside from nicotine which is the known primary content of cigarettes, there are also 43 other carcinogen contents. Moreover, it has ammonia, arsenic, carbon monoxide, formaldehyde, hydrogen cyanide, lead, and nitrogen oxide. In fact, these components are also found in electronic cigarettes or e-cigarettes. Some of the potentially toxic compounds are carbonyls, heavy metals, nitrosamines, and volatile organic. It is true that this type of cigarette might reduce the effects, but the effects are still a threat to human's life, and health.
1. The Nicotine Content
Photo Source: http://www.epuffer.com/eshop/e-liquid-555-tobacco-flavor-30ml-bottle.html
With an increasing cigarette and tobacco companies across the globe, it is disheartening to know that nicotine content also increases. In fact, the surge of it was reaffirmed by the Massachusetts Health Department and supported by Harvard University since 1997 until 2005. They have specifically cited an 11% increase in brands like Camel, Doral, and Newport. Nicotine is dangerous because it can reach the brain within 10 seconds after inhaling or smoking it. It also affects other parts of the body.