Introduction
Pendleton, Oregon is well known for its Wild West culture. Pendleton is home to  the famous Pendleton Round-Up which started in 1910. The rodeo is considered by many as the most exciting rodeo in the world. It is held each year on the second week in September. The population of Pendleton is normally 17,000, but during roundup it brings in roughly 50,000 people every year to the city. The roundup stadium which seats 16,133 is looking spectacular. It has won the prestigious PRCA large outdoor rodeo of the year award 3 years in a row, 2015, 2016, 2017, and is shooting for 2018. (it also won in 2003 and 2010)
"LET' ER BUCK"
1. Old Dominion Kick-Off Concert (feat. Brandon Lay)
September 8th, 2018 at the Happy Canyon Arena. Concert starts at 7 p.m.
Their biggest hit so far is "No Such Thing as a Broken Heart". Obviously a very fitting group to be preforming for the Pendleton Roundup. But their number 1 love is performing for themselves and are become very successful.
No Such Thing as a Broken Heart
Written in the Sand
Hotel Key
Brandon Lay Yada Yada Yada
2. Cowboy Breakfast
Wednesday thru Saturday September 12th – September 15th, 2018. Address is 413 S.E. Byers, Pendleton, Oregon 97801
One of the great traditions of the Pendleton Roundup week is the VFW Cowboy Breakfast at Stillman Park. You can enjoy some live country music while you enjoy generous servings of pancakes, eggs, ham, coffee, milk, and juice. 6 AM to 10 AM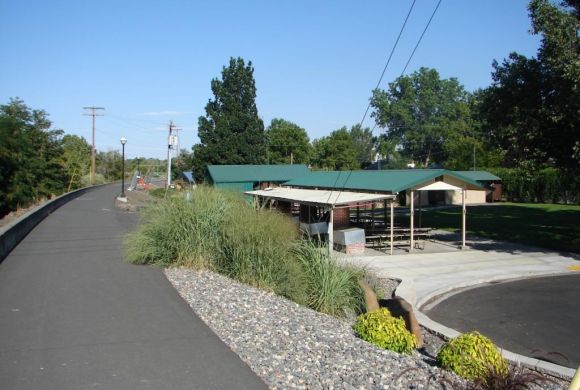 photo Source: TipTopTens.com (park is located next to the Umatilla River and River Walk)
3. Parades
Pendleton Round-Up week begins with the Dress-Up parade
It is the Saturday before the roundup which this year (2018) is Sept. 8th and starts at 10 am. Join in the fun with a float or just sit back and enjoy the show! Pretty much anything goes but you will for sure see some horses, Native Indians, Cowboys, Marching Bands, motorized floats, etc.
Westward Ho Parade.
During the roundup on Saturday, September 14th at 10 A.M. there is the Westward Ho Parade. This is a traditional parade where no motorized vehicles are allowed. You will see early transportation such as mules, oxen-drawn covered wagons, Mormon carts, buggies, surreys, and much more. Also, featured will be most of the Indians who are camped at the Round-Up grounds, all dressed up in their tribal attire. You will see a lot horses, Cowboys, rodeo queen and princesses, and much more.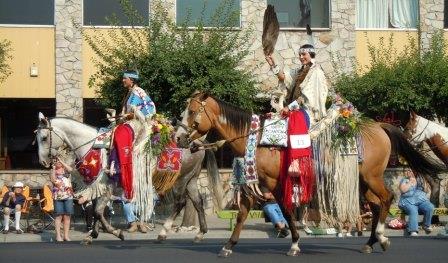 Photo Source: TipTopTens.com
4.  Native Americans
Without the traditions of the Native Indians the Round Up would be just another rodeo.
Junior American Indian Beauty Pageant, Roy Raley Park – FREE
9:00 AM Thursday September 13th.
American Indian Beauty Contest, Main Street — FREE
9:00 AM Friday September 14th
Tribal Ceremonial Dancing Contest (Pow Wow), Round-Up Arena — FREE
9:00 A.M. Saturday September 15th
Indian Village
The tribal village includes more than 300 Tepees and is located next to the Round – Up. It is free for the public to go view the village. Indians from the surrounding area gather to visit with friends and family. They take part take part in the Happy Canyon Pageant and dance in the arena during rodeo matinees.
You might also want to visit the Wildhorse Resort & Casino located 8 miles East of Pendleton.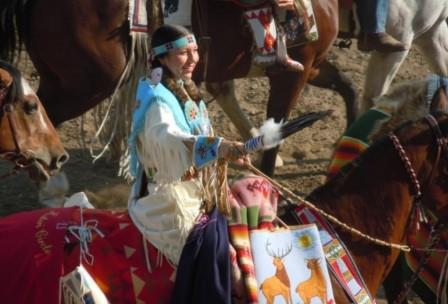 Photo Source: TipTopTens.com
5. Professional Bull Riding (PBR) at the Happy Canyon Arena
Monday September 10th and Tuesday September 11th, 2018 you can watch talented cowboys try to ride world class 2,000 pound bulls for eight seconds. If you like bull riding then don't miss this even that kicks off the two days prior to the Pendleton Roundup.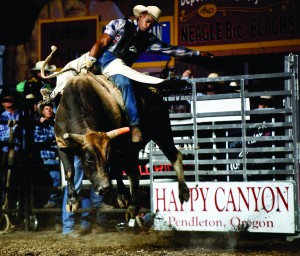 Photo Source: EastOregonian.com
6. Parties Everywhere
It is not only the rodeo that people flock to Pendleton for as there are many other events going on. Many people come for the drinking, dancing, yelling, and partying all week long.
Party here, party there, party everywhere. Your problem won't be finding a party with good music and dancing but which party to attend. There is just too many too mention. Virtually every bar will have its own group booked and there will be many others outside the bars including under a motel in their party lot.
Please drink responsibly and have a designated driver. Remember this is the Wild West with real cowboys and Indians so treat them with respect and that is how they will treat you. Drive under the influence of alcohol and the Pendleton Police force will throw you in the crowded Umatilla County Jail and give you one gigantic fine.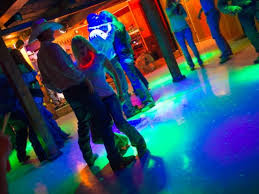 Photo Source: 1859oregonmagazine.com
7. Main Street Cowboys presents "The Greatest Free Show in the West".
September 11-15th.
Do you ever say "If it's free it's for me". Well cowboys come on down to main street and enjoy the entertainment spread out on 5 stages. It won't cost you any money, unless of course you checkout the many vendors selling delicious food and merchandise.
Click here to download the Main Street Show Calendar provided by Main Street Cowboys.org
Includes Carnival
Davis Shows Northwest at the South end of Main Street
*At this time is unclear if this is the entertainers for the 2017 entertainment or updated 2018. There should be an update on mainstreetcowboys.org/calendar soon.
Entertainers
Adam The Great
Brady Goss and Band
Bushman Brothers
Carrie Cunningham and The Six Shooters
Confront the Fates
Copper Mountain Band
CrossSrung
Heather Pearl
Kevin Wolfe
Marty Davis
Mechanical Bull
The Bad Larrys
The Misadventures of Capn Arr
The Round-Up City Cloggers
Stoddard and Cole

Photo Source: MainStreetCowboys.org
8. HAPPY CANYON DANCE / Goldies Saloon at the Canyon
After the pageant don't bother going to your car as you you can use your ticket and walk into the nearby happy Canyon and enjoy Dancing and social gaming. Enjoy a DJ mixing your favorite dance music or for those over 21 there is the Goldies Saloon at the Canyon. Dance outside under the stars with a live band pumping out the songs. Watch the Rockin Divas dancing on the bar. Goldie's Saloon at the Canyon operates on September 12th-15th 2018 from 8:00 PM to 2:00 AM.
9. Happy Canyon Night Show September 12-15th
4,230 seat arena
This  is a show that everyone shoud attend at least once or twice.
Show begins promptly at 7:45 p.m.
Price: $13.00-$24.00
Price: $13.00-$24.00  http://happycanyon.com/
The Happy Canyon Night Show is a show depicting the settling of the American West, beginning with a portrayal of the Native American way of life prior to the arrival of the white man, continuing with the arrival of Lewis and Clark, followed by the prairie schooners of the pioneers of the Oregon Trail and concluding with a reenactment of a frontier town's rollicking main street mishaps.
The actors are members of the community, mostly volunteers, and include Native Indians from many different tribes.
It takes about 500 people to make the Happy Canyon Indian Pageant and Wild West show happen every year. The Happy canyon Show is a live performance with animals. Volunteers act out an entertaining version of how the West was settled. Hundreds of years are compressed in about a 2 hour performance including some comedy sketches, shoot-outs, and can-can dancers.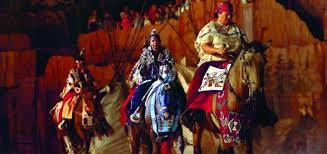 Photo Source: HappyCanyon.com
10. The Pendleton Roundup September 12th – September 15th
Well of course the top fun thing to do during roundup week is to attend the World Famous Roundup itself.
Starting with the first go around on Tuesday, September 11th, at 9 a.m. with  admission of only $2.00
Wednesday September 12th is the official start of the rodeo and runs until Saturday September 15th. The rodeo starts at 1:15 P.M each day.
For ticket and general information visit pendletonroundup.com. The Pendleton Round-Up is a member of the Professional Rodeo Cowboys Association (PRCA).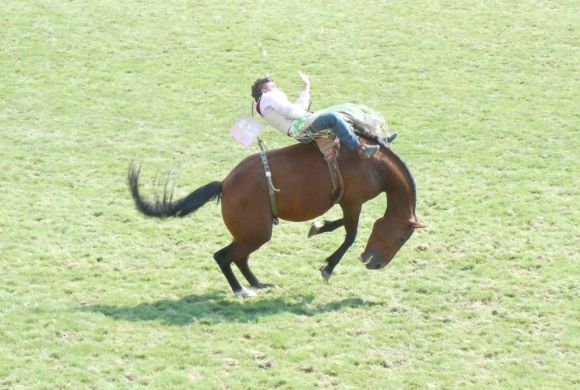 Photo Source: TipTopTens.com

Conclusion
There is so much going on we could not mention all of them in the top ten. You may want to also check out the Pendleton Hall of Fame across from the Round UP, Pendleton Underground tours, Pendleton Woolen Mills, Pendleton River walk, and much more.
Video about history of Pendleont Round-Up
Produced by the Oregon Public Broadcasting (2010)
Sources
PendletonRoundup.com
HappyCanyon.com
MainStreetCowboys.com
Wikipedia.org