It was in July 15, 2006 when one of today's micro-blogging and social network sensations was born– the day Jack Dorsey placed a mark in Internet infamy, the day he made Twitter live and operational. Since its inception, Twitter has more than 200 million active users today, and the figure is increasing. People from all walks of life have made this social networking site an outlet. Hollywood celebrities became hooked with it, sports figures have became fascinated by it—all with just 140 characters or less and with the simple tap of the innocent blue button.  Today, as Twitter hits its seventh year mark, this social media tool has become more interesting albeit some controversial tweets from famous who's-who in the society. Let's look back on today's top ten most controversial Twitters posts in 2013 that have made news in the information superhighway.
10. Kamaal R. Khan's Bollywood Tweet
Photo Source: www.newsofdelhi.com
Kamaal R. Khan is one of those celebrities who have become famous for being infamous because of his controversial tweet. His outrageous tweets are interesting and at the same time controversial and judging by his frequent posts, he has successfully made his bad-publicity-is-good-publicity motto in life. His recent post says that people in India must beat Veena Malik like a dog before asking the government to deport the Bollywood star immediately.
9. Onion Website's Tweet on a 9-Year-Old Actress
Photo Source: www.nydailynews.com
This humor website's controversial tweet addressed to a 9-year-old actress during the recent Oscar's award has caused outrage from netizens all over the world. Of their many controversial twitter posts, their recent post has made hundreds of Twitter users very disappointed which eventually led Onion to issue an apology. The tweet read "Everyone else seems afraid to say it, but that Quvenzhane Wallis is kind of a c**t, right?"
8. Ron Ramsey's Tweet against President Barrack Obama
Photo Source: www.tennessean.com
Lawmaker Ron Ramsey was blunt enough to say how the US president has attempted to ally with the Al Qaeda group in the civil war in Syria. He also reminded people as to who attacked the US some twelve years ago. This controversial tweet made by Republican lawmaker Lt. Governor Ron Ramsey accusing the US President of being an ally with the Al-Qaeda in Syria came a day after Obama addressed the US in making a case for a military strike on Syria. Twitter users call the tweet inflammatory, outrageous, dishonest, and unpatriotic.
7. Victor Cruz's Tweet on George Zimmerman's Acquittal
Photo Source: www.atlnightspots.com
Number seven of our Top Ten list on the most controversial twitter postsin 2013 comes from a sport's icon. New York Giant's big star Victor Cruz posted on twitter a very controversial statement following the acquittal of George Zimmerman. After Zimmerman, a neighborhood watch volunteer, was acquitted of fatally shooting a black teenager Trayvon Martin, Victor Cruz was quick to post that "Zimmerman doesn't last a year before the hood catches up with him". However, the football superstar deleted the tweet and explained in a series of posts later on why he came up with such controversial post.
6. Twitter photo on the Texas Abortion Bill
Photo Source: blog.al.com
A controversial abortion bill was to be passed by the Texas legislature until a Twitter photo killed it at the last minute. The bill was supposed to be passed before midnight. The voting of the bill apparently ended before midnight, but a twitter photo with an initial timestamp that read 12:02 AM, past the midnight deadline, killed the bill.
5. Cory Booker Tweets with Stripper
Photo Source: sandrarose.com
One of this year's most controversial tweets involve Newark Mayor Cory Booker. Accordingly, the mayor has a Twitter relationship with a Portland-based stripper named Lynsie Lee. One of Booker's tweets that says the East Coast love the stripper, and since the mayor is from Easy Coast, he too loves Lee, has raised eyebrows considering the Mayor is a rising star in the Democratic Party.
4. Los Angeles Lakers' photo Tweet on the 9/11
Photo Source: sports.yahoo.com
An old photo of LA Lakers' star Kobe Bryant wearing a commemorative patch has made waves on Twitter after receiving unexpected and uncalled for criticism. The photo showed Bryant during the 2001-2012 seasons, wearing a commemorative patch on his jersey which also included the American flag. Fans initially saw the picture as an attempt at humor trying to focus on the Afro that Bryant wore. LA Lakers later deleted their posting and clarified their intent.
3. AT&T Photo Tweets on the 9/11 anniversary
Photo Source: o.canada.com
On the anniversary of the 9/11 bombing, AT&T posted a photo on Twitter of a hand holding up a smart phone, and with the phone's screens displaying the Tribute of Light. The two light beams were seen on the site of the twin towers. Social media users call the controversial tweet as tacky, disgusting and a shameless marketing move. AT&T was quick to remove the controversial picture. They claimed that the image was meant solely to pay respect to people affected by the September 2011 tragedy.
2. Kenneth Cole's Controversial Syria Tweet
Photo Source: www.businessinsider.com
In the midst of the issues in Syria, the shoe guru once again angers Twittershpere, this time saying despite the on-going conflict in Syria, people should not forget about Cole's pumps, sandals, and loafers. The tweet drew a lot of criticism for making light of the on-going debate over a possible U.S. strike on Syria. After numerous condemnations, isn't backing down on his tweet saying that for the last thirty years, he has used a lot of provocative ways to encourage healthy dialogues about present and important issues. Cole describes himself as a "designer, frustrated activist, aspiring humanitarian, and a social networker in training".
1. Dr. Phil's Take on Being Intimate with a Drunk Girl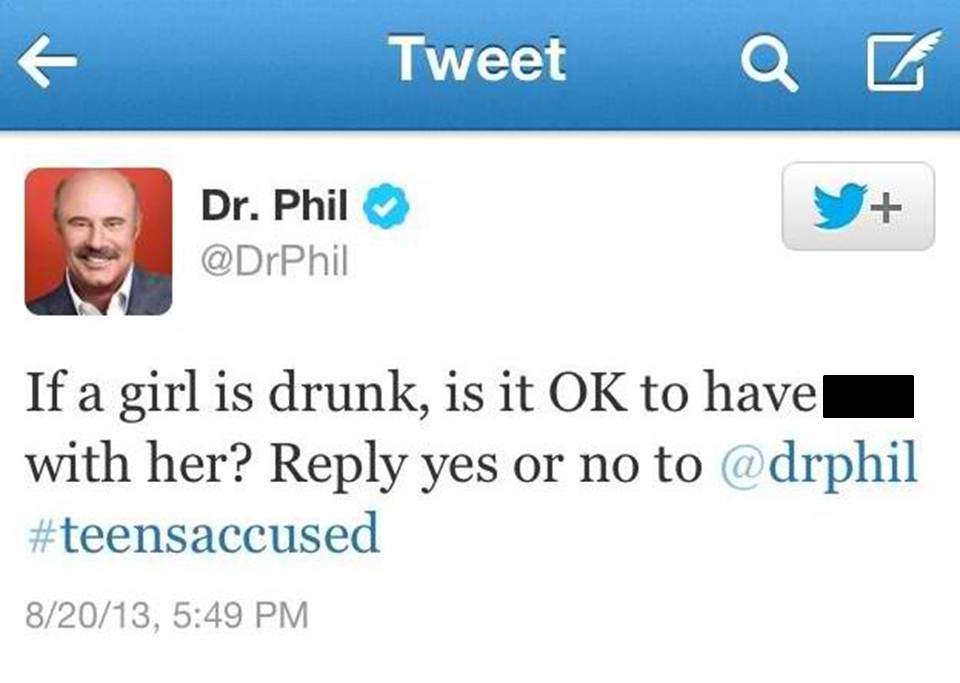 Photo Source: www.ibtimes.com
To cap off our top ten list on the most controversial twitter posts in 2013 is no less than the famous Dr. Phil McGraw. On his verified Twitter account, Dr. Phil's posting which asked if it was okay for a drunk girl to be intimate with someone when she is drunk, has fumed social media followers. After the post was deleted, a representative for the Dr. Phil show made a statement about the controversial tweet, claiming that the posting was just meant to provoke discussion for an approaching show. Dr. Phil later issued an apology, maintaining that the tweet was a poll question and not a statement or a joke. Following the show's apology, a petition was raised demanding Dr. Phil to come up with a show that gives light on rape survivors and sexual assault victims.