Pendleton, Oregon is well known for its Wild West culture. Pendleton is home to the famous Pendleton Round-Up which started in 1910. The rodeo is considered by many as the most exciting rodeo in the world. It is held each year on the second week in September. The population of Pendleton is normally 17,000, but during roundup it brings in roughly 50,000 people every year to the city. The roundup stadium, which seats 16,133, is looking spectacular.
1. Parades
Pendleton Round-Up week begins with the Dress-Up Parade
The annual dress up parade is the kick off event for round-up week and is hosted by the Main Street Cowboys. You can watch it for free.
Westward Ho! Parade
The unique Westward Ho! Parade is held Friday morning of Round-Up week. Beginning with a big bang at 10 a.m. the Westward Ho! Parade begins its trek through the town of Pendleton. Here you will see most of the Native Americans who are camped at the Round-Up grounds, dressed in their tribal finery from grandmother to the tiniest tot.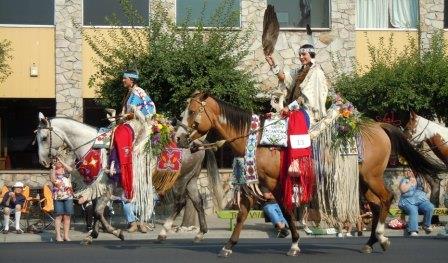 Photo Source: Arlen Bischke
2. 2022 Kick-Off Concert (With Chart-topping country star Kip Moore

Chart-topping country star Kip Moore will bring his troubadour lifestyle and timeless sound to the Happy Canyon Arena on Saturday, Sept. 10, for the Pendleton Round-Up and Happy Canyon kick-off concert, presented by Integrity Corps. Tickets go on sale May 23.
A couple of his No. 1 singles include "More Girls Like You" from "Slowheart" 2017 and "Somethin" Bout a Truck" from "Up All Night" 2021.

3. VFW Outdoor Cowboy Breakfast
The VFW Outdoor Cowboy Breakfast is Wednesday through Saturday September 14th – September 17th at Stillman Park. You can enjoy some live country music while you enjoy generous servings of pancakes, eggs, ham, coffee, milk, and juice. 6 AM to 10 AM.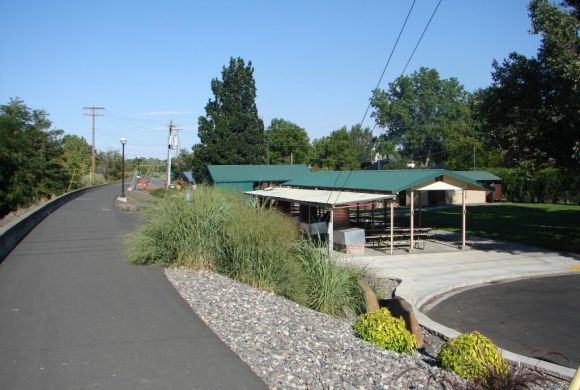 Photo Source: Arlen Bischke
4. Native Americans
Without the traditions of the Native Indians the Round Up would be just another rodeo.
American Indian Beauty Contest
September 16th, 9:00 AM – 10:00 AM at Main Street
Junior American Indian Beauty Contest
10:00 AM – 11:00 AM at Roy Raley Park
Indian Village
The tribal village includes more than 300 Tepees and is located next to the Round – Up. It is free for the public to go view the village. Indians from the surrounding area gather to visit with friends and family. They take part take part in the Happy Canyon Pageant and dance in the arena during rodeo matinees.
You might also want to visit the Wildhorse Resort & Casino located 8 miles East of Pendleton.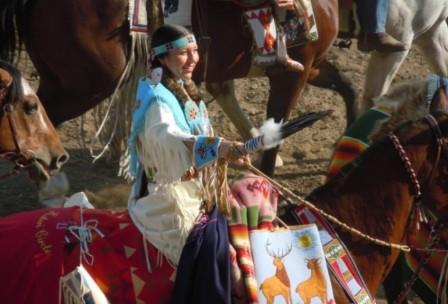 Photo Source: Arlen Bischke
5. Xtreme Bulls Finale- Presented by COORS sponsored by Pendleton Whisky
Professional Bull Riding, is considered to be one of the toughest spots on the dirt. Sure, the rules might be simple but imagine being put on a 2,000 pound pull that is temperamental and snorting at you. The cowboy has to stay on this bull for 8 seconds and it can get very intense fast.
Dinner associated with VIP tickets is held at the Pendleton Convention Center, doors open at 6 PM. Sept. 12th-13th.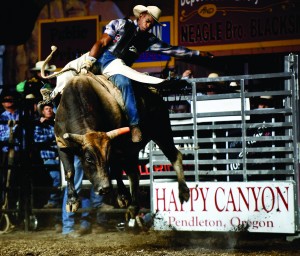 Photo Source: EastOregonian.com
6. Parties Everywhere
It is not only the rodeo that people flock to Pendleton for as there are many other events going on. Many people come for the drinking, dancing, yelling, and partying all week long.
Party here, party there, party everywhere. Your problem won't be finding a party with good music and dancing but which party to attend. There are just too many to mention. Virtually every bar will have its own group booked and there will be many others outside the bars including under a motel in their party lot.
Please drink responsibly and have a designated driver. Remember this is the Wild West with real cowboys and Indians so treat them with respect and that is how they will treat you. Drive under the influence of alcohol and the Pendleton Police force will throw you in the crowded Umatilla County Jail and give you one gigantic fine.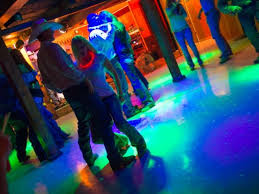 Photo Source: 1859oregonmagazine.com
7. Wrangler National Patriot Day
Support the Military and wear red, white and blue to the round ups on Sept. 18th!

Wrangler National Patriot is a program developed to help raise funds to support American military veterans and their families and to serve as inspiration for all Americans to rally around each other in patriotism.
Photo Source: wallpaperflare.com
8. Tough Enough to Wear Pink Day on Sept 15, 2022
1:15 PM – 5:00 PM at Pendleton Round-Up Stadium
It marks the 16th year of Tough Enough to Wear Pink at the Pendleton Round-Up! This is a wonderful way to support local cancer organizations.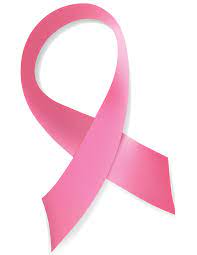 Photo Source: cancercare.org
9. 33rd Annual Round-Up Foundation Memorial Golf
Date: Sept 12, 2022
Time: 7:30 AM – 5:00 PM
Location: Pendleton Country Club
This marks the 33rd Annual Round-Up Foundation Memorial Golf that is for the Justin Cowboy Crisis Fund! You will find that it is very challenging but while challenging, beginners will be able to have fun as well.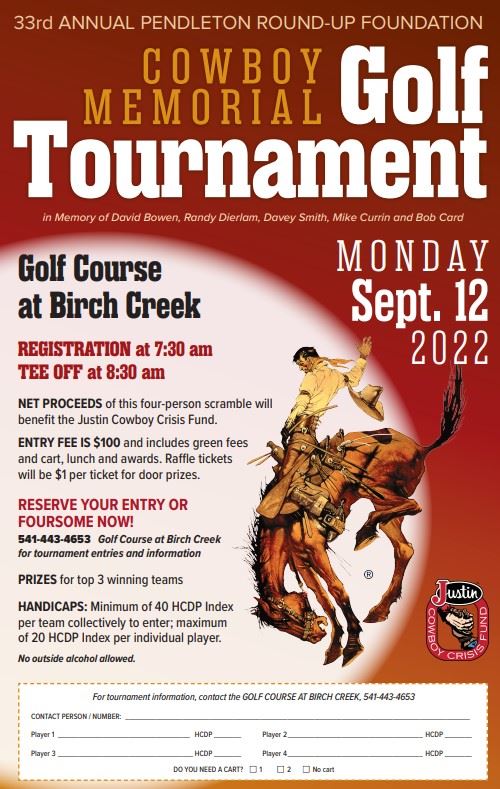 Photo Source: .pendletonroundup.com/events/2021/memorial-golf-tournament
10. The Happy Canyon Night Show
Sept 14 – Sept 17, 2022
7:45 PM – 9:00 PM
The Happy Canyon Night Show is a show depicting the settling of the American West, beginning with a portrayal of the Native American way of life prior to the arrival of the white man, continuing with the arrival of Lewis and Clark, followed by the prairie schooners of the pioneers of the Oregon Trail and concluding with a reenactment of a frontier town's rollicking main street mishaps.
The actors are members of the community, mostly volunteers, and include Native Indians from many different tribes.
It takes about 500 people to make the Happy Canyon Indian Pageant and Wild West show happen every year. The Happy canyon Show is a live performance with animals. Volunteers act out an entertaining version of how the West was settled. Hundreds of years are compressed in about a 2 hour performance including some comedy sketches, shoot-outs, and can-can dancers.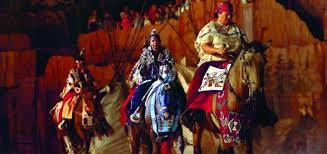 Photo Source: HappyCanyon.com
Conclusion
There is so much going on, we could not mention all of them in the top ten. You may want to also check out the Pendleton Hall of Fame across from the Round Up, Pendleton Underground tours, Pendleton Woolen Mills, Pendleton River walk, and much more.