The Halloween season is fast approaching and every family is probably thinking of ways on how to decorate their homes. To most people, Halloween is the season when the spirits of the dead go out of their zones and wander, visiting their homes, families, and scare the living. No wonder, it is mostly associated with ghosts and all other creepy things. The Halloween season is the time of the year when people plan for Halloween parties, decide on the mystical character that they will imitate and look for the uncanny costume and mask to wear. Some people try to imitate creepy characters in horror movies, dress like monsters, demons or plain ghosts and go as far as going out into the open and scaring other people. Though some people do not like this season because of its eerie feel, most find this season fun and exciting. Especially among children, Halloween is like Christmas that they look forward to year after year. It is the time when all their creativity and imagination come to light as they try to come up with original and realistic Halloween decorations for their yards and homes. Here is a list of the 10 ways to make a creepy home:
10. Decorate your home with spooky banners and garlands.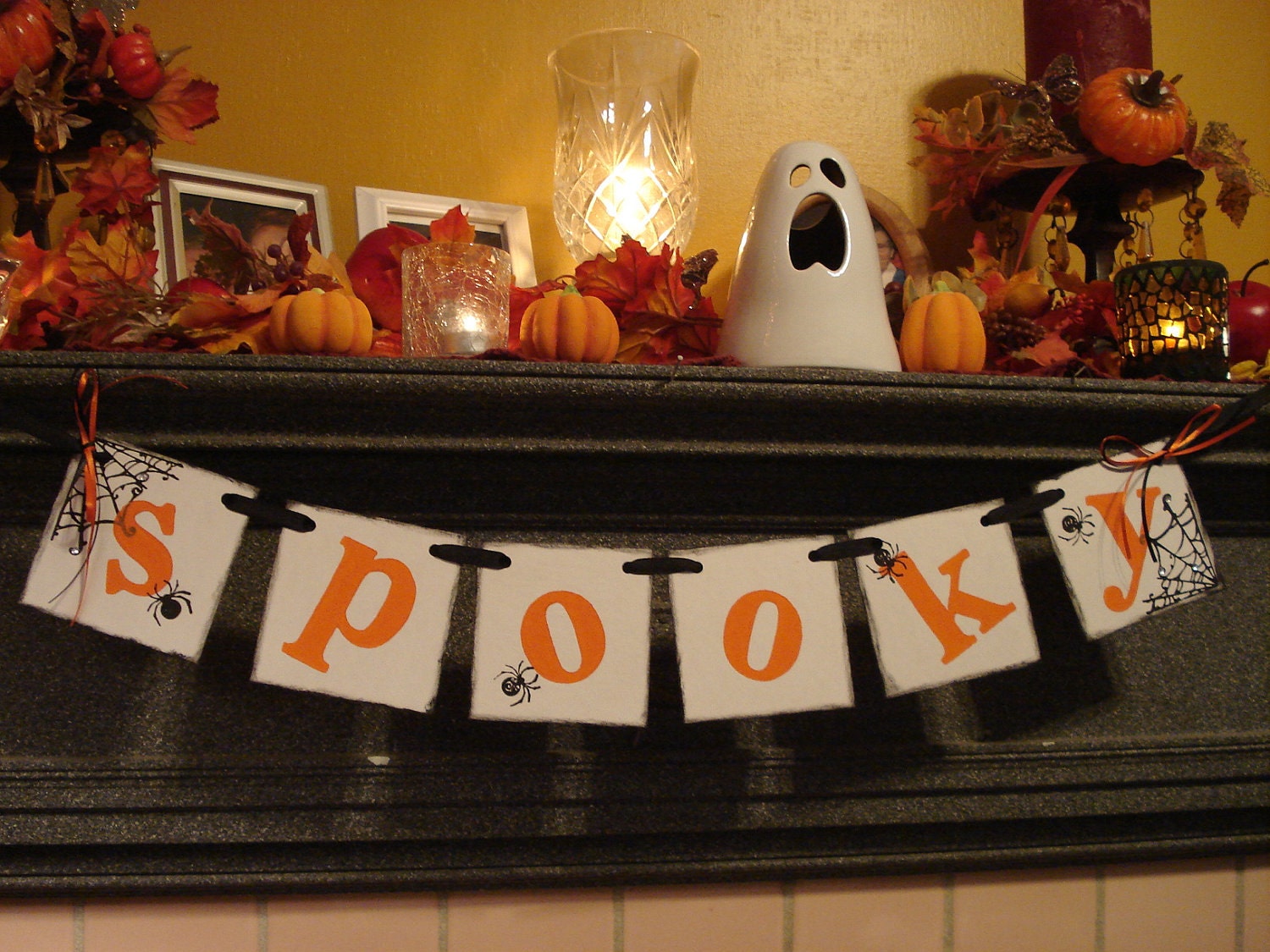 Photo Source: www.etsy.com
In every Halloween celebration, banners and garlands are always present. Considered as the centerpieces of the Halloween season, these decors are normally installed around certain areas of the home to give it a mysterious feel. This is one of the favorite Halloween home decorations that are being used and applied in each home. The most important thing to consider when putting up these banners and garlands is that they are placed in the right spots. To create these decors, print the word "Halloween" or "Welcome" on decorative papers and using sinister looking fonts.
9. Make some special homemade lanterns and hang them all over your home.
Photo Source: www.bcliving.ca
This is one of the Halloween home decoration ideas that typically found in most homes. Lanterns are not only common during the Christmas season but during Halloween as well. The most common type of lantern hung during this season is the classic carved pumpkins. These pumpkins are said to be the "stars of the night" during the Halloween season because when the lights are out, they remain lit up and display their creepy looks. The face of a pumpkin lantern is normally creepy, with mouth open. Other lanterns that can be displayed around the house aside from pumpkins are 3D skulls, witches, zombies and other scary things associated with the Halloween season. It is also nice to make inexpensive and classic paper lanterns like creepy crawlers like spiders.
8. Make sure that the dishes you serve on the table look creepy as well.
Photo Source: www.creatureseast.com
In decorating your home for the Halloween season, it is not enough to hang creepy stuff on your walls or ceilings. Halloween decorations are not just about the surroundings but also about the food and drinks that you serve. The things you eat during this season are of extreme importance as well, so it is a must to be creative with them. A scary Halloween cake can make a good treat for the season. Simply bake a cake and decorate it with all the creepy things that you can think about such as spiders, then top it with a skull made of icing. If you are creative enough, you can also carve fruits and vegetables and make them look like scary shrunken heads.
7. Play songs that give your home a creepy feel.
Photo Source: www.youtube.com
Here is a great Halloween home decorations to make this year. A home can never be so creepy without creepy music. One of the most important things you should know when trying to make your home feel scary during the Halloween season is that no Halloween décor is ever complete without some creepy music in the background. This music is for the purpose of scaring your guests when they enter your home. If creepy sound effects are not available in your home, you and your other family members can just make your own or play some opera, where you can act as ghosts and walk around the home while making eerie sounds.
6. Decorate your home with homemade coffins by hanging them everywhere.
Photo Source: ebelongia.tripod.com
Especially when you plan to throw a vampire themed Halloween party, you may want to decorate your home with hanging coffins. Coffins are one of the best decorations that you can use to scare your guests during the Halloween season. These coffins and gravestones can be easily made by using cardboard boxes. To make your home look even scarier, you can accompany these coffins with old mannequins and add some fake blood on their limbs. You can also add some spiders crawling through the coffins to add some spice to your home décor. In fact, you can do homemade Halloween decorations with this same subject.
5. Make cutouts of black paper shadows and post them on your walls.
Photo Source: luxedb.com
Black paper shadows should be an integral part of your Halloween home decorations for the season. Make sure that you cut out some nice patterns of cats, rats, bats, spiders or ghosts from large black papers, install them around your home and look for a possible light source that you can put up somewhere behind the shadow such as battery-lit candles. Lighting effects will give more life to your paper shadows and will make them look real.
4. Fill the entrance of your home with spiders.
Photo Source: crookedhouse.typepad.com
One of the creepiest things that you can use to decorate your home during the Halloween season is spiders. There is nothing creepier for guests who visit your home than seeing huge spiders and several spider webs right at the entrance of your home. The best spot for hanging spider webs is in the corner of every room. As for the spiders, you can drape them all over your furniture.
3. Create plastic hands that reach out from beyond the wall.
Photo Source: openaparty.com
If you want to make your home look a lot creepier, do not settle for coffins or spiders. Make your home look scarier by buying 3D creepy severed plastic hands and mount them all over your home. These hands will look as if they are trying to reach out to the people inside the house from beyond the wall. You may try one of these Halloween home decoration ideas for this year.
2. Hang skeletons and vampires everywhere.
Photo Source: poolandpatio.about.com
Hanging decorations are also an important part of every creepy-looking home as one of the Halloween home decorations to make. You can use skeletons or fake vampires with long capes, bats or zombie brides as decors that you can hang from your ceiling. Just make sure that they are lightweight and that you put a fan somewhere near the hanging decors so that they will move back and forth and look creepier.
1. Install a fog machine in the entrance of your home.
Photo Source: www.halloweenfxprops.com
One of the things you should never forget when decorating your home during the Halloween season is the installation of a fog machine right at the entrance of your home. Combine this fog with cobwebs situated all across the doorway and you have the best recipe for a really creepy night with your guests along with homemade Halloween decorations.