There is a very thin line between crazy and ingenious; and sometimes, those crazy but awesome ideas you have in your mind should just remain to be there. However, we encounter different problems daily and surprisingly; no one has yet come up with feasible solutions that can help solve these problems. So what if one day, you wake up and realize there is a need to create inventions, no matter how weird or crazy they can be, that are useful with time?
For example, you always drive yourself to never give up on your weight loss plans but you just can't seem to stay away from getting an extra helping, why not come up with a weight-watcher belt? It sounds weird but frankly, this can be a good way for users to see their improvements with the centimeters.  Or how about creating a Hug Me pillow that can help insomniacs deal with the problems in sleeping? There are practically hundreds of weird and crazy but practical inventions that can help lessen daily problems. If these inventions can greatly benefit to humankind, and it can possibly give you a lucrative business, then why not? Here are top 10 crazy inventions of 2013 that has successfully hit the buying public today.
10. The Arm Camera
Photo Source: cvp.com
This is one of the most crazy inventions to ever hit the market especially among those who just love taking photos of themselves. This camera is designed so you can comfortably take a photo of yourself. There are times when you want to take your own photo or a picture with your friends but you can't do anything more because your camera is only at arm's length. You end up taking pictures where you can visibly see your own stretching arms distorting the frame. But with the arm camera, you can now get more relaxed shots with wider frames, thanks to its developer, Thanko.
9. Flask Ties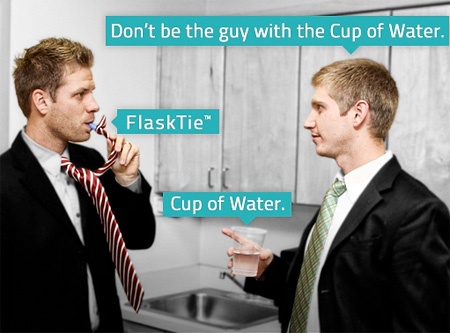 Photo Source: www.toxel.com –
These crazy inventions to buy are ideal especially for people who can't get spiced up just by having the usual morning coffee. The Flask Ties are just neckties that have hidden flasks. These flasks can hold 8 ounces of your favorite drink and come in six different colors with similar stripy patterns. Who says you can't enjoy having booze while you're at work? With these Flask Ties, not only can you go on with your love for the booze at work, but certainly your boss will appreciate your more professional work attire.
8. Anti-Pervert Hairy Stockings
Photo Source: dev1.ryot.org
What used to be one of the crazy inventions of the future is now becoming a hit in the market. Hairy Stockings come from China and is described as your ultimate anti-pervert must-have. This is basically a pair of leggings that can help make your legs look like they have lost all those unwanted hair. After years of waxing and shaving, leg-haired women can actually reconsider these weird but awesome inventions. They make very good alternatives to all those leg moisturizing and feverish exfoliating, and not to mention painful hair waxing.
7. Hamster Powered Paper Shredder
Photo Source: www.core77.com
This is another interesting entry to our top 10 crazy inventions of 2013. Designed by 29-year-old Tom Ballhatchet, this paper shredder works when a hamster runs in its wheel and then the motion powers its shredders and eventually cut the papers. These shredded pieces then fall towards the base of the cage, making them fresh bedding for the rodents.
6. Goggle Umbrella
Photo Source: bonocle.com
Another helpful but crazy awesome inventions are the goggle umbrellas. These umbrellas that come in striking yellow colors take you back down memory lane as you enjoy your childhood adventures during the rain. The scuba goggle-shaped window of the umbrella allows you to easily navigate safely.
5. Beauty Smile Trainers
Photo Source: www.japantrendshop.com
These crazy inventions will literally put a smile on your face. After a long day at work, nothing beats smiling your way around with these beauty smile trainers. These weird inventions from Japan are designed to make your smile warmer and wider. This is really weird but who cares anyway? Keep in mind that smiling doesn't hurt anyone. Instead, when you smile, you get to have a positive atmosphere around you thus making your day a more fruitful one.
4. The Weight Watch Belt
Photo Source: walyou.com
Another crazy inventions to buy allows you to carefully monitor your weight. Worry no more about gaining even a single extra pound. Simply buckle up with this crazy but innovative weight watch belt until you finally reach the weight you so desire.
3. Anti-Theft Lunch Bags
Photo Source: www.perpetualkid.com
One crazy awesome inventions are these anti-theft lunch bags. If you are tired and pissed off of having your foods stolen by your room mates or your sticky-fingered co workers in the office, or if your kids get bullied around in school during lunch, these bags are the ultimate solutions. The Anti-theft lunch bags are basically simply lunch bags with printed green splotches on both their sides. Thus, people will mistakenly look at your food as spoiled. You don't have to end up having nothing for lunch anymore after your food gets stolen. These anti-theft lunch bags that are made out of recyclable materials are no doubt perfect solutions for your lunch problems.
2. The Dog Muzzle Quacks
Photo Source: petsarang.net
These are another crazy inventions of the future that has surprisingly made it big in the market today. Although your dogs do not require wearing muzzles that often, there are times when the need to have one calls for it. With a cute dog in tow, what better way than to have a dog muzzle that is bright, funky, and with a very slight touch of bizarre with these Dog Muzzle Quacks. Transform your friendly canine into a semi-duck to achieve that designer-billed dog look.
1. The Dogbrella
Photo Source: www.businessinsider.com
To cap off our top 10 crazy inventions of 2013 is the dogbrella. This is basically some sort of an upside down umbrella designed to protect your most beloved pet dogs. Measuring 29" in diameter and made from clear polypropylene, this umbrella enables your canine to go on with their walking routine even during inclement weather.