A sandwich is great to have during the middle of a day as a snack or for lunch or dinner. During the hot months they especially taste good. If you're in the mood to try out a different kind of sandwich then you might want to try a sandwich that's named after a celebrity. They are very different and most of them sound good. No matter what kind of sandwich you decide to have, don't forget the potato chips with it!
Check out these 10 Sandwiches Named After Celebrities
10. The Katniss Everdeen Sandwich
Yes, the famous Katniss Everdeen has a sandwich named after her. I don't know about you all but personally, I love the Hunger Games series. The books do give more info then the actual movies but the movies are just as good. Mr.Bartley offers gourmet burgers and they came up with this sandwich. What's packed in this sandwich? Jack cheese, red onions, chili and loaded with sweet potato fries. You can become the girl on fire with having the chili in the sandwich.
midnightontheinternet.blogspot.com
9. Jerry Seinfeld Sandwich
This was one sandwich I was not expecting to see for some reason but there is a Jerry Seinfeld sandwich. The sandwich is a toasted sliced bagel that is topped off with peanut butter and honey is drizzled on top and of course, to top it off cinnamon is sprinkled on it. Where can you get this sandwich? At the Peanut Butter & Company in New York City.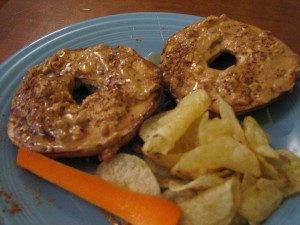 8. The Freddie Mercury Sandwich
The Two Bears Restaurant loves Freddie Mercury so much that they named a sandwich in his honor. The sandwich has spicy sausage in it, pepperoni, bacon, mozzarella, chipotle mayo, marinated tomatoes and the best part is that it's on a nice onion roll. Sounds delicious doesn't it? The only thing I might ask them to leave out is the spicy sausage.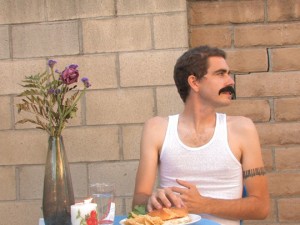 7. The Michael Caine Sandwich
The famous Michael Caine even has a sandwich named after him. The sandwich actually sounds simple but yet so good. The sandwich has cheese, avocado, tomatoes, lettuce, onion and it's on whole wheat bread. Where can you get this tasty sandwich? In Redwood City, California at Heimerhaus Deli. I think this is one of the healthiest sandwiches so far.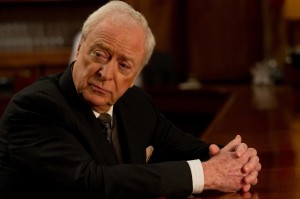 6. The Elvis Presley Sandwich
It should come as no surprise that the famous Elvis Presley has a sandwich named after him. This is another sandwich that you can get at Heimerhaus in Redwood City, California. They are famous for making celebrity sandwiches. This sandwich has tomatoes in it, liverwurst, onions and mustard and it's all on a pretzel. I still think that Michael Caine's sandwich sounds better but maybe it's just because I don't like liverwurst.
5. The Alfred Hitchcock Sandwich
The Fritzankotter's Sandwich Factory in Huntington Beach California named a sandwich after Alfred Hitchcock. The sandwich has ham, provolone, mustard and served on some tasty French Roll bread. This is another one that sounds good to me. I think that one of my favorite Alfred Hitchcock movies is the Rear Window. I like a few of his other movies but this one tends to be my favorite. Maybe next time I watch that movie I might make this sandwich at home myself in honor of Alfred Hitchcock. Image below is not from the actual restaurant but an example of what you can make yourself.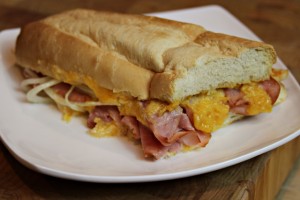 4. The Alyssa Milano Sandwich
If you don't know who Alyssa Milano is then Google her now! She's a famous American actress but she also use to sing. Some of her films she was in include Commando, Little Sister, Fear and New Years Eve. Her sandwich is one of the most interesting ones so far. It includes chicken cutlet, Lioni mozzarella, prosciutto di Parma and also basil mix. Where can you get this unique sandwich? In New York City at Lioni Italian Heroes.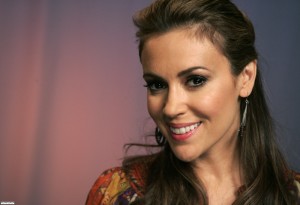 3. The Leonardo DiCaprio Sandwich
Here's another one that's from the Lioni Italian Heroes in New York City. If you're a fan of Leonardo DiCaprio like I am then you might enjoy this even more. It has fried eggplant, mozzarella, roast beef, white American cheese, tomatoes, bruschetta, stuffed peppers and balsamic vinegar on it. The only problem is that I don't like several of the ingredients listed.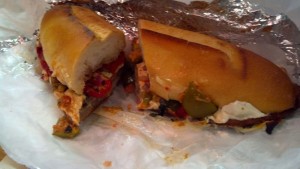 2. The Dolly Parton Sandwich
In New York City at the Stage Deli you can get pastrami and corned beef with twin rolls, otherwise known as the Dolly Parton Sandwich. My next question is why on twin rolls? Is that some kind of personal boob joke that we might not know about? This I think actually sounds better then the Leonardo DiCaprio Sandwich. Here's how it might look like: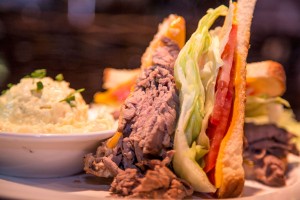 1. The Carmelo Anthony sandwich
If you're not a sports fan you might be wondering who is Carmelo Anthony? He's a professional American basketball player and plays for the New York Knicks. He's so famous that the NCAA tournament named him as the Most Outstanding Player. His sandwich is one of the tallest celebrity sandwiches. The sandwich is for sure not for any of the faint of heart. You'll find that it's piled high with lots of pastrami, salami, corned beef, tomato, Russian dressing, bacon and lettuce. The question is are you brave enough to try it? If so then you can give it a try at the Carnegie Deli but be sure you have at least $22 bucks if you're game.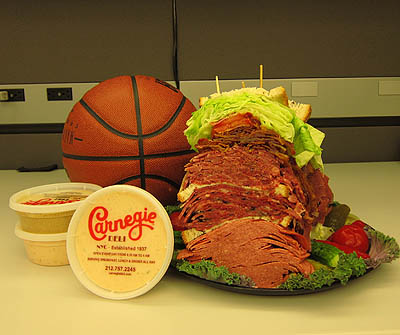 Conclusion
I already know what you're asking or thinking. Where's the Johnny Depp sandwich? Oh and if you're tired of sandwiches and enjoy Sushi then you might want to try out the Lady Gaga Sushi Roll in Columbus Georgia at Wasabi Sushi & Thai.