Big celebrations are never without fireworks and firecrackers. Especially during New Year, people buy different kinds of fireworks to make some noise as they celebrate the first day of the year. Fireworks are explosive pyrotechnic devices that are most commonly used for aesthetic, cultural and religious purposes. They star fireworks displays and other fireworks events like pyrotechnics. Though firecrackers are most common during New Year, people from all corners of the United States also buy tons of them as they celebrate the 4th of July. These fireworks add some color to celebrations because they take many forms and produce several effects, including noise, light, smoke and floating materials. Among the colors of fireworks during fireworks displays are red, orange, yellow, green, blue, purple, and silver. Unfortunately though, there have already been several instances in history where fireworks caused accidents instead of entertainment. Here is a list of the 10 worst incidents involving firecrackers:
10. Denmark: Fireworks Explosion Costs $140 million in Damages
Photo Source: www.oddee.com
A factory in Denmark caused one of the worst explosions involving fireworks in 2004. In a small town in Denmark, there was a small factory that contained over a thousand and two hundred tons of fireworks. A small explosion in one of the small firecrackers caused the detonation of the thousand others, leading to the most massive explosions involving fireworks not only in Denmark but in the world. One fireman lost his life to this incident, and another thirty firefighters suffered severe health problems due to smoke. The accident ultimately cost about $140 million in damages.
9. Oklahoma: Young Newlywed Killed In Front of His Whole Family
Photo Source: www.dailymail.co.uk
Nineteen-year old Austin McCloud was a newlywed husband and father when he got killed by fireworks. At the time, he was celebrating Independence Day with his wife, son and step son when a firework misfired and killed him instantly. The backyard fireworks from his neighborhood exploded and hit him straight in the throat, leading to his sudden death. His wife and two toddlers were eyewitnesses of his death.
8. North Carolina: Truck Full of Fireworks Kills 4 Workers
Photo Source: ace-collection.com
Sometime in 2009, the southernmost inhabited island on the Outer Banks of North Carolina served as the scene of one of the most terrifying explosions involving fireworks in history. Prior to the explosion, a crew of five men was working on a truck that was loaded with several tons of fireworks. The fireworks were supposed to be used for the annual celebration every 4th of July in the United States. However, the heated truck exploded, killing four and burning several firefighters.
7. China: Truck Carrying Fireworks Destroys Bridge
Photo Source: www.telegraph.co.uk
In 2013, a massive accident involving fireworks took place in China. Sometime during the holiday season that year, a truck that was loaded with Chinese New Year fireworks exploded, destroying a huge part of an elevated highway bridge in the Henan Province in China. Around two hundred and sixty feet of the bridge collapsed, causing all the vehicles in the area to plunge more than a hundred feet to the ground. The aftermath of this massive explosion saw the utter destruction of the elevated highway as well as the death of almost thirty people. Countless commuters also got severe injuries because of the accident.
6. Ohio: Children Playing with Sparklers Ignite a Bag of Fireworks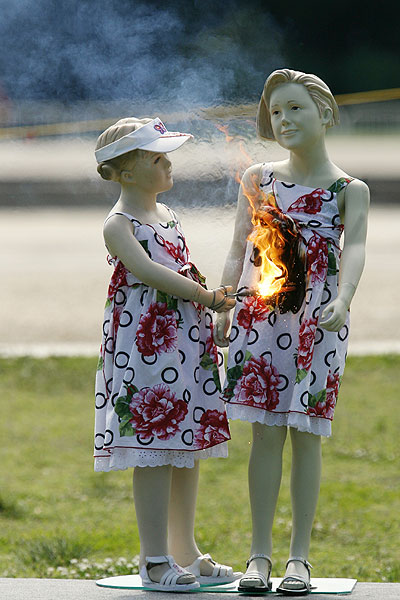 l
Photo Source: hamptonroads.com
Several years ago, another celebration of the 4th of July was ruined in the United States because of a terrible incident involving fireworks. During a July 4 backyard celebration, a bunch of children were happily playing with their sparklers outside a particular house in Ohio. Partying inside the house were around thirty people. After a few hours of playing with their sparklers, a tiny spark from one of the sparklers of one of the kids accidentally fell into a bag of unused fireworks. As anyone would expect, the bag of fireworks exploded at a ground level, injuring seven people and burning half of a woman's body. Of the seven injured, five were children.
5. India: Fireworks Factory Kills 40, Injures 70
Photo Source: www.oddee.com
Known as the "fireworks capital" of India, the town of Sivakasi was where one of the worst fireworks accidents in history took place in 2012. A particular factory in the town, Om Sakthi Fireworks Industries, was operating back then where over seven hundred fireworks were on stock. A tragedy struck one of those seven hundred fireworks when a group of workers mixed dangerous chemicals in one of the hottest rooms in the factory. This led to a blaze that quickly spread throughout the vicinity, went out of control and burned the entire factory for over five hours. After the fire, forty bodies of dead workers were recovered and over seventy others were painfully and horribly injured. This incident led to several arrests, including the owner of the factory who was found to operate his business without a license.
4. Florida: Stupid Prank Causes $100,000 Worth of Damage
Photo Source: gold-voip.com
Sometime in July 2007, a 41-year old man named Tony Glenn Rogers committed probably one of the stupidest things any man could ever do in his life. A Tampa resident, Rogers strolled along the Galaxy Fireworks Tent in Port Richey, Florida which was just a few distance away from his residence. Out of the blue, the man thought of lighting one of the largest fireworks put on display inside the tent, which was meant for sale. This act caused one of the most massive fireworks-related explosions ever recorded in history, injuring several shoppers and leaving one man almost dead. The small space where the explosion took place was then filled with people shopping for fireworks as well as fireworks of different sizes. As a result of his negligence, Rogers was convicted and sentenced to serve three years in prison.
3. Mexico: Fireworks Truck Leaves 100 Meter Radius of Destruction
Photo Source: latino.foxnews.com
Sixteen people were killed and hundreds of people more were injured in 2013 after a truck carrying fireworks for a certain religious event suddenly exploded in a forty-three thousand square foot open-air marketplace located in Mexico. The incident would not have happened if not for that misfired firework that was set off a few meters from the truck. It all started when a lit firework misfired and unfortunately landed on the truck filled with fireworks. After the horrible accident, the scene was left with blooded bodies of both survivors and non-survivors, as well as debris of firecrackers littered all over the ground. The accident spanned at a hundred meter radius.
2. North Dakota: Man Decapitated in Front of His Neighbors
Photo Source: gold-voip.com
Also considered as one of the worst fireworks disasters in history, the North Dakota fireworks incident left one man decapitated in front of his neighbors in 2011. It was July 4, 2011 when a 41-year old man named Jesse William Burley got decapitated after a mortar-style firework exploded right in front of him. The man was just about to set off fireworks to celebrate the 4th of July in his suburban neighborhood in the United States when the accident happened. He had already set off one of the explosive devices, but when he was about to detonate the second one, all the fireworks suddenly exploded, blowing off his head. This horrible incident was witnessed by all of his family members and neighbors who were having fun at the time of the explosion.
1. Enschede: Worst Fireworks Disaster in History
Photo Source: www.oddee.com
The fireworks disaster that took place in Enschede has been largely thought as the worst fireworks disaster in the history of the world. The 2,000 Vuurwerkramp took place at a fireworks factory situated in a residential area in Enschede, Netherlands. It all started with a small fire inside the fireworks factory, but because of the improperly stored fireworks barrels outside the door, around 100 tons of fireworks exploded altogether. The explosion was so powerful that it seemed to resemble the power of a large bomb. Because of the impact of the explosion, the entire building turned out to be a catastrophic blaze of light, smoke and sound. Around 23 people reportedly died in the disaster, while 947 were severely injured. The disaster also left around 1,200 families in the area homeless.