Valentine's Day is one of the most anticipated days of the year. Since it is also called "Love Day," it is the time of the year when people think of ways through which they can express their love for their loved ones. Days before this day, people are busy thinking what special gifts to buy for their boyfriends, girlfriends, husbands and wives. That does not mean that this day is only for couples, though. Some singles take Valentine's Day as a perfect opportunity to send bouquets of roses or chocolates to those whom they secretly admire. For couples, identifying the best gift to give to their significant others is a challenge because Love Day is something that they celebrate every year, and gift ideas do not always come as needed. Here is a list of ten great gifts that you can give to your loved one this Valentine's Day:
10. A bouquet of flowers
Photo Source: www.ou.org
Giving a loved one a bouquet of flowers has always been a Valentine's Day tradition. People normally give flowers to their loved ones on this special day because they symbolize love. When a person wants to show his affection for someone, he buys roses and gives them to the one he loves. But while flowers are beautiful, they wither and die. Giving your loved one something that withers is never a good idea, because what people want to receive on Valentine's Day is something that lasts. A vase full of candies that look like flowers can be a great gift idea because it is not just unique but also lasts longer than real flowers.
9. A home-cooked meal
Photo Source: www.currystrumpet.com
They say the best way to a man's heart is through his stomach. This is the reason why many women around the world are dying to learn how to cook. If you are already a great cook, you may want to cook something special for your loved one. If you are not, it is better not to dare to give him something you cooked yourself because that might just turn out to be disastrous. Hire a professional chef to do the thing for you and invite him for a special dinner. That way, you can be sweet without spending a lot for a Valentine's Day gimmick.
8. Lingerie
Photo Source: www.fabsugar.co.uk
If you are a guy, finding lingerie for your loved one can also be a nice gift idea this Valentine's Day. By tradition, men buy their girlfriends lingerie that they find arousing, such as the latex nurse outfit. However, instead of buying her the teeniest and trashiest lingerie, it is better to give her something that she can actually wear. This is because in reality, not all women would love to wear sexy lingerie. If she likes to flaunt her chest, give her something with plunging neckline. If she is the modest type, give her something that covers parts of her body she wants to conceal.
7. A mix CD
Photo Source: www.timothyscholl.com
Often, when a boyfriend or girlfriend gives a CD to his or her special someone, the CD includes songs that have a special significance in their relationship. Giving a CD on Valentine's Day may be nice, but it would be nicer and more special if the CD will include songs that you composed and recorded yourself. Aside from songs, your CD may also include a slideshow of your photos together. This way, you will be able to show your special someone how much you cherish your relationship.
6. Jewelry
Photo Source: elliotwhittier.com
Men who prefer to give jewelry to their girlfriends or wives on Valentine's Day normally give bland rings or necklaces. However, not all women would appreciate receiving such costly gifts. A piece of jewelry may be nice, but there are several ways to make a bland piece of jewelry a lot more special. This Valentine's Day, give her a ring or a necklace that contains her birthstone or something that is engraved with a personal message, such as your anniversary date or your names separated by a heart in between. This will certainly make her heart melt.
5. Chocolates in a heart-shaped box
Photo Source: everywomanblog.com
Avoiding clichés this Valentine's Day is one of the best things that you can do for your loved one this special day. Instead of buying her a box of chocolates that can be purchased just about everywhere, give her chocolate-covered strawberries. If she loves chocolates, there is no way she will never appreciate this.  Prepare the long-stemmed strawberries yourself and give them to her with a cup of the finest chocolate where she can dip them.
4. A hot air balloon or helicopter ride
Photo Source: sweetvalentinesdayideas.blogspot.com
If you want to do something unique this Valentine season, treat your loved one with a helicopter or hot air balloon ride instead of doing the traditional horse and buggy ride. You can choose between doing it during the day when she can glide through the air and see the world from the top, or at night when she can catch a glimpse of the bright city lights. Make this experience more special by bringing some bottles of champagne and special picas that you can eat while on your ride.
3. A special love letter
Photo Source: blog.janemarvel.com
Giving a special love letter to your loved one on Valentine's Day may be a cliché for some, but there is another way of making it less of a cliché. Express your intimate thoughts through a poem that you made yourself, and design your love letter to make it look nice. You can also use a scented paper to add some romantic touch to your love letter.  Put the scented paper inside a bottle with some fragrance beads to make it more romantic.
2. A hotel stay
Photo Source: www.expohotelbarcelona.com
One of the best treats that you can give to your loved one this Valentine's Day is a day at the hotel. Bringing her to a trendy boutique hotel can be very romantic, especially if it's in Quebec City. You can go out of town and spend the night together at a romantic hotel that features a nice art gallery, disco and bar. While you spend the night together, you can talk about things that have to do with your relationship.
1. A romantic dinner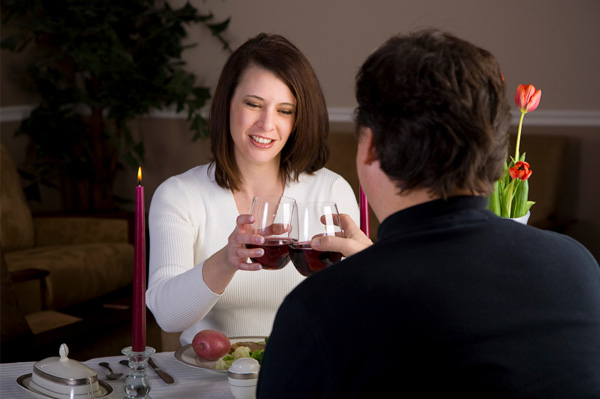 Photo Source: www.sheknows.com
Reliving some of your most memorable dates through a romantic dinner is another great gift idea that you can have for your loved one this Valentine's Day. Bring her to a place that is significant to your relationship and let her enjoy a good meal. Make sure that you have on your table the dishes she finds best. This will let her fall in love with you all over again.