Often times when you think of bacon you think of eggs and toast. Many people enjoy eating bacon with their breakfast, I know that I do! However, a lot of people as of late have recently discovered that mixing both bacon and chocolate together, taste great! Just recently I was one of those people who had a chocolate bacon brownie and just loved it. However, there are plenty of other bacon desserts that you can have that taste great and at the same time not have any chocolate at all.
Check out these 10 Incredible Bacon Dessert Recipes
10. Chocolate-Chocolate Chip Bacon Cookies
Have to start this off with a chocolate chip bacon cookie. Seriously, chocolate and bacon taste great together. If you're unsure about having it as a brownie then maybe try it with a chocolate chip cookie. It's really the best treat ever because you're having something savory and at the same time something that is sweet. You might first think that this idea sounds nasty but try it at least once. You'll fall in love with it.
Recipe link: allrecipes.com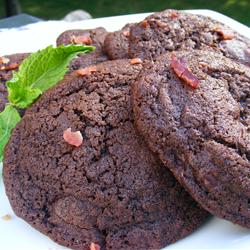 9. Bacon Pumpkin Pie
If you're tired of having just plain pumpkin pie then you should try adding some bacon on your pumpkin pie. It turns that pumpkin pie into a pumpkin pie that everyone will remember. It'll also make the pie taste very interesting in a good kind of way. Another option is to add in maple cured bacon instead of just the regular bacon but either one taste good.
Recipe link: bacontoday.com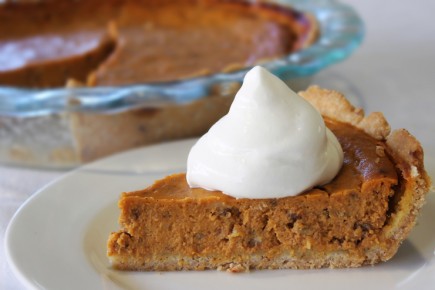 8. Bacon Cinnamon Rolls
I don't know about you but I love bacon cinnamon rolls. They just taste amazing to me. If you've never had bacon cinnamon rolls before then you're missing out on a nice treat. Adding bacon to cinnamon rolls really helps with giving those cinnamon rolls a twist to it just like it gives it a twist to pumpkin pie. It turns it into a savory sweet treat and you'll always want to have bacon on your cinnamon rolls.
Recipe link: pillsbury.com
7. Bacon Pineapple Upside Down Cake
I don't know about you but I've always loved pineapple upside down cake. One day I walked in from work and was shocked to see that my mom did something different with the pineapple upside down cake. She decided to put bacon on top of the pineapple and when she did that, it turned it into an amazing cake and one of my favorite cakes to have. She said the only problem was that it takes over 2 hours to make so it's not something that you can do fast.
Recipe link: bettycrocker.com
6. Caramel Popcorn Bacon Mix
If you're tired of having just plain popcorn and would like to really change the flavor of your popcorn one of the best ways to do so is with simply doing your own caramel popcorn bacon mix. It makes the popcorn taste so very good. A lot of the things that you can add into the mix is optional but my favorite thing to put in it is maple syrup. Bacon and maple syrup with popcorn just taste so great together and its one snack you won't be able to stop eating.
Recipe link: allrecipes.com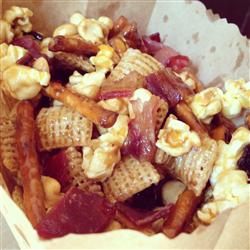 5. Bacon Caramel Truffles
Bacon, caramel and chocolate. Need I say more? If you're a fan of truffles and love caramel and bacon then this is something that you've got to try. If you're not in the mood to make your own bacon caramel truffles then you can find some already made but nothing beats homemade bacon chocolate caramel truffles. Trust me on this one! So, if you've got the time and love all three of these ingredients as much as I do, then give it a try.
Recipe Link: bethmichelle.com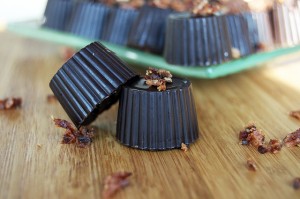 4. Maple Bacon Donut
The maple bacon donut can be both a dessert and a breakfast food item or just simply a delicious snack. They can take around one hour to make depending on how many of them you're doing. It might also take longer if you decide to do your own dough but you can also buy premade dough and save yourself a lot of time if you're in a pinch with time.
Recipe Link: tasteofhome.com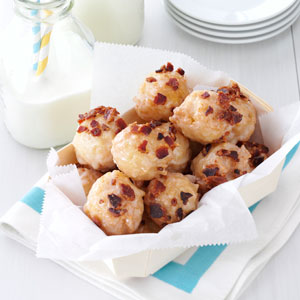 3. Chocolate Covered Bacon Candy
What's so great about chocolate covered bacon candy is that they are very easy to make. The only downfall is after you've finished putting the chocolate on them you'll want to eat the chocolate bacon right away but you won't be able to because you'll need to put it in the frig for at least 15 minutes. After the 15 minutes is up, take the plate out and enjoy your candy chocolate bacon! You will love it.
Recipe link: popsugar.com
2. Chocolate Bacon Bark
Chocolate bacon bark is extremely popular and you can buy this bark in stores easily or you can make it at home. It might look complicated to make at first but you'll be surprised as to how easy it is to make. If you really want to surprise people with this one, don't tell them that it has bacon in it. Let them guess and figure out your secret ingredient. If they are able to figure out your secret ingredient, give them a few to take home as a treat.
Recipe Link: bhg.com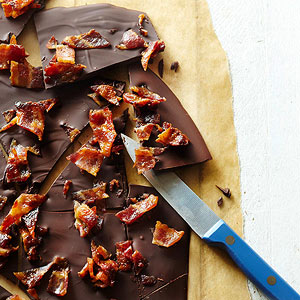 1. Dark Chocolate Bacon Cupcakes
Dark chocolate bacon cupcakes is one of the most popular bacon desserts ever. It's popular with both children and adults. No matter the age, you'll find that people will just love them. After all, it's dark chocolate, bacon and cupcakes. They are great for desserts, parties, snacks or whenever you would like to have them! This is really the perfect mix of both salty and sweet and a blend that everyone will enjoy together.
Recipe Link: allrecipes.com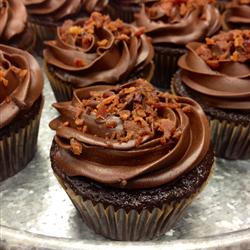 Conclusion
There are lots of other bacon dessert recipes out there that I love but these 10 happen to be the most popular ones. If you love bacon and chocolate, you should check out one of these and tell us what you think of it after you've made it. Once you've had bacon and chocolate, it'll be the snack you'll always want to have around.