A healthy smoothie can benefit you in a lot of ways and one of those ways is with helping you lose weight. There are so many healthy smoothie recipes for weight loss available that it was hard trying to pick just 10 of them. If you're not happy with these 10 then just research until you find a weight loss smoothie recipe that you enjoy but hopefully you'll like at least one of these weight loss smoothies recipes. I must also say that I have a sweet tooth and therefore, it's extremely hard for me to lose weight because of it. Just recently I started to do some of these smoothies and while it's still too early for me to noticed a difference, I am starting to feel better and my energy is increasing so I do highly recommend smoothies for weight loss.
Check out these 10 Smoothies for Weight Loss
10. Blueberry Smoothie
There are lots of blueberry smoothie recipes available and in fact, no matter what blueberry smoothie recipe you end up using it's almost bound to help you with weight loss. The reason why is because there are lots of amazing benefits to having blueberries. I recommend soy milk and low fat yogurt or either non-fat yogurt for weight loss. I don't recommend any recipes that suggest adding sugar in it or either if it does then substitute it for another sweetener that has no calories to it.
Recipe link: foodnetwork.com
9. Chocolate Avocado Smoothie
You might think that first this doesn't sound very good but it actually taste great and it's healthy for you if you pick out the right ingredients for it. The key ingredient to this is having unsweetened cocoa powder. Don't make the mistake of grabbing the sweetened cocoa because that won't help you with weight loss. Coconut milk also tastes great but if you want something else, try putting in some almond milk instead.
Recipe link: eatingwell.com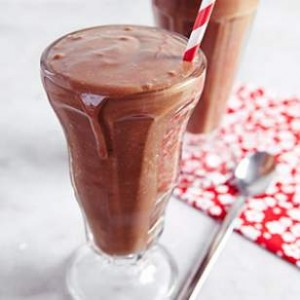 8. Strawberry Banana Smoothie
This is one of my favorite smoothies. I just love the combination of these two together. There is also a lot of healthy benefits with having both strawberries and bananas. You can also add in some ice to it and crush it up. Some put oranges in their strawberry banana smoothie but the only problem is that oranges tends to be one of the fruits that have more carbs in them like bananas do so you might want to skip the orange.
Recipe link: strawberrybananasmoothierecipes.org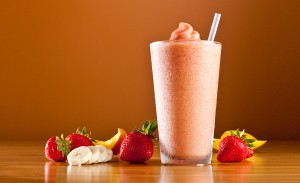 7. Mango Avocado Smoothie
Here's a smoothie that's tropical and healthy at the same time. Some recipes also recommend adding in some sugar to this one but again, I recommend that you skip out on all recipes that suggest sugar and add in a sweetener that does not have any calories to it. What makes this smoothie so healthy to drink is not the mango but actually the avocado. You can fix a mango smoothie but won't get near as many benefits as you would if you don't add in the avocado.
Recipe link: eat-yourself-skinny.com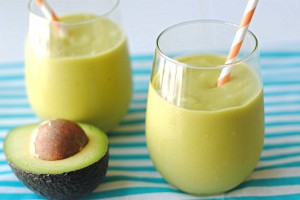 6. Peach Smoothie
I think that a peach smoothie happens to be one of the easiest smoothies to make. All you need is just peaches, skim milk and flaxseed oil and blend everything together and have a tasty weight loss drink. I love to drink this during the afternoon. It makes a perfect snack but it can also be great to have at breakfast time. If you want to add in some more fruit to it try a peach strawberry smoothie.
Recipe link: deliciouslyella.com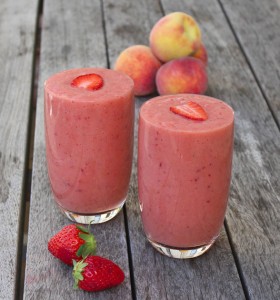 5. Lemon Orange Citrus Smoothie
This smoothie is going to be one that people might either love or hate and part of that has to do with the citrus flavor to it. One of great things about this drink is the fact that it's loaded with vitamin C. Most smoothies that have fruit involved can be packed with many awesome vitamins in it but this one tends to have more Vitamin C then other smoothies because of the combination of fruit that it's in it.
Recipe link: prevention.com
4. Watermelon Smoothie
A watermelon smoothie is another popular smoothie during summer but even during the winter you'll find that it's such a refreshing drink. The ingredient I love to add in my watermelon smoothies is non-fat lemon sherbet but also adding yogurt can be very good. Some people also like to add a mixture of watermelons and blueberries together, which is also a good smoothie to have but I have never tasted a watermelon blueberry smoothie before but hope I can soon.
Recipe link: lowfatcooking.about.com
3. A Mixed Berries Smoothie
Here's one of my favorite smoothies but mainly because I just enjoy berries. You can buy a mixture of berries, blackberries, blueberries and other berries that you might want to add in and just mix them together into a smoothie. Adding in some yogurt to this smoothie makes it even better. You can add in milk but with a berry smoothie, I always add in yogurt. I prefer the non-fat vanilla yogurt but adding in plain yogurt is still good. Adding in a banana can also make it taste great.
recipe link: foodnetwork.com
2. A Peanut Butter and Banana Smoothie
Believe it or not, this might sound gross at first but it's very good and extremely healthy for you. One of the best things with adding peanut butter to your smoothie is that you also get a lot of fiber and protein in your drink. Another key ingredient to this is with having chocolate whey protein powder. You'll be amazed at how good that taste in this smoothie.
Recipe link: allrecipes.com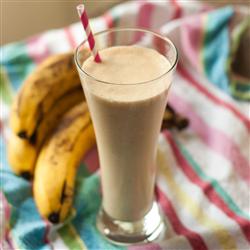 1. Green Tea Smoothie
There are a variety of green tea smoothie recipes online but the one that I like the most has grapes, spinach, avocado and green tea in it. You can opt out of having spinach in it if you're not a fan of spinach but spinach can help you with weight loss and spinach is extremely healthy for you to have. Other variations that might not include spinach in it tends to have a banana and mixed berries. Whatever type of green tea smoothie you opt in to have, it will be healthy for you and help towards losing weight.
Recipe link: culinarycolleen.com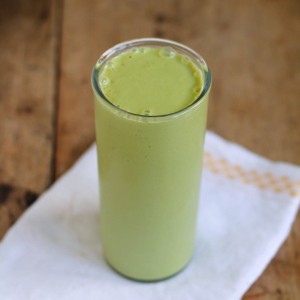 Conclusion
Don't give up on weight loss. You can do it. Having smoothies is a wonderful way to help you with being able to reach your weight loss goal.