If you're looking to try and dress your pet up for Halloween and might want something that's funny then maybe these funny pet costume ideas might help you. I don't know about you but there are times when seeing a funny costume on a pet makes me laugh and helps to break the tension from some of the scary things that we see throughout Halloween. I think that there's nothing wrong with dressing up your pet to make them look scary for Halloween. I also think that one way to make your pet unique and different is to dress them up in a cute scary Halloween costume. Some of these you can buy on places such as Amazon, eBay or your local party store. Other cute pet costumes you might have to do them yourself.
Check out these 10 Cute Pet Halloween costumes
10. Superman Dog or Cat
This dog looks so cool and cute at once. He looks like he has attitude. He knows he's going to save the day. One great thing about this outfit is that you'll find it's available for both cats and dogs. It also doesn't matter if they are male or female. They will look adorable the moment you put it on them. You might even decide to dress up as super man or super girl and take your pet with you.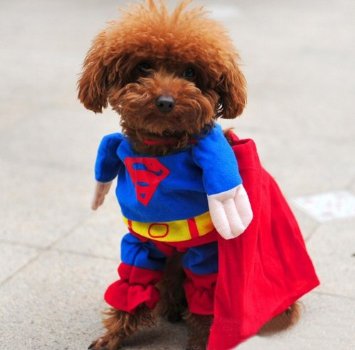 You can buy it at: happytailspetshop.com
9. Pity The Fool Pet Dog Costume
If you can keep your dog in this costume then I must say that I am impressed. Maybe if your dog stays in this costume it's because they know they are awesome in it. Together the two of you can accomplish many things this Halloween. One idea is you can dress up as Mr.T so that way both of you look cool.
You can buy it at:costumekingdom.com
8. A Cute Pet Witch
Do you have a gerbil, hamster or maybe some small rodent that you would love to dress up for Halloween? Here's one idea. You can put a witches hat on them and a witches cape. You can also find a variety of colors available. This is also a great idea if you're having a witch themed party at your home. This way whatever small pet you have, can spook everyone else and put a spell on them with their outfit.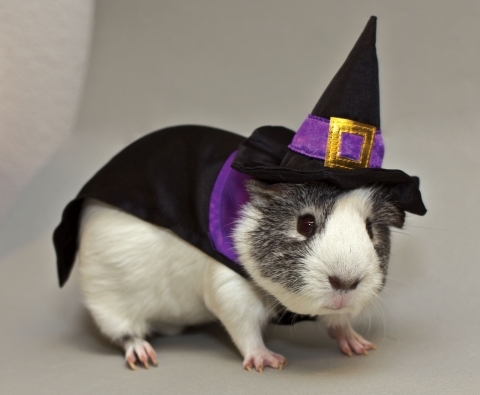 You can buy it at: etsy.com
7. Football Fever
Do you have football fever? Maybe your dog also has it. Your dog can wear this costume during Halloween but also during football season. Before you decide to buy this costume make sure that you know it fits your dog. This tip also applies to all costumes that you buy for your pet. Remember that some sizes might vary so it's good to measure your pet to make sure that you get the correct size.
You can buy it at: fabulesslyfrugal.com
6. Cute pet pumpkin costume
A pumpkin costume can look great on both dogs and cats. You can almost never go wrong when you decide to dress up your dog or cat as a pumpkin. You'll get a lot of smiles when they see your pet. You can also dress up as a pumpkin or either in a costume with similar colors and blend in together. If you look online you can find a variety of Halloween pet pumpkin costumes available.
You can buy it at: http://fabulesslyfrugal.com
5. Panda Dog Hoodie
If you're looking to make your dog look cute but might not want to put a lot of stuff on him then I recommend the Panda Dog hoodie. One of the best things about this hoodie for your dog is that they will stay nice and warm when you go out on Halloween night with your family and friends. If your dog doesn't mind the hoodie then you can even use it whenever it's cold outside.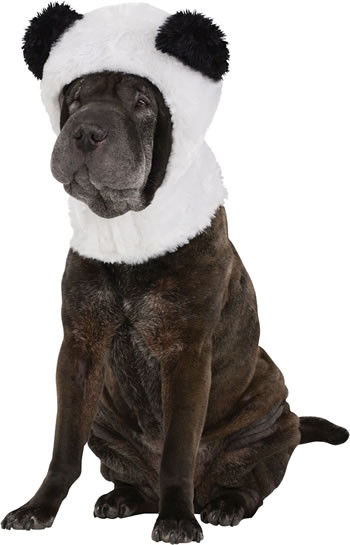 You can buy it at: halloweenmart.com
4. Cute Tootise Roll Dog Costume
I just think this is one of the most adorable costumes ever. If you love candy and plan on showing your dog off during Halloween then this might be just the perfect costume for your pet. You can also dress up as your favorite candy or chocolate bar and look just as adorable and cute as your pet. You can find plenty of candy or chocolate bar Halloween adult costumes online if you look around.
You can buy it at: walmart.com
3. Halloween Skull Tie Cat Costume

I don't know about you but sometimes cats will do whatever it takes for them to get that adorable Halloween costume off that you just purchased. If your cat doesn't like costumes as much maybe they will be fine with letting you put a skull tie on them. A skull tie on a cat looks adorable and yet at the same time, it can look scary on them depending on the look from your cat.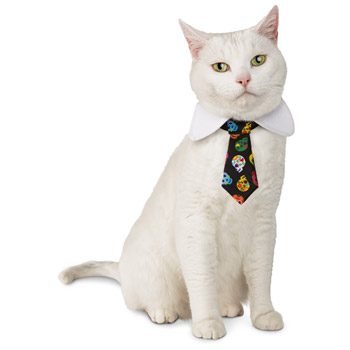 You can buy it at: petco.com
2. Small Pet Halloween Tutu costume
A tutu on your small pet might be perhaps one of the most easiest costumes for you to put on them. This Halloween pet tutu costume is perfect for small pets such as hamsters and gerbils. If you love dancing then you might even consider dressing up as a dancer and wearing a tutu that's similar to what your pet has on.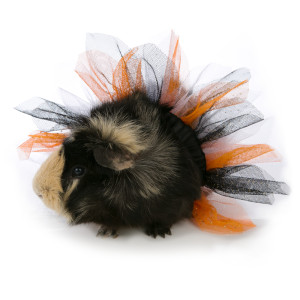 You can buy it at: petsmart.com
1. Pet Halloween Hotdog Rider Costume
One of the most popular dog pet Halloween costumes is dressing them up as a hotdog. You can find a variety of Pet hotdog costumes online. Whatever kind of hotdog costume you decide to pick out for your dog I am sure will get a few laughs out of people. If you're doing Halloween with a partner you can go as mustard and ketchup and take your Hotdog with you.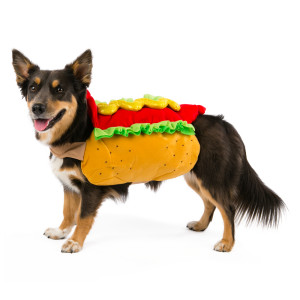 You can buy it at: petsmart.com
Conclusion:
Have fun this Halloween season and be the talk of the town. I am sure that your pet will look great no matter what kind of costume you decide to dress it up in.