Kids are too easy to please. As they reach their adolescence, however, they begin to have their own sense of style and get to know themselves and their predilections better. That is the reason why during Christmas season, it normally takes a while for parents to identify which gifts to give to their teenage children. It is during adolescence that an individual becomes more in tune with the things that he likes and dislikes, and wants to achieve a sense of belongingness with his peers by having exactly the same things that they own such as books, gadgets and trendy clothes and shoes. This reality only goes to show how difficult it is to find something that teenagers will surely enjoy this Christmas. Before going on a shopping spree, it is important to make a list of the top things that are good enough to give to your teenage friends or family members. It is not just their sense of fashion that should be considered, but also their age. The reason why some teenagers feel bad about the gifts given to them is that not all people realize that teenagers are no longer kids, and that they no longer need toys. Since this is they are already on their way to being grown-ups, it is advisable to give them gifts that suit their age. Here is a list of 10 gifts that you can give them this Christmas:
10. Cube Mate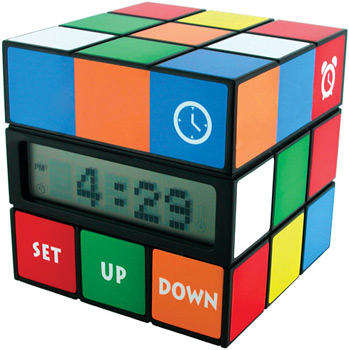 Photo Source: www.urbanlime.com
Cube Mate is one of the best gifts that you can give to your teenage friends and relatives this Christmas. Aside from the fact that it is fun to play with, it also helps enhance one's cognitive skills. This 80's Cube Clock is inspired by the popular Rubik's Cube, but this one is more thrilling because you do not only get to play with colors. By simply rotating the top row of this iconic block, one can already switch among time, date, alarm, and temperature displays. It is indeed one of the  top 10 Christmas gifts for teenagers 2013.
9. Sound Style Headphones
Photo Source: iphoneglam.bigcartel.com
This is one of the top 10 Christmas gifts for teenagers this year. Rock On is a pair of earphones that is definitely just like no other. Since teenagers would certainly not want to get something that feels a little old school such as an engraved necklace or ring for Christmas, give them a pair of Sound Style headphones that are magnificently adorned with Swarovski crystals. These ear phones are best for teenagers because the young generation today generally love music. Also, the crystals contained in this pair give them a sense of style.
8. Fujifilm's 10-Megapizxel Fine Pix Z20fd Camera
Photo Source: www.photoxels.com
Since social media sites are gaining popularity these days, teenagers love taking photos and posting them on these sites. Teenagers' liking for taking photos makes camera a perfect gift for them during the holiday season. Fujifilm's 10-megapixel Fine Pix Z20zd camera is in vogue these days, primarily because it has functions that other cameras do not have. It can correct ugly red eyes and it has built-in blog mode which allows images to be resized in the camera before uploading. This is one of the top 10 Christmas gifts for teenage girls and boys.
7. Doodle Book Frame
Photo Source: http://www.dormify.com/
Made from an 80-page sketch pad, Doodle Book Frame is another ideal gift for teenagers this Christmas. During adolescence, an individual often experience crises when it comes to dealing with his friends. He can be friends with one for a minute and become enemies the next. The idea behind Doodle Book Frame is to keep up with this ever-changing mood that perfectly characterizes teenagers. With this frame, he can change the photos displayed on his picture frame anytime he wishes.
6. Quick Cam Orbit AF
Photo Source: salestores.com
This is one of the top 10 Christmas gifts for teenage guys and gals. More than taking photos and videos of themselves, another thing that most teenagers love doing these days is connecting with friends from around the world through social media. Considering that, a next generation web can be a perfect gift for them this Christmas. Quick Cam Orbit AF is a next gen web can that has a motorized tracker which senses motion, as well as an autofocus that keeps the photo sharp at all times. This web cam will certainly help teenagers enjoy taking photos and doing video calls all the more.
5. Nap Sac Travel Blanket and Pillow
Photo Source: www.containerstore.com
Another ideal gift for teenagers for 2013, since they just love going to camps and cross-country plane flights. Because traveling is a common hobby among teenagers today, giving them this Christmas something that they can use as they go places makes a lot of sense. Nap Sac Travel Blanket and Pillow is a case that contains an ultra-soft blanket and inflatable pillow. This package is so convenient to bring during travels because it is not bulky. With this case in their traveling bags, teenagers are sure to have the most comfortable escapades ever.
4. Keen Twenty-Six Computer Bag
Photo Source: www.sierratradingpost.com
Another expected presented on this list of Top 10 Christmas gifts 2013 for teenagers. Because teenagers today are generally techie, people seldom see them without gadgets in their hands. Most teenagers today love bringing laptops wherever they go so they can do their school assignments, edit their photos, and play their favorite games wherever they go. This Christmas, giving them Keen Twenty-Six Computer Bags would be a nice idea. This computer bag is partly made of recycled rubber and polyester and can hug a laptop securely. Not only that; it also offers plenty of space for books and other school stuff, too.
3. College Survival Kit
Photo Source: www.charmingcards.com
A College Survival Kit is another perfect gift for teenagers this Christmas. This kit includes essential things that are perfect for university scholars, such as a shower tote, first-aid kit, and a laundry cheat sheet. But the best thing about this kit that will surely make every teenager want to grab it is the Domino's Pizza gift certificate inserted in it.
2. Memorex 8.4" Swiveling Widescreen Portable DVD Player
Photo Source: salestores.com
No one can contest the fact that teenagers love watching movies in DVDs. Memorex 8.4" Swiveling Widescreen Portable DVD Player is an ideal gift for teenagers this Christmas because it goes way beyond the basic portable DVD players sold in stores. It features a killer design highlighted by its large LCD display. With this player, teenagers are sure to have a squint-free movie watching experience.
1. Liquid Image's Underwater Camera
Photo Source: stupiddope.com
This hands-free 5-megapixel camera is perfect gift for teenagers this Christmas as it is fun to use. This camera can capture photos even when used under the sea or a pool. It comes with a USB cable so teens can directly upload the photos from the camera to their social media accounts.