There are thousands of highly skilled professional cooks in the world, but only a few of them successfully make it to the international scene. Chefs have different specializations and the most popular of them bask in the limelight because of their unparalleled cooking prowess and ingenuity. The most popular chefs today are not only cooks confined within the walls of the kitchen but also cookbook authors and famous media personalities who publish their own cookbooks and host their own cooking shows. Here is a list of the ten most popular chefs in the world today:
10. Mario Batali
Photo Source: josephmallozzi.wordpress.com
Born September 19, 1960, Mario Batali is an American chef and restaurateur best known for his expertise on both the culture and history of Italian cuisine. Because of his classical culinary training, he has become such an expert that he knows everything about pasta, meatballs, tomato sauce as well as the local and regional variations of Italian dishes. He is currently a Culinary Hall of Famer and owns Italian restaurants throughout Asia and the United States, including Westport, Connecticut, Los Angeles, New York City, Las Vegas, Singapore and Hong Kong. Also known as the "Molto Mario" of the culinary world, he is also a media personality who has had his own cooking shows on television.
9. Julia Child
Photo Source: www.biography.com
An American chef, television personality and author, Julia Child rose to popularity because of her debut cookbook entitled Mastering the Art of French Cooking, which successfully brought French cuisine to the American market and became a bestseller because of its helpful illustrations and details. She premiered in 1963 as one of the first celebrity chefs who had her own cooking shows, of which the most notable was The French Chef. Julia Child is also known for her distinctive voice and for writing and publishing several seminal culinary works tha sparked the craze surrounding French cooking.
8. Emeril Lagasse
Photo Source: blogs.browardpalmbeach.com
Emeril John Lagasse is a celebrity chef, media personality, cookbook author and restaurateur who became a regional James Beard Award winner because of his notable contributions in the culinary field. Two of his popular shows are the Essence of Emeril and the Emeril Live, which are both shown on Food Network channel. He began to gain fame in the culinary world when he became the executive chef of Commander's Palace. After his tenure in the famous restaurant, he opened his first restaurant in New Orleans, Louisiana which was recognized as the "Restaurant of the Year" by Esquire Magazine. Lagasse also served as the Executive Chef of Dunfey's Hyannis Resort and is known to specialize in Creole cuisine.
7. Rachael Ray
Photo Source: www.thecelebrityworkout.com
This American television personality, author and celebrity chef currently hosts Rachael Ray, 30 Minute Meals, $40 a Day and Rachael Ray's Tasty Travels on Food Network. Equipped with a unique New York accent, she is best known for the practical cooking tips she shares to her viewers. One of Food Network's most famous celebrity chefs, she can complete a complex recipe in half an hour and uses chicken stock, herbs and flavors to boost the flavors of her dishes. She is also popular for her EVOO catchphrase which means "extra virgin olive oil."
6. Anthony Bourdain
Photo Source: www.ciachef.edu
Best known for his cookbook Kitchen Confidential: Adventures in the Culinary Underbelly, Anthony Bourdain is an American chef and television personality who rose to fame in 2005 when he hosted Anthony Bourdain: No Reservations and The Layover, two of the culinary programs of Travel Channel. A graduate of the Culinary Institute of America, Bourdain is a veteran of a wide array of professional kitchens and is often referred to as "chef-at-large" by Brasserie Les Halles, a renowned executive chef in a top restaurant in New York. In his shows, he visits different countries to explore some of the most bizarre dishes in the world.
5. Giada De Laurentiis
Photo Source: www.ahschool.com
Giada Pamela De Laurentiis is an American chef and writer who currently hosts Giada at Home on Food Network. This Italian-born chef is also a regular guest co-host and contributor on Today of NBC. She particularly specializes in Italian cuisine and once became a winner of the Daytime Emmy Award for Outstanding Lifestyle Host. In 2008, she collaborated with the Barilla Group in launching the first gourmet celebrity product line of Academia Barilla. She founded the catering business known as GDL Foods and was inducted into the Culinary Hall of Fame in 2012.
4. Bobby Flay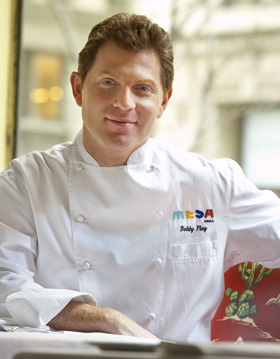 Photo Source: www.bellazon.com
Bobby Flay is another American celebrity chef who owns and leads several restaurants in ten locations worldwide, including Mesa Grill in Las Vegas and the Bahamas, Bobby Flay Steak in Atlantic City, Bobby's Burger Palace and Bar American in New York City and Uncasville. Since his debut, Flay has hosted several television programs and specials on Food Network. Known as one of the most adorable celebrity chef today, he has published several cookbooks and has received many awards since his debut.
3. Wolfgang Puck
Photo Source: immigrate2usa.blogspot.com
This Austrian celebrity chef and restaurateur is one of the most celebrated chefs in the world because of his cooking prowess and lovely personality.  He rose to popularity because of his first published book, the Modern French Cooking for the American Kitchen, which was based on his Ma Maison recipes. An honorary chair chef for the "Five Star Sensation" Benefit in Ohio, Puck runs a broad range of businesses which include catering services, restaurants, licensed products and cookbooks. He is best known for his signature dish, the House Smoked Salmon Pizza, and currently holds Michelin Stars. He was also recently inducted into the Culinary Hall of Fame.
2. Paula Deen
Photo Source: www.telegraph.co.uk
Paula Deen is a cooking show host and celebrity chef who operates her own The Lady & Sons Restaurant with her sons Bobby and Jamie Deen. Since her rise as a celebrity cook, she has published a total of fourteen cookbooks which include The Lady & Sons Savannah Country Cooking and The Lady & Sons Savannah Country Cooking 2. She also appeared as guest on The Oprah Winfrey Show in 2002, 2007 and 2010 and has been featured in Extraordinary Comebacks: 201 Inspiring Stories of Courage, Triumph and Success. Paula Deen has also been with Food Network since 1999.
1. Gordon Ramsay
Photo Source: thebrandbuilder.wordpress.com
Considered the most popular celebrity chef today, Gordon Ramsay is known around the world for his cooking skills and for his shows entitled Kitchen Nightmares and Hell's Kitchen. He has already been awarded a total of fifteen Michelin Stars since the beginning of his career and his signature restaurant is the Restaurant Gordon Ramsay which is currently located in Chelsea, London.