The Feast of St. Patrick, more commonly known as St. Patrick's Day, is an annual holiday celebrated every 17th of March to commemorate St. Patrick, the most famous of all the patron saints in Ireland. This annual Christian feast day is observed by many churches around the world, including the Lutheran Church, Catholic Church, Anglican Communion and the Eastern Orthodox Church. This day is also meant to celebrate the rich culture and heritage of the entire Irish community. Throughout Ireland, Montserrat, Canada, Great Britain, Argentina, the United States, New Zealand and Australia, people perform a number of traditions to observe St. Patrick's Day. Here are 10 of them:
10. Playing Irish music
Photo Source: www.thestar.com
Music has always been an important ingredient of the Irish culture. Since the ancient days of the Celts, it has often been linked with the Day of St. Patrick. Because of the oral culture of the Celts, music has been passed from one generation to another, along with history and legend. Whenever St. Patrick's Day arrives, people in Ireland play Irish songs to help them remember St. Patrick just like the way they commemorate other important events in their history. Music stirs their emotions and relive memories of the past, especially when songs are accompanied by instruments that have been there for centuries like fiddles, bagpipes, tin whistles and flute.
9. Wearing and drowning of shamrock
Photo Source: amazenglish.blogspot.com
Also called "seamroy" by the Celts, the shamrock is another important part of the Irish people's commemoration of St. Patrick's Day. This sacred plant that grows in ancient Ireland is believed to represent the rebirth of spring and emerging Irish nationalism. It symbolizes their pride and heritage and is worn by the Irish community in their hats every 17th of March of every year. They believe that by wearing this three leafed grass, they are able to set forth to them the Mystery of the Holy Trinity. They also perform a ritual called "drowning of the shamrock," wherein they put the worn shamrock in a glass of grog or punch, drink the punch and pick out the shamrock from the bottom of the glass and throw it over their left shoulders.
8. Wearing a snake symbols
Photo Source: www.patheos.com
One for the most important things that Irish people credit St. Patrick for is the banishment of all the snakes from Ireland, which represent the eradication of the pagan ideology from the country as well as the triumph of Christianity. The people of Ireland believe that while St. Patrick was on his mission, he stood on top of a hill and banished all the snakes from the country. Today, the people of Ireland commemorate St. Patrick's Day by considering it as an "All Snakes Day" where they wear as many snake symbols as possible and write songs that call for the return of the "snakes."
7. Preparing and eating corned beef
Photo Source: www.salon.com
One of the most popular traditions among Irish Americans during St. Patrick's Day is the preparation and eating of corned beef. Every year, thousands of Irish Americans come together with their loved ones to share a traditional meal composed of lots of cabbage and corned beef. Cabbage has long been known as an Irish food, but by the advent of the 21st century, corned beef has become as popular as it too. Today, people use corned beef as a substitute for their traditional dish, Irish bacon, in order to save money.
6. Making a leprechaun trap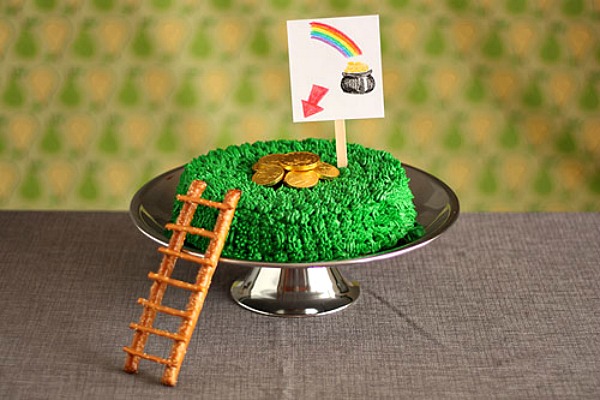 Photo Source: hoosierhomemade.com
The leprechaun is one of the most important symbols in Irish folklore. It got its name from "lobaircin" which means "small-bodied fellow." Beliefs surrounding leprachauns root from the beliefs of Celtics in fairies and tiny creatures that use their magical powers to do either good or evil. They are considered cranky souls in Irish folklore who use trickeries to protect their treasures. During St. Patrick' Day, people create leprechaun traps as a way of wishing good luck. According to Irish legends, if a person catches a leprechaun through a trap, three of his wishes will be granted, but he has to let go of the leprechaun after all his three wishes are finally granted.
5. Shortest St. Patrick's Day Parade
Photo Source: www.dailycamera.com
The staging of the world's shortest St. Patrick's Day Parade has been an annual tradition in Hot Springs Garland Country since 2004. It all started when a bunch of residents from Hot Springs came together in a pub and thought of ways to maximize the fact that the 98-foot Bridge Street was recognized as the world's shortest street by Ripley's Believe it or Not. It so happened that at the time of their musing, St. Patrick's Day holiday was already approaching. Since 2004, different groups from Hot Springs have been marching on the street every St. Patrick's Day. This parade is often followed by an all-green fireworks display.
4. Dressing up like leprechauns in New London
Photo Source: colrd.com
St. Patrick's Day is not only commemorated in Ireland but also in some areas of the United States, including New London. Every St. Patrick's Day, it has been a tradition for the members of the Shamrock Club in New London to dress up like leprechauns and change the street signs in New London into New Dublin. The population of this group is around 7,000, and over 30,000 people visit New London every year to celebrate St. Patrick's Day and perform the tradition. Other festivities held on this day involve Celtic bands playing Irish songs.
3. Dyeing the Chicago River green
Photo Source: www.zimbio.com
Another tradition performed on St. Patrick's Day is the dyeing of the Chicago River. Every year, people dye the Chicago River green by using an eco-friendly powdered vegetable dye. This breathtaking tradition has been performed for more than four decades now. It is significant to the people of Ireland because it turns the Chicago River into the color green that is very similar to the greens of Ireland from where the country got its name—the Emerald Isle. The dye that colors the river every St. Patrick's Day takes several days to dissipate.
2. Holiday in the Caribbean
Photo Source: simplyelegantcorp.com
St. Patrick's Day is also a significant holiday for the people of the Caribbean. It declared a national holiday in Montserrat, primarily because of the rich African and Irish heritage of the land. The day is also significant because a slave uprising that took place on March 17, 1768 is also commemorated every year, which is exactly the same day that St. Patrick's Day is memorialized. Every March 17, the people of Caribbean hold festivities, including merrymaking with masked street dancers. This tradition involves a blend of both European and African cultural elements.
1. The world's biggest shamrock
Photo Source: davidvictorvector.blogspot.com
In O'Neill, the Irish capital of Nebraska, a four-leaf clover is placed in the middle of the road to welcome visitors and let them know more about the deep Irish roots of the town. Every St. Patrick's Day, the town holds St. Patrick's Day celebrations which include the reading of Dr. Seuss' "Green Eggs and Ham" and wearing anything green.