Who are the top ten Rugby Union players ever to grace the turf?
Who really knows, but what we can say is that many are still playing now. New Zealand gets more than its fair share as you may guess; given the All Blacks still hold sway in the world. Their abundant talent pool means the New Zealanders are already just 6/4 to win the next Rugby Union World Cup in England in 2015 with the betting exchange, Betfair.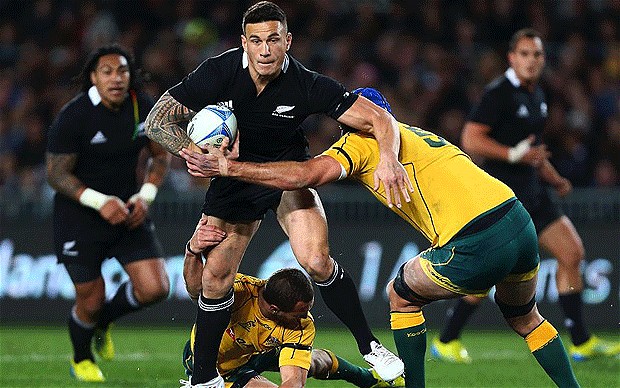 For those who fancy a long-shot punt on the World Cup, then France may be the best bet, currently priced as high as 18/1 with Betfair. The French always excel in the big competitions and they never know when they're beaten. The beauty of betting with an exchange like Betfair is that you can profit before a ball is played if they come in in the betting.
But without further ado – here's the list. Bear in mind this was an impossible task, but here are ten greats that deserve more than a little consideration…
1 Jonah Lomu
If Jonah Lomu had stayed fit his entire career – would there be any argument about who ranks where on this list?
2 Brian O'Driscoll
Brian O'Driscoll deserves a place in the top ten for sticking around so long and being such a hero for his country. He stayed at the top of his game for a decade and was a magnificent centre, with the ability to kick like a Fly half. Oh yes – and he couldn't half tackle too!
3 Dan Carter
Perhaps the most complete player ever? Dan Carter's all-round ability means he can play in any position and as for his goal-kicking ability – well it's simply devastating.
4 Jonny Wilkinson
You just knew Jonny Wilkinson would be up here, as he deserves to be. Sadly Wilkinson was prone to an injury or two, but his composure never faltered when under pressure.
5 Richie McCaw
The All Blacks captain led his men to their first World Cup victory for 24 years – and he did so with panache, determination, drive and skill.
6 Jason Robinson
Jinxing Jason Robinson – the pocket battleship learned and perfected his trade in Rugby League with Wigan, before making the shift to Union. England fans are glad he did so because he was a devastating player over ten metres or so; packed full of pace and energy, Robinson was simply amazing to watch.
7 Gareth Edwards
The iconic Welsh player needs no introduction unless you're under 40 – in which case, go and read about the great man and watch some of his plays online… they are simply amazing!
8 Brian Habana
Now 31, Habana may be experiencing a slight decline, but his performance in the 2007 Rugby World Cup for the champions Springboks earns him a spot on this list. Eight tries to equal the record that was previously established by Jonah Lomu back in 1999 was no easy feat and Habana was also named IRB Player of the Year, to cap off what was simply an unstoppable year from the South African.
9 Yannick Jauzion
Our first Frenchman on the list – and what a Frenchman he was! Jauzion was integral to much of his country's success and also to his club Toulouse's triumphs whilst at the top of his game.
10 Byron Kelleher
Last but not least – another Kiwi who is still going strong despite the ripe old age of 37; Kelleher was and still is an amazing player for both club and country.