Fall is one of my favorite times of the year. The leaves are falling down and it can be cold but not unbearable. During fall I always seem to crave food that is warm and comforting. There are so many awesome foods that I love to eat during fall time and so I found it very hard to pick the top ten comfort foods for fall.
Top 10 Comfort Foods for Fall:
1. Potato Soup
Potato soup during fall just tastes so good. Between the finally chopped celery you put in it, carrots, onions and butter to taste, you'll find that this soup is perfect for fall. Other favorite fall soups include broccoli soup, tomato soup and lobster soup. A lot of the soups you can change and alter according to your own personal taste.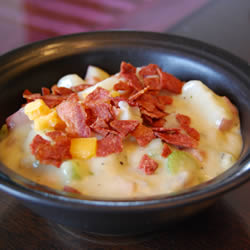 Photo Source: Allrecipes.com
2. Baked Butternut Squash
You can find butternut squash in stores throughout the year but during October is really the best time to get them. Butternut squash not only taste great but it's also easy to make. The one thing to remember when making butternut squash is that this vegetable is starchy and tends to be higher in calories compared to other vegetables. Eat this one within moderation. Butternut squash has a nutty and sweet flavor. It's a great dish to have with pasta or rice. If you would like to eat something that is lower in carbs then butternut squash, I recommend spaghetti squash. You'll be amazed at how great this taste and it's healthier for you.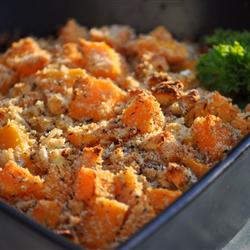 Photo Source: Allrecipes.com
3. Apple Stuffed Chicken Breast
I'm already drooling over the thought of having this dish again during the fall. It depends on what recipe you use but the chicken should turn out very nice and tender. This is another one of those dishes to where you might consider making some variations according to your taste. Some of the changes you might alter include the stuffing and vegetables you put in it.
Photo Source: Allrecipes.com
4. Chicken Pot Pie
Chicken pot pie is a famous dish throughout the year but there's something about having it during the fall that makes it taste even better. There are lots of chicken pot pie recipes available or either if you don't have the time to make it yourself, you'll find some microwavable chicken pot pies but those just don't seem to be the same as homemade chicken pot pie. If you are a vegetarian you'll also find vegetarian pot pie recipes for fall available.
Photo Source: Allrecipes.com
5. Caramel Apple Pork Chops
Caramel apple pork chops is a treat that's sweet, spicy and warm and perfect for fall. The kids will really enjoy eating this one along with a side of potatoes and green beans. It will hit the spot. You might think that caramel apple sauce on pork chops won't taste good but you will be in for a pleasant surprise when you try it. I know I was hesitant at first but then after the first bite, I was hooked.
Photo Source: Allrecipes.com
6. Cedar Plank Salmon
If you love salmon and would like to try a unique fall recipe for salmon, then this is one for you. This is also great served with roasted asparagus and rice. When you are doing this recipe, please note that it will take awhile to do the cedar but it'll be worth the wait for when it's done. Peas go great with this or either carrots or a nice salad.
Photo Source: Allrecipes.com
7. Apple Raisin French toast Casserole
There are lots of special fall breakfast dishes I like such as apple pancakes but this one is a favorite. It's not only great in the fall time but you'll find it's perfect for Christmas. The dish itself might sound complicated to make but it's really easy to prepare. One of the most important things to know about this dish is that it needs to set overnight. It takes awhile to make and you cannot dig into it right away.
Photo Source: Allrecipes.com
8. Autumn Spice Ham Steak
If you love ham and you love maple syrup, this is a dish that you've got to check out. It's completely smothered with spices and maple apple flavors. If you don't want to use cinnamon then you can also use pumpkin pie spice instead. It's so good and very easy to make. You can also use brown sugar instead of using maple syrup. This is yet another one of those recipes that you can change and alter.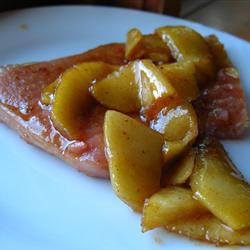 Photo Source: Allrecipes.com
9. Cranberry Carrot Cake
Carrot cake is something you can have throughout the year but for fall, you should try cranberry carrot cake. You'll be amazed at just how good this desert is and will fall in love with it. It's delicious and very moist. It'll almost melt in your mouth from the first bite. When it's time to ice the cranberry carrot cake, just simply use the cream cheese frosting you like the most. Overall, it takes around 2 hours to make so you will have to wait some before you can bite down into this awesome carrot cake for fall.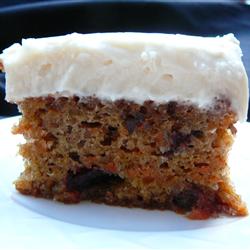 Photo Source: Allrecipes.com
10. Apple Cider
I think that after having all of those delicious foods that finishing off this list with a nice apple cider drink is perfect. There are lots of apple cider homemade recipes you can find that are easy to make. Most of the apple cider drinks you can change and make according to your own taste. The great thing about apple cider is you can have this during the afternoon on a chilly fall day or have it at night to warm up when the temperatures really start to drop. It's perfect to have anytime on a cold fall day.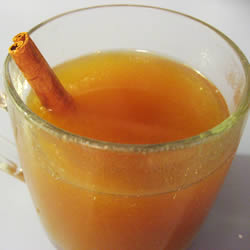 Photo Source: Allrecipes.com
Conclusion
There are so many other awesome fall food comforts that I did not mention. Some of those include pumpkin pie, meatloaf, pot roast, cranberry salad, super seven spinach salad, apple cole slaw, broccoli salad, yams, garlic mashed potatoes and zucchini cornbread casserole. Are you starving after reading all of this good fall food? I know that I am! What's for dinner?