Facebook games are a lot of fun and addicting. The games on Facebook are free but if you like these Facebook games like I do, then you might find yourself buying coins for them or even pigs. Games on Facebook is almost its own industry.
What makes the games even more exciting is that there are groups available on Facebook for them. Members on Facebook who are dedicated fans to these games created the groups. One example is with the Facebook game Bejeweled Blitz. A very popular group for this game is called Bejeweled Blitz Gems. In this group they hold a lot of fun and exciting group contests and games for members to win parties and spin shares or MTs for Bejeweled Blitz. It's a great way to meet other fans for the game so you don't have to play by yourself. Some other groups you'll find include groups for Candy Crush and Angry Birds.
Before I mention too many of the groups available for the games let's go ahead and go over 10 Addicting Facebook Games. Like I said, they are for free and playing them is not only fun but a great way to reduce any stress that you might be experiencing right now and they are great for your overall health.
10. Hay Day – Raise Your Own Farm Animals and More
Hay Day is all about getting back to the nature and just experiencing the simple work life with pigs, chickens, sheep and even cows. Before playing you will need to make your name and then you can start harvesting the crops or either building sugar mills and bakers. One of my favorite things to do with the game is watching after the farm animals and taking care of them.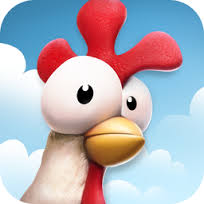 Photo Source: wikipedia.org
9. Words with Friends – Grow Your Vocabulary
This game is a lot of fun because you can connect with other players and play together. It's a great way to expand vocabulary. One thing that I really like about this game is that they have a word of the day so each day you get to learn a new word. When you're playing the game you even get to chat with all of your friends who are playing it at the same time.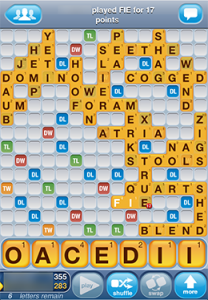 Photo Source: wikipedia.org
8. ChefVille – Own a Restaurant
Do you have dreams of becoming a chef? Maybe you would like to be on the cooking channel or Food Network channel. In this game you can play out your fantasies because you'll own your very own restaurant. You can build either a deck or bistro. During the game you will have a chance to either buy or borrow the cookware needed in order to help you with making the recipes.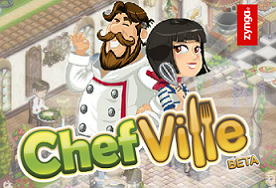 Photo Source: wikipedia.org
7. Pet Rescue Saga – Help save the pets
If you are into puzzle games then you might really enjoy this one. What makes this so unique compared to other puzzle games is that it's all fairytale based. It's all about matching at least two of the blocks that have the same color then once you start clearing the levels you can then rescue the pets. Some of the pets that need rescuing include piglets, bunnies and puppies.

Photo Source: gamewise.co
6. Bubble Witch Saga 2 – Stella needs your help!
I played this game a lot during Halloween and enjoyed it. Stella and the cats she owns all need help from you. The reason why is because there are some very dark spirits plaguing over the entire land. You need to burst all of the bubbles that you can in order to help them. There are over 60 levels with this game and they add on two more each week so you'll be amazed as to how addicting it gets. It's also extremely easy to learn and rather fast paced.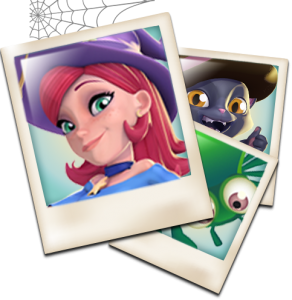 Photo Source: king.com
5. Dragon City – Become the master of a dragon
You not only get a chance to become the master of your dragon in this game but you also get a chance to become a master with the dragon elements which include the fire and water dragon. You have to create the islands so that the dragons can inhabit them. They breathe fire and need to be trained properly. If you are feeling daring enough join in one of the tournaments and compete against your friends.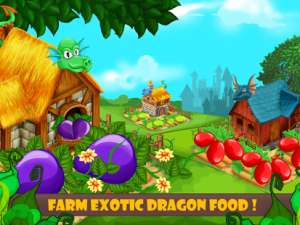 Photo Source: play.google.com
4. Texas HoldEm Poker – Almost like playing it in real life
If you are curious about learning how to play poker then start out with playing poker on Facebook with Texas HoldEm Poker. You can get chips, play with other members and much more. What you learn online with this game can actually really help you in real life. I don't play poker a lot myself but was impressed when I just decided to check it out for fun. It is almost like the real deal.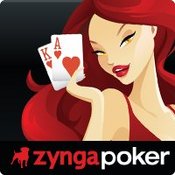 Photo Source: zynga.com
3. Candy Crush Saga – If this game doesn't make you hungry I don't know what will!
Tiffi and Mr.Toffee invite you to join them through their magical candy kingdom. It's a puzzle adventure that's extremely delicious, which could be one reason as to why it's so addicting. You might have to stop for awhile and get yourself a snack when playing this game. There are loads of levels that you'll need to do and some of them are hard but most levels seem to be very easy to complete.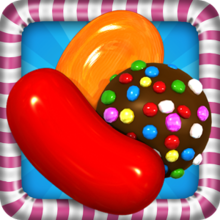 Photo Source: zynga.com
2. Farmville 2 – Create the farm of your dreams
If you enjoyed the first Farmville then you need to check out this second release of the game because Farmville 2 is even better. In Farmville 2 you'll still be building, nourishing and creating the farm you want to have. You can also interact with the characters and get competitive in the county fair. Another fun thing about this game is that you can visit your other farms that your friends have and help them out.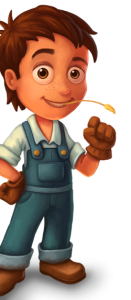 Photo Source: zynga.com
1. Bejeweled Blitz – What can you do within 60 seconds of endless fun? Play Bejeweled Blitz!
I think that this is one of the most addicting games on Facebook and for several reasons. You have just 60 seconds to match the gems on the board game and move up on your leader board. In order to help with getting a better score you can create star gems, flaming gems, hyercubes and use rare gems. You can build up your coin collection by playing parties with other friends and with collecting free mystery treasures also known as MTs. The more friends you have for this game, the more fun it will become! This is another reason why joining Facebook groups for games like Bejeweled Blitz can really help you out.  One example is below with one game that I did and broke my highest score and used the rare gem Progressive. It's rather fun watching Flo' ride on horses across my screen. Curious now?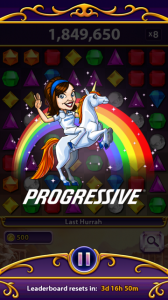 Photo By Kari
Conclusion
These are just 10 Addicting Facebook Games. There are lots more such as Angry Birds, Diamond Dash, Criminal Case, Tetris Battle, BINGO Blitz and even solitaire. If you want a fun game to play then just browse the collection by looking at the categories that they have to offer and keep looking until you find one that might interest you. If you're bored then this is a great way to have some fun without it costing you anything.