I don't know about you but I enjoy Thanksgiving for a variety of reasons. I love being together with my family & friends plus smelling the good food cooking. What makes Thanksgiving even more fun is the Thanksgiving decorations around the home. You don't have to spend a lot of money decorating for Thanksgiving. In fact, a lot of people make their own decorations this time of year. Most Thanksgiving decorations tend to be a mixture of beautiful fall colors such as a mustard yellow, burned orange, a variety of greens and reds, browns and other earthy colors. Sometimes gold is even nice to see on a decoration.
If you are wanting some ideas for a classic Thanksgiving then check out these 10 Classic Thanksgiving decorations.
10. Pumpkins – What's a thanksgiving without pumpkins?
The one thing that I love about pumpkins is that there's a variety of sizes and even a mixture of colors of them. Pumpkins are great as a Thanksgiving centerpiece on your table and they can even be spread throughout the home. Growing up I remember at least always having around two or three pumpkins in the home this time of year. You can carve them and put fall flowers inside of them. There's so many things that you can do with pumpkins.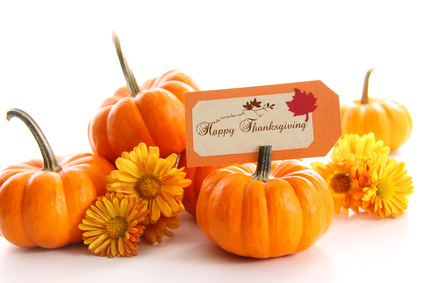 9. Scented Candles and warm candle holders – non-scented candles also work!
I love the smell of scented apple candles during Thanksgiving. However, if you have allergies then working with candles that might not be scented also works just fine. I love to see candles rich n color such as red or brown colors. A variety of candles spread throughout the home can help with creating a glow that's festive and extremely fun.
8. Thanksgiving Wreaths – Makes a home look welcoming
Each year we always put up a Thanksgiving wreath. A wreath is a great way to help with making the home look welcoming. There are lots of ways in which you can make your Thanksgiving wreath. You can decorate it with wheat and autumn leaves or you can use pinecones and roses in the middle. The ideas are just endless. If you're not able to put any Thanksgiving decorations in your home having a Thanksgiving wreath is still a great way to put a smile on anyone's face.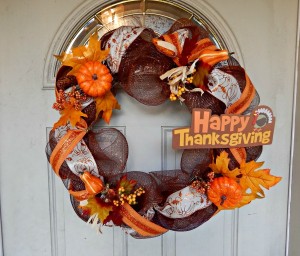 7. Thanksgiving bottle displays – Great way to show off berries, wheat or other Thanksgiving items

Here's another great Thanksgiving idea that's classic and cheap to do. All you need to do is just get some bottles and put in them a variety of berries and autumn leaves. The bottles can be clear or a light fall color. If you would really like to put in a mix for the season sometimes we would put in tiny gourds around the bottles. It helps with adding in a different shape to it.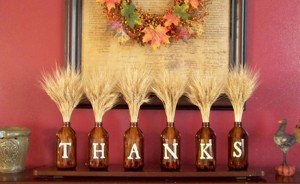 6. Thanksgiving colored corn – corn makes it very colorful
Corn was used a lot during the very first Thanksgiving the Pilgrims did and to this day, you'll find corn not only being used in dishes but also as decorations. There's a variety of colorful corn available for this time of year. One of the most common uses of corn is putting it in the middle of a table for a nice Thanksgiving centerpiece. We didn't use corn much as a decoration but instead, always had corn on the cob the edible kind in the middle of the table!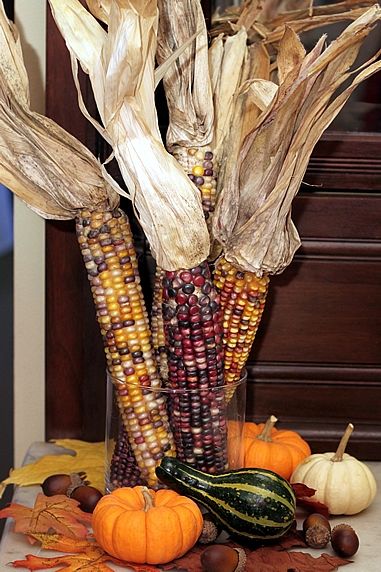 5. Cornucopias – perfect for the dining table
Cornucopias make for a perfect Thanksgiving decoration for the dining table. You'll find a variety of Cornucopias available in many different colors and sizes. A cornucopia is a symbol that actually dates all the way back during the time of the Greeks. They were used to signify fertility, harvest and abundance. You can fill cornucopias up with fruits, flowers, vegetables and with many other things. What to put in a cornucopia is just endless and they are a lot of fun decorating. It's always fun seeing how people decorate their cornucopias because everyone decorates theirs differently.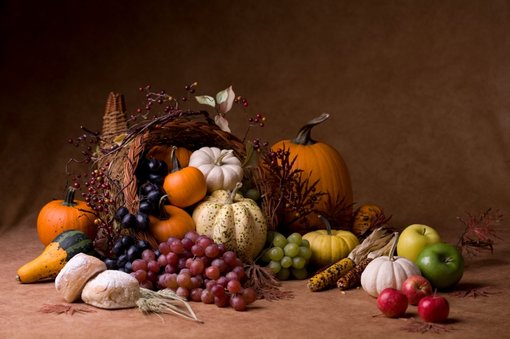 4. Acorns – a beautiful Thanksgiving votive
Acorns on your Thanksgiving table or mantel can look beautiful depending on how you do them. All you need to do is just gather up some acorns then layer them in cups. Place a small white candle in the middle. White is not the only color that you have to use. In fact, growing up we would use a variety of colored candles. People would not comment much about the Thanksgiving wreath or even the cornucopia but what they would comment on would be the acorns in a glass layered around a candle. You just need one small layer at the bottom of the glass. You don't need to cover it or have the acorns near the flame.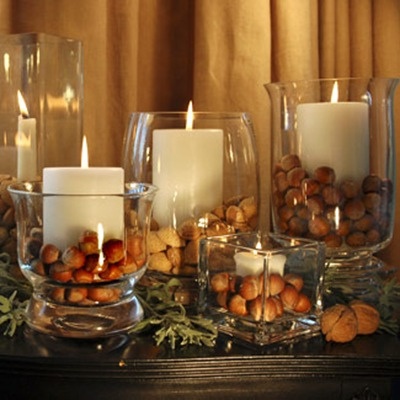 3. A fake Thanksgiving turkey – perfect for the children to do
There are lots of arts and crafts available to where the kids can make Thanksgiving turkeys. If you're unsure about what type of Thanksgiving turkey they can do then they can always color a Thanksgiving turkey and you can put it on the refrigerator. You can also find a variety of Thanksgiving turkey arts and craft kits available that makes it even easier to do.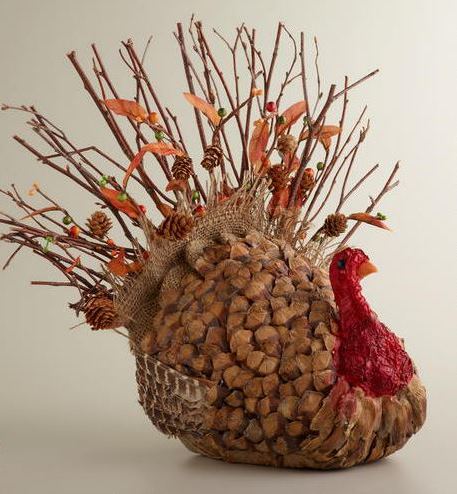 2. Autumn Leaves – cheers up the house
There are so many things that you can do with autumn leaves. You can use them as part of your wreath decoration or you can scatter them on your mantel or centerpiece. I can remember when I was a child going into a home that was decorated for Thanksgiving and they had beautiful autumn leaves intertwined with the stairway and Thanksgiving lights around the leaves. It really made the home cheerful and memorable.
1. Apples, Fruit and Vegetables – The ideas are endless
Apples, fruit and vegetables happens to be a great way to decorate your home for Thanksgiving. You can center a theme around them and make your home extremely colorful. They are used in a lot of arts and crafts for Thanksgiving. You can buy real ones or fake ones or do a variety of both real and fake apples, fruits and vegetables. The ideas really are endless and they are used the most during Thanksgiving.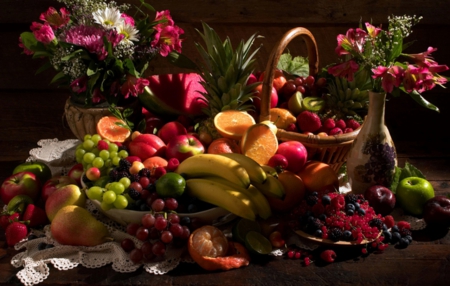 Conclusion
If you run out of ideas always check to see what Thanksgiving arts and crafts kits might be available to help you with decorating the home. You'll be amazed as to how much fun you'll have getting ready for Thanksgiving if you decide to decorate your home for it.