When the seasons start to change people often times think about getting their hair colored. Some feel embarrassed over their hair gray hair and more so during the holidays when they are around family members a lot. If you're afraid of going gray or if you are embarrassed about it then there is no reason as to why you should be.
Check out these 10 Sexy Gray Hair Celebs and Why You Should Love Gray Hair
10. Gray hair is liberating
Once you start letting your gray hair show, you'll be amazed at just how liberating it can be. You won't have to worry about trying to hide your hair color anymore. Some people even respect others more when they have gray hair. Hiding gray hair can even be stressful and extremely expensive. Go gray and liberate yourself!
Celeb: Jamie Lee Curtis sexy gray hair
9. You will save money
After you fall in love with your gray hair think of all the money you'll save. Coloring your hair as stated n number 10 can be very expensive. Have you ever calculated how much money you spend on coloring your hair? You not only end up spending lots of money at the salon but you end up spending a lot of time there. There are times it can take over 2 hours at the salon depending on how busy they might be when you go.
Celeb: George Clooney sexy gray hair
8. You can easily coordinate better with your jewelry
I don't know about you but I love to sometimes match my jewelry according to my hair and I love silver jewelry. When you have gray hair you can easily match your hair and jewelry together and look stunning. I'll take this a step further. You can also match your outfit to your hair and jewelry. Trust me, you'll look incredible and everyone will be talking about how fabulous you look.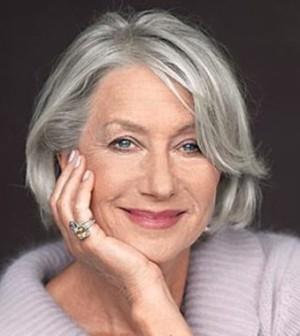 Celeb: Helen Mirren sexy gray hair
7. Your wrinkles or lines won't show as much around your face
Think about it this way. When you have a dark frame, you tend to use white and black line drawing. This helps with accentuating your drawing. Having dark hair works the same way. Your lines and wrinkles become accentuated with your face. When you naturally let your hair lighten then you can eliminate that problem.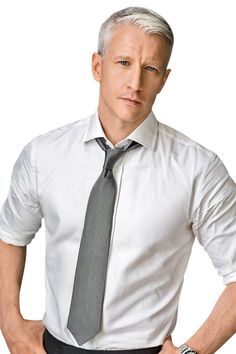 Celeb: Anderson Cooper sexy gray hair
6. Gray hair isn't boring
A lot of people think that having gray hair is boring. However, it's just the opposite. When you've spent your entire lifetime coloring your hair or highlighting it, you might think that you'll get bored with it fast. There are lots of celebrities who style their hair and look incredible. Between syncing your outfit, jewelry and coming up with hair styles, you're bound to get lots of compliments. If you must dye your hair because of getting bored with the natural look, try just some simple high lights instead of bleaching it or doing something else with it.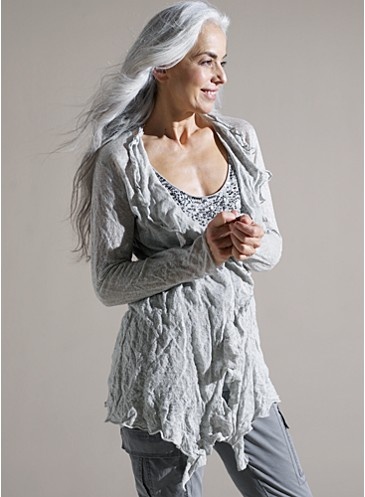 Celeb: Eileen Fisher sexy gray hair
5. Gray hair can boost up your confidence
Gray hair isn't only liberating but it can take a great deal of confidence to show it off. Rocking your gray hair shows that your proud of who you're becoming. Some people even dye their gray in order to try and achieve this natural look because they know that gray hair helps you to stand out in the crowd in a good way. People will try and possibly even copy your hair style after they see you looking incredible with your gray hair.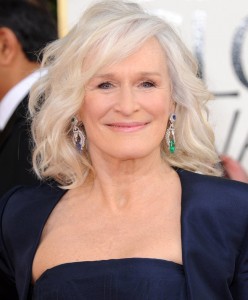 Celeb: Glenn Close sexy gray hair
4. Overcome stress with having natural gray hair
If you find yourself worrying a lot about your gray hair or trying to always change it then you'll find that adds a lot of stress in your life that you don't need. Stop worrying. Just embrace your natural gray hair and love it. After you've stopped worrying so much about your gray hair, you will feel that freedom and confidence that I've been talking about often. If you're worried about going gray then stop stressing about it. Worrying and stress can add to you having gray hair earlier in life. Just enjoy the hair color you have now and embrace your hair color later on if it does change to gray.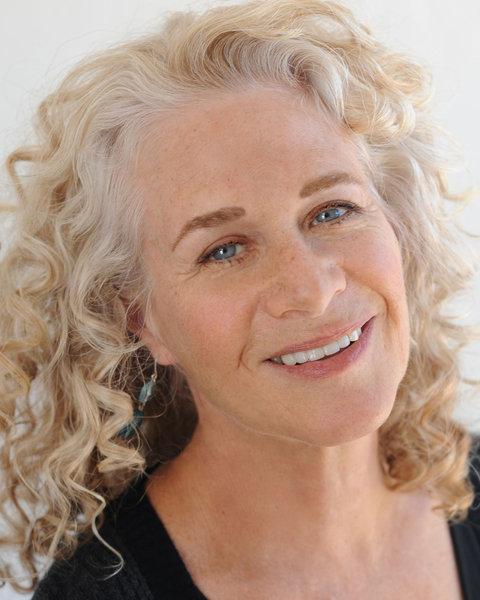 Celeb: Carole King sexy gray hair
3. Gray hair is cute, fun, edgy and always in style
No matter what, gray hair will always be cute, fun, edgy and always in style. The reason why is because it's one of those natural looks that won't ever change. One day purple hair might go out of style. Another generation, people might get tired of having green hair. Whatever hair color is in, might go out of style. People over the years might even start to realize just how important it is just to sometimes go all natural despite whatever hair color you have.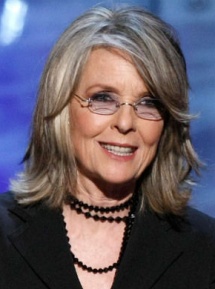 Celeb: Diane Keaton sexy natural gray hair
2. If you're not happy with calling it gray then call it silver
Do you find that the only reason why you don't like your hair color being gray is because of having to say you have gray hair? Stop calling it gray hair and say you have silver hair. Many celebs refer to their gray hair as silver. Either way, silver or gray hair whatever you prefer to call it looks sexy. Some celebs didn't reach their prime of being famous until after they embraced their gray silver hair.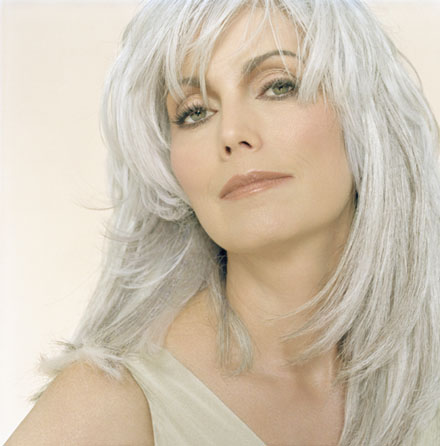 Celeb: Emmy Lou Harris sexy natural gray hair
1. Gray hair is a sign of wisdom
If you're still unsure about having gray hair then you'll find several verses in the Bible that praise gray hair. According to Proverbs 16:31, having gray hair is a sign of wisdom and a crown of glory. There are silver verses "Pun intended" that talks about gray hair. Some of those verses include Isaiah 46:4-5, Psalm 71:18-19 and Proverbs 20:28-29. Time and time again, the bible talks about showing respect to people who might have gray hair and of age.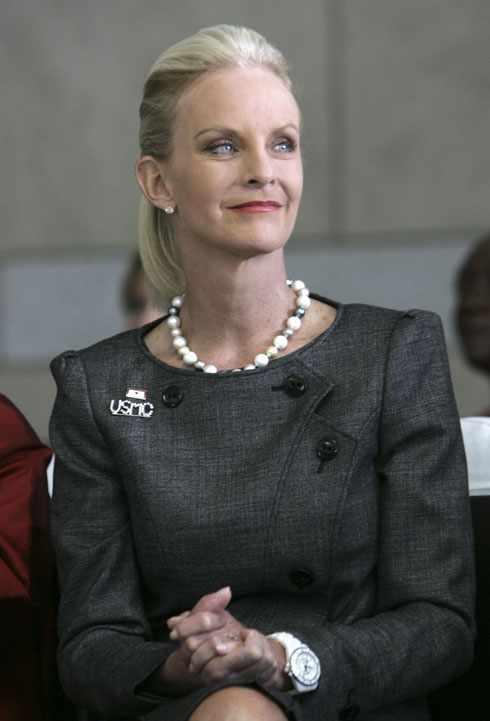 Celeb: Cindy McCain sexy gray hair
Conclusion
Be proud of whatever hair color you have. If you're tight with money, becoming proud of your current hair color can help you save thousands. Love yourself, be confident and be proud of your hair.