If you're trying to lose weight one of the worst things you could do is make yourself go hungry. Eating less is not the way to lose weight. What you need to do is actually eat better then what you've been doing. When your body is nourished fully then it's very beneficial to your health. This is the best way that you can lose weight. A nourished body helps you with being able to concentrate and gives you the energy that you need to help with doing your activities daily. Your body is some ways is like a machine and it's always burning some energy. It needs fuel to help with keeping it going. During the summer you might also be more active then other times in the year. This is another reason as to why it's important to eat healthy.
Check out these top 10 Healthy Snacks You Can Eat for the Summer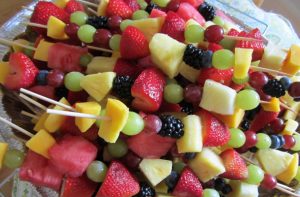 10. Fruit and Cheese Kabobs
Kabobs just don't have to be all about the meat and vegetables. You can make really fun kabobs with using a combination of fruit and cheese. They are quick to make and the kids can also just grab them on the go and run out the door. If you really don't have much time to cut them up you can buy the fruits already sliced to put on a stick.
9. Fresh Fruit Pizza
Cut up slices of watermelon and make them look like pizza slices. Let people add in their own toppings on top with fruit or either you do them. You can do strawberry slices and make them look like pepperoni. You can also do cute smiley faces on the watermelon slices if you're entertaining kids or guests.
8. Boiled Eggs
Regardless of the season, boiled eggs can make a great healthy snack to have on the go. Boiled eggs have a great source of protein plus they have vitamin D in the. You can also have them with other fruits or vegetables on the side and make it even more healthier. If you must have some sort of bread with the boiled egg, opting for wheat toast is the healthier solution instead of white bread.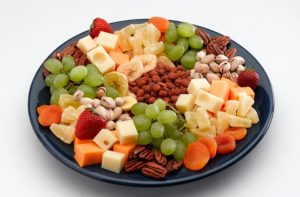 7. Quick Veggie Dip Cups
Veggie dip cups tend to be a win for people of all ages. All you need to do is just cut up some vegetables and put them in cups. First put a vegetable dip inside of the cups before putting the vegetables in the cups. Another great thing about these kind of cups is that you can make them very colorful with putting in a variety of vegetables inside of the cups.
6. Yogurt cups
If you're really in a bind and might not want to make anything just buy some yogurt cups ahead of time at the store. You can just grab one of these cups and head out the door and not have to worry about anything. Be careful with some yogurt. Some of the cups have high calorie toppings added in that might not make the yogurt as healthy as it could have been. Go with Greek yogurt if you're really unsure as to what kind of yogurt you should have.
5. Almonds
Almonds is one of the best healthiest foods that you can actually have on the go. They are packed with protein, fiber, vitamin E, calcium and other good things that makes it a healthy snack. You can also buy pre-portioned almond sized snacks that you can easily take with you on the go. If you're really watching your diet be careful to not get the chocolate bites mixed in with almonds that will make the calories higher.
4. Cucumber chips
Wanting chips but needing a solution that's healthier for you? Cut up cucumbers and make them look like chips instead. Carrots also taste great with cucumbers as well and makes it more colorful. If you're looking for the perfect dip, try the low calorie ranch dip. This dip also goes great with both cucumbers and carrots.
3. String cheese with Olives
A lot of kids might wrinkle up their nose to olives and might just go for the string cheese. However, a lot of adults tend to love the combination of string cheese with olives. This is also perfect with a glass of wine and a great way to wind down the evening.
2. Protein Shakes with Fruit
There's a variety of protein shakes you can get these days. Read the instructions on the shake that you get, mix it with fruit and go. It usually just takes around one or two minutes to quickly blend the shake in with the fruit. It might take longer depending on how much fruit you decide to put in the actual shake or how much shake you make.
1. Lettuce Wraps
One of the best quick lunches or snacks you can have is a lettuce wrap. All you need to do is just simply grab your favorite cheeses, meats and wrap them up fast in some lettuce, make a wrap and then go. If you're more keen on tofu then lettuce then you can also make a tofu lettuce wrap instead. This is a great way to have a snack that fills you up on the go.
Conclusion
There's many other healthy snacks you can pick up at the store if you don't have time to spend on making them. You can buy mixed fruit cups, mixed trail cups, cut up vegetables and many other things. You might have to plan some ahead of time to make sure you have everything for that week. However, as you can see coming up with healthy snacks is very easy and won't take you anytime at all. Plus it's not only easy but you'll lose weight so it's a win-win situation.